The Midnight Tour: An Overnight Shift With the 75 Precinct After an Officer's Death
Days after one of their own was shot and killed on the midnight shift, commanding officer Inspector Jeffrey Maddrey made a point of engaging each officer at the 75th precinct as they streamed in to work the overnight.
Like a coach, he put his arm around grief-stricken officers. Consoled them. Grieved with them.
This was the shift Officer Peter Figoski was working when he was shot to death during an alleged armed robbery of a drug dealer in Cypress Hills, Brooklyn last Monday.

The 47-year-old father of four spent his entire 22-year career in Brooklyn's tough 75 precinct on Sutter Avenue. And since 2002, he worked midnights so he could spend more time with his daughters.
As officers filed in for roll call, the local civilian Precinct Council brought a feast for incoming crew of more than 40 officers.
 
Platoon commander Lieutenant William Leah, a tall man with white hair and a commanding presence, started roll call and barked out assignments.

"Donaldson, Napolitano, Minardi. Are you going to be in the crime car or you going to be in the supervision tonight after Sgt. Mizada?
 
"You have any idea what vehicle you're taking yet? 202. All right.

"Joe G. is going to guarding a prisoner at Brookdale."

"Okay, just remember we have that shooting war going on between the Pink Houses and Lincoln Houses — special attention over there."

"All right?"

"Just stand by. Some of the assignments may change during the course of the night because we have sectors coming in from the outside commands to give us a hand."

"And as you can see behind me the community has done something very nice for us. That's it. Fall out."

The phalanx of overnight officers headed for their cars and assignments.
A history of violence

The 75th precinct is one of the city's most economically stressed, and the victims of prevalent gun violence here are mostly African American male teens and young adults. At close to six square miles, the precinct is geographically one of Brooklyn's largest precincts. It includes East New York, Cypress Hills and Starrett City.
Figoski was of a generation of officers who helped bring the city's murder rate down from over 2,200 a year in 1990 to potentially below 500 this year. All this happened as the NYPD shrank from 41,000 at the end of the Giuliani Administration to just under 35,000 today.
 
For the 7-5, murders dropped from 109 in 1990 to 33 in 2010. The precinct is on pace to see another decline this year. In 2010, it still had the distinction of having the most number of murders of any precinct in the city. Thus far, it has around 90 shootings this year most of which did not produce a fatality.

Leahy, the platoon commander, started working on the force in 1983, and said the overnight shift in one of the city's busiest and most violent precincts is physically and mentally demanding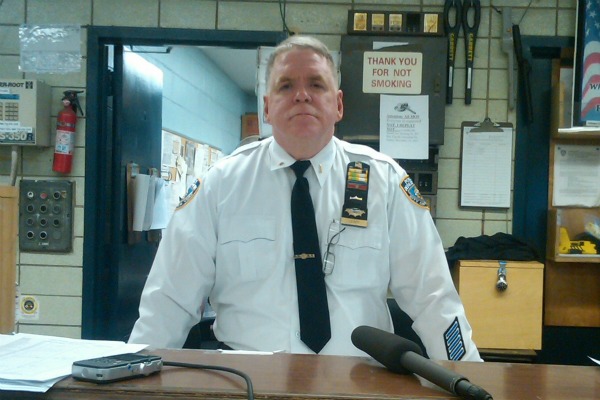 .
(Photo: Lt. William Leahy, Commander of the overnight at the 75 precinct. He joined the force in 1983. Bob Hennelly/WNYC)

"It's physically challenging to a person's body, it's physically challenging to a person's mind, so you really have to stay sharp," he said. "And it's pretty busy here at night especially on the weekends."

Leahy said the 7-5 was a different place when Figoski joined more than two decades ago when crime was more rampant.
 
Figoski's peers and superiors describe him as a charismatic figure, who, thanks to his long-term commitment to the 75th, and his own affability, had a comprehensive grasp on the people an places that made up his precinct.

"Pete was our senior man, our senior veteran," he said. "Among the police officers, he was our anchor. He was the heart and soul of the platoon. And, you know, we're a tight-knit bunch here."
Out on patrol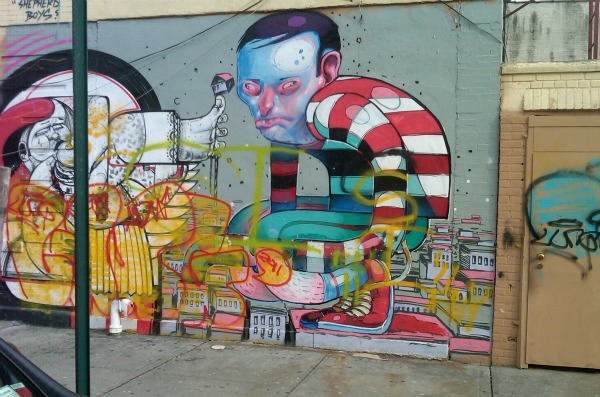 Just before 1 a.m., Sergeant Gregg Ostrowski and his partner Chris Morris head out on patrol. Ostrowski says he works overnight for much the same reason Figoski did: the chance to spend days with his two sons.
"If you can go to sleep by 10 o'clock in the morning, you get up by 4 o'clock in the afternoon, that's a good day," Ostrowski said in an interview during his patrol. "And then the kids come home from school and then it's homework and sports, dinner. Showers. And then you go back to work."

Ostrowski said 99 percent of the people he and Morris protect and serve overnight "are hard working people, and 1 percent are knuckle heads."
(Photo: A few blocks from the 75the precinct where truancy and gangs continue to be an issue. Bob Hennelly/WNYC)
 
Once on Fulton Avenue, Ostrowski and his partner spot a truck and a van driving erratically, trying to cut one and another off. It's exactly the kind of situation that can sometimes spark deadly and senseless gun violence.

"Well, look at these two knuckleheads here having a nice little road-rage contest," Ostrowski said, "but I guess their going to solve it themselves now that we're here." 

Morris drives the jeep patrol unit in between the two vehicles to herd them apart. One parks his vehicle and tries to plead his case to Ostrowski.
 
"…his car almost made me crash," said the motorist.

"Well, you almost crashed into him when you cut in front of him too," Ostrowski said.

"I said, 'Listen, follow the speed limit, 30 mph, 20 mph. and we're good,'" the motorist pressed on.

"All right. Are you done or are you going someplace else?" Ostrowski asked.

The motorist said he was going to his uncle's store.

With the dueling drivers heading off in opposite directions, Ostrowski and Morris roll on into the night.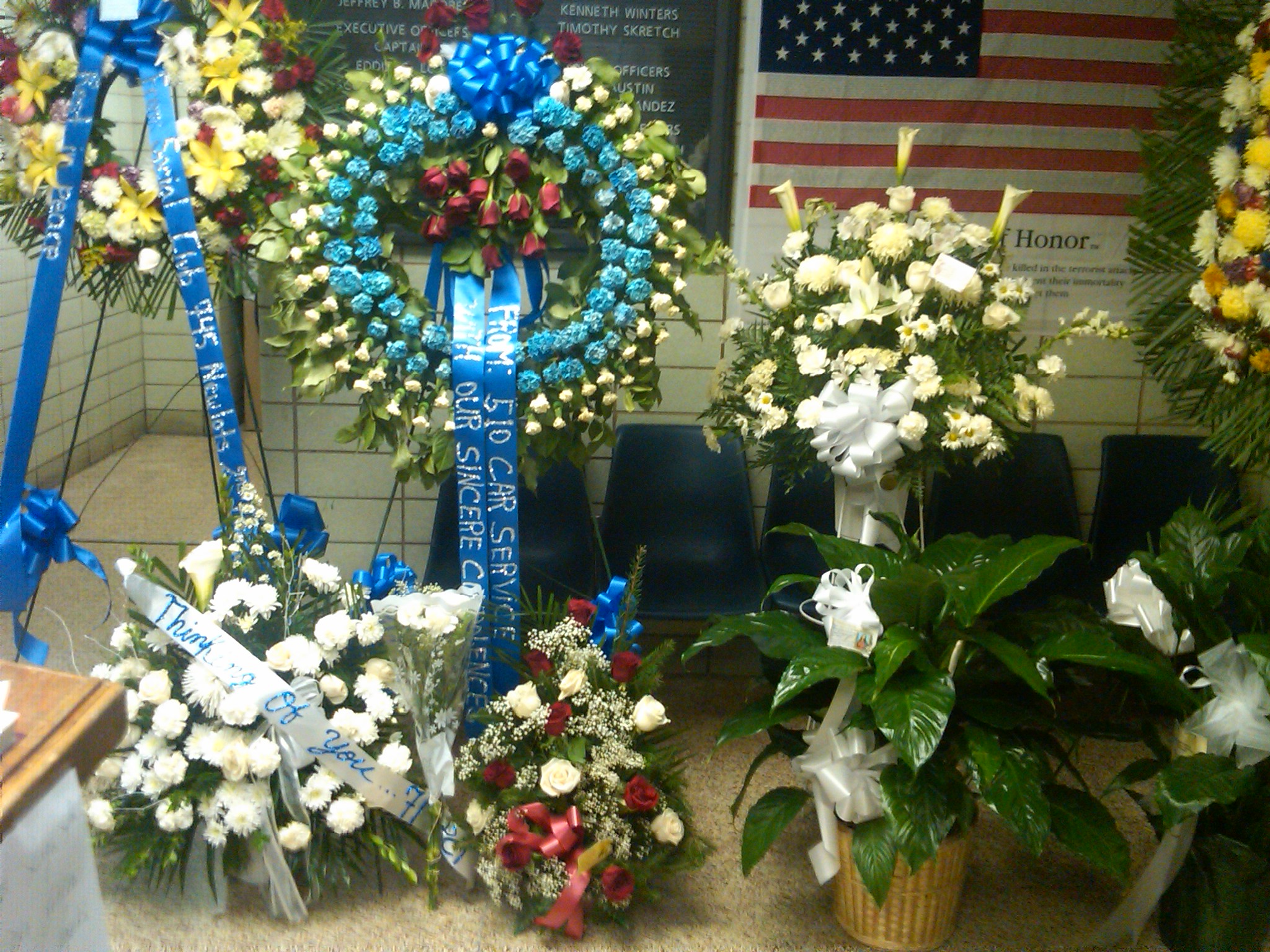 Photo: Flowers sent to the 75th Precinct in memory of Officer Figoski. Bob Hennelly/WNYC)
Ostrowski says to work overnights you have to be self-reliant.

"When you only have four cars covering an area this big, you're out here by yourself," he said. "And it makes it on this tour even more important to pay attention to the radio and back each other up."

"Because on the day tours and the 4-12's, not only do you have your regular sector cars that are out here, but you have dozens and dozens of other cops and other units. So when you call into the radio for help it's seconds before another car is here. On our tour it could be five minutes. It could be 10."

In a matter of minutes, Ostrowski and Morris get a call over their radio,

There's a report of an African-American man with a gun at Warwick and Atlantic. No further details.

Ostrowski said, in a situation like this , with a potential gunman on the move, Peter Figoski's advice comes to mind.

"Now what Pete would do?" he asked. Ostroswski said Figoski would tell a young cop to think outside the box: going directly to the address given by the dispatcher didn't account for the likelihood the suspect had already moved from that spot.
"But if the guy is moving from there then, you know, you have six cops at the same address but what about the rest of the area?"
They strategically circle the neighborhood and pass the address but find nothing.
Morris drives past the sprawling complex that is the Cypress Hill Cemetery complex that also is the name for the residential district it frames.
"Those people aren't any problem," Ostrowski quips.

Ostrowski and Morris drive by the posted officers who stand guard over Pine Street, where Figoski was shot and killed just days earlier. The street is still closed and evidence collection continues.

The pair of patrol officers on the Pine Street post were bundled up and rocked from one foot to the other to stay warm. 

As the sun rises in the 7-5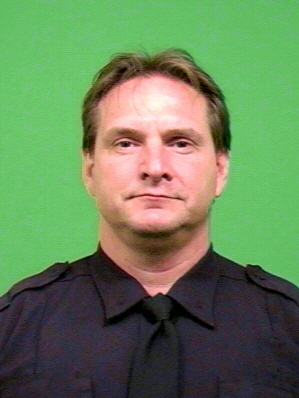 At 5:30 a.m. it's still dark out. Just beyond the precinct door the streets are nearly empty but the wind picks up. Holiday lights blink brighter in the pre-dawn darkness.
Pedro Marareo, who lives nearby the precinct, stops by to leave a condolence note in memory of Officer Figoski. He fights back tears.

He's lived here since the 1960s, and said he's worried Figoski's murder represents a sign that the 75th could regress to its more murderous days.

"Maybe this will get people to focus," Marereo said. "He was not just an officer but a good friend. See, it makes a difference. Communication is very important, and these are the things that we lack in this community today."

(Photo: Officer Peter Figoski. Courtesy of NYPD)
Around 7:00 a.m., the sun is up and the morning shift is on its way in.

Lieutenant Leahy looks relieved.

"When I see the sun come up, I always feel better. Not that something bad can't happen in the daytime, but it's always good when you see the sun come up."
"Tonight went very smoothly. Very quiet. Nothing major went on at all. At least in the confines of the 7-5. And we're grateful for that," he said.

"Just somehow I get the feeling that the community gets, feels the death of this cop. And for some reason, they're just keeping it quiet. Keeping it quiet. Just like after 9/11."

Peter Figoski's funeral mass will be held at on Monday in Long Island.