Fighting Tradition, A Catholic Womanpriest Leads Mass in East Village
This is not a traditional church. In fact, it's just the community room of a residential building in the East Village. Paper signs taped to entrance read "Private: Prayer Service in Session. Do not disturb."
But on the second Sunday of the month, a small group gathers at 175 E. 4th Street to celebrate a Catholic mass, creating a sanctuary by dragging chairs into a circle and setting up a makeshift alter. A woman, Gabriella Velardi-Ward, leads the celebration, which is part of a growing movement worldwide that's changing who can lead a Catholic church.

"I was 5-years old when I told my sister I wanted to be a priest when I grew up," Ward said. "She said 'Ha, you can't you're a girl.'  I couldn't put words to it then, but on reflection I realize that rejection formed my life."

Ward was ordained in 2008 as part of a movement called the Roman Catholic Womenpriests. The movement dates back to 2002 when a group of women in Austria and Germany wrote to three bishops seeking ordination.  

Two of those bishops -- whose identities are not known to Rome -- conducted the first ordination on a boat aboard the Danube River.

Seven women were ordained and since then the movement has grown to 120 people globally.

While these people consider themselves Catholic, their work is not recognized by the church in Rome. And that holds true here in New York, according to Archbishop Timothy Dolan.  

"There are people who are constantly pushing for changes, renewal revision in the church," Dolan said. "They're some things that can change, and then there are some things that cannot."

At a food giveaway just before Thanksgiving, Dolan elaborated on the church's position.

"Pope John Paul II was very, very resolute about 15 years ago and he said 'No' The best I can do in justice is to say we can't do that. Even if I wanted to, I couldn't. I, too, as Pope, am a man under authority and I must obey the Tradition with a capital T of the Catholic Church."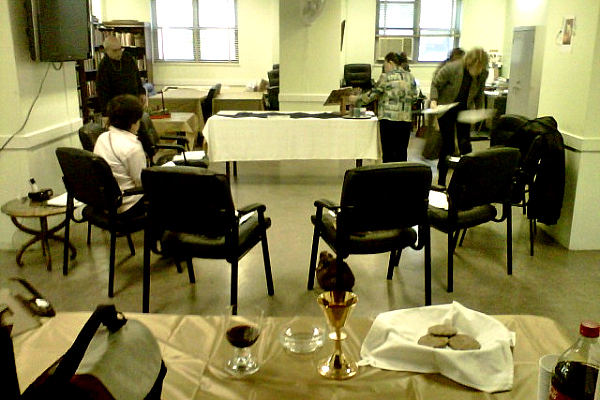 (Photo: A non-traditional church in the community room of an East Village residential building. Brigid Bergin/WNYC)
The argument in support of what Dolan calls tradition is the one most often used to reject the possibility of women priests. It was largely the basis of a letter written by Pope John Paul II in 1994 about reserving the priesthood for men alone.

Women's ordination is a violation of Canon Law 1024, which says only a baptized male can be ordained.  

In July 2010, with approval of Pope Benedict XVI, the Vatican issued a revision to church law which puts women's ordination on the same list of "grave crimes" as the sexual abuse of children by priests.

In the subsequent uproar, the Vatican did attempt to clarify that it did not consider these crimes on par with one and other. But the Vatican does consider support of women's ordination as grounds for automatic excommunication.

Take the case of Father Roy Bourgeois, a Catholic priest for 39 years with the Maryknoll Order and based in Columbus, Georgia. Three years ago, he attended the ordination of a Janice Sevre-Duszynska, whom he described as a long time friend.

By attending this ordination, and speaking out in favor of women priests, Bourgeois has been reprimanded by the Vatican and instructed to recant his position.

He's refused, and has written responses back to Rome and to the head of his order, the Maryknolls, explaining how he can not in good conscience support the church's position.

"The church stated for centuries that it was not against the will of God to have slavery. Well today, of course, we realize that that was a church's teaching that was wrong," Bourgeois said. "What we have here is another church's teaching that is rooted in ignorance and in this case, sexism."

Bourgeois said he is willing to embrace the consequences of his actions even if that means excommunication, although he has hired a Canon Law lawyer to defend his position.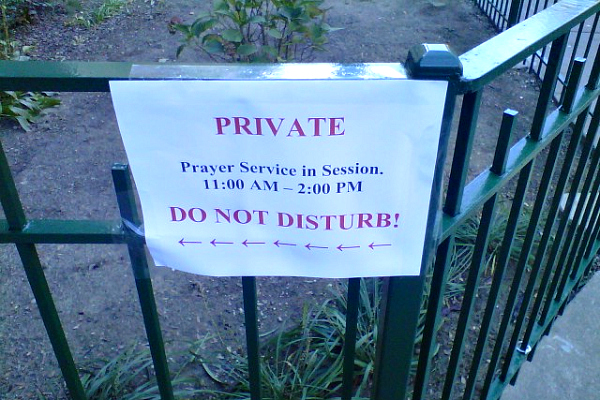 But even for those who are open to the idea of women priests — there's ambivalence.  
(Photo: A sign outside 175 East 4th Street. Brigid Bergin/WNYC)
"I can't accept it at this point," said parishioner Florence Rowe, who, despite her doubts, attends the monthly masses celebrated by Ward in the East Village.

The two are friends and neighbors on Staten Island.  Even though she participates in the services, she struggles with the idea of priest who is a woman.

"Because my upbringing, my whole life, a man taught the word not a woman," said Rowe, "so it's hard for me to change to take this as a concept. Although I respect them, and I respect Gabriella, but otherwise it's very hard for me."

This is not a new debate.  Among the scholars who have weighed in on the issue, Paul Lakeland wrote a book 37 years ago called, Can Women Be Priests? He's the director of the Center for Catholic Studies at Fairfield University, a Jesuit school in Connecticut.

"There is no sound theological reason why women can't be ordained," Lakeland said.

He continues to support women's ordination and knows another woman priest who runs a small parish just outside of Boston.  

"Most theologians would say that Jesus didn't ordain anybody," Lakeland said.

He added that the development of ministry took several centuries, and given what we know about men and women today compared to what we thought about men and women 2,000 years ago, "there's no reason that ordination could not be extended to them. But there are many conservative Catholic theologians who would not agree with me."

But for Gabriella Velardi Ward — and the other Roman Catholic Womenpriests — they are not waiting for permission from Rome. The change has happened. Ward defines herself as a Catholic priest, leading a parish, looking to enhance the ministry she provides to her congregation.

While the Vatican has clearly stated its position against women priests, the future of this movement will depend on whether everyday Catholics are open to embracing a new tradition.