How to Master Hanukkah: Hosting, Frying and All
Growing up in a quite secular Israeli home, Hanukkah was always considered the children's holiday. As kids we had eight days off from school while the grownups didn't get any time off from work. Plus, it is one of the only holidays that occurs (in most cases) during the short Israeli winter.
For these reasons, Hanukkah was the official "need to entertain the kids" holiday at my house. The fact that only the children got "Hanukkah gelt" (money or gifts, depending on how lucky you were) only reenforced this notion.
When I was a young adult (with no time off and no gifts), Hanukkah took on a new meaning for me. It became the first Jewish holiday I hosted. Unlike most Jewish holidays, Hanukkah does not have a traditional "holiday eve" that calls for a formal dinner with extended family. The holiday provides the opportunity to gather on eight consecutive nights — any one of them is fitting to host friends or family for joined candle lightings and singing of Hanukkah songs. (Although no one apart from Kindergarteners remembers the lyrics to the songs). And because it commemorates the miracle of keeping a flame in the temple alight for eight days with only a small flask of oil, Hanukkah also involves eating lots and lots of oily food.
Traditional Hanukkah fare can present daunting challenges for the beginner chef. Many dishes are fried in oil, which usually means making a stinking hot mess and dishes that have to be done as close to the guests' arrival as possible. (Read: a messy kitchen and an exhausted host.)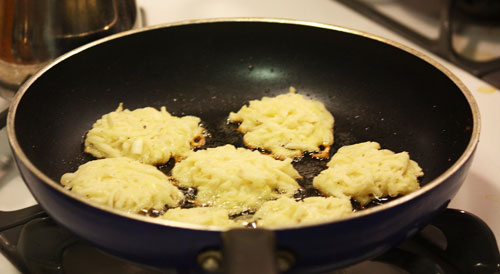 It's been six years since I hosted my first Hanukkah candle-lighting event on my apartment rooftop in Tel Aviv. Since then, I've been frying up Hanukkah fare in several tiny New York kitchens, and I wish I could say I have found a way to master the task without any of the last-minute frying smells. Alas, I'm still working on it.
I have, however, learned a few tricks so that I prepare all of my Hanukkah dishes on time, don't completely suffocate my guests with the smells of burning oil and save some energy for the actual festivities. Read on to get my two cents on hosting a successful Hanukkah candle lighting:
First, while doughnuts are always best fresh, they do not need to be made at the last minute. Traditional homemade jelly doughnuts (sufganiot) will still earn you praises even if they are made an hour prior to your guests' arrival -- that's plenty of time to throw away your oil and air out the kitchen.
I also recommend making the dough the night before. Let it rise slowly in the fridge overnight. Pre-made, refrigerated dough works just fine and even makes the dough easier to work with.
Traditional latkes, on the other hand, must be made at the very last minute or they will look and taste completely miserable. The following Sweet Potato Latke recipe is a perfect way out of that conundrum. Though not traditional, these latkes will fly off the table and earn you great reviews. Most importantly, these sweet potato latkes can be made a few hours ahead of time and warmed in the oven just before serving — without compromising flavor!
If you want to serve traditional latkes, you can always mix up one batch of traditional potato latkes at the last minute. By then, the pressure is (hopefully) off. Put out snacks for your guests to give yourself time to make that single batch of latkes. Or hang out with your guests while you're making them. (That's the one thing small New York apartments are good for: guests who arrive on time will be standing with you in the kitchen as you cook.)
Here's my translation of a great recipe for Israeli Jelly Doughnuts by the Israeli blogger Miri Revivo.
Sufganiot (Israeli Jelly Doughnuts)
Ingredients:
4 1/4 cup flour
1 tbsp dry yeast (or 1 oz fresh yeast)
1/2 + 1/3 cup (6.5 fl oz) heavy cream, room temperature
⅔ cup (5.7 fl oz)  warm water
1 egg
1 egg yolk
⅓ cup + 1 tsp (2.8 oz) granulated sugar
1 tbsp vanilla sugar
zest from half a lemon
½ tsp salt
your favorite jam (or Dulce de leche or Nuttella) for filling.

Preparation:
1. Mix yeast with flour in a mixing bowl or in an electric mixer with a kneading tool.
2. Add in all other ingredients (apart from the filling) and knead for 10 minutes, until your dough seems shiny and not sticky. If the dough is still sticky after kneading, slowly add more flour until you get the right consistency.
3. Cover with plastic wrap, and let stand until the dough rises to double its size, 1-2 hours, or overnight in the fridge.
4.  Take out little pieces of the dough and shape into small (bite-size) balls.
5. Let dough pieces rise again to double in size. To make the transfer into the oil easier, you can cut little squares of parchment paper and put each doughnut on a separate piece of paper to rise. Then, when dropping into the oil, you can lift the dough with the paper, tip the top part in the oil and peel off the paper from the bottom.
6. Heat at least 1 inch of vegetable oil to medium heat (350 F), and make sure it does not rise while frying the doughnuts, this is important so you won't end up with liquid-centered doughnuts.
7. Drop the doughnuts in 3-4 at a time, turning in the middle - after the bottoms become golden.
8. With a slotted spoon transfer golden doughnuts onto paper towels, then fill with desired filling with a filling syringe or a pastry bag, then dust with powdered sugar.
Makes 35 small doughnuts.
This recipe is for one of the most memorable dishes I ate in a Tel Aviv cafe (and institution) called Orna and Ella. I've translated it below and slightly adjusted it. (Find the original in this recipe book.)
Sweet Potato Latkes
Ingredients:
2.5 lb Sweet potatoes
1 tbsp soy sauce
1 tsp salt
3/4 cup flour
black pepper
butter and/or olive oil, for frying.
Sour cream dip:
10 oz sour cream
2-3 tsp Mayonnaise
¾ cup chives
salt and pepper
a few drops of freshly squeezed lemon

Preparation:
1. Peel the sweet potatoes and steam either in a steamer or in a little water in a closed pot for about 40 minutes, until very soft. Let them cool in a strainer until completely cool (can take up to 2 hours).
2. Mash the sweet potatoes and add soy sauce and salt. Mix well and add flour, mix only until combined.
3. Melt about a tablespoon at a time of butter or heat a small amount of oil (or both) in a non-stick pan on a medium-low heat. With a teaspoon take bits of the mixture and drop them into the pan. Using a fork, flatten each patty a little. Fry until golden-brown, adding oil/butter if necessary.
4. Mix all dip ingredients well, add salt and pepper to taste.

These latkes can easily be served a few hours after they were made, and heated up in a warm oven. They're even great as a snack right out of the fridge. Serve aside dip.
Makes 25 to 30 patties.

Traditional Latkes (or at least my family's version)
Ingredients:
2 lb red skinned potatoes
3 medium size white onions
3 eggs
¾ cup self rising flour
1 tsp salt
fresh ground pepper
Vegetable oil for frying

Preparation:
1. Coarsely grate potatoes and onions (a food processor works wonderful here), and strain from excess liquids.
2. Add flour, eggs, salt, and pepper and mix well.
3. Cover a non-stick pan with oil (does not need to be deep), take spoonfuls of the mixture and fry until golden brown on both sides.
4. Transfer onto paper towels and place upright, so the latkes will stay crisp and will not become soggy.
5. Serve immediately.