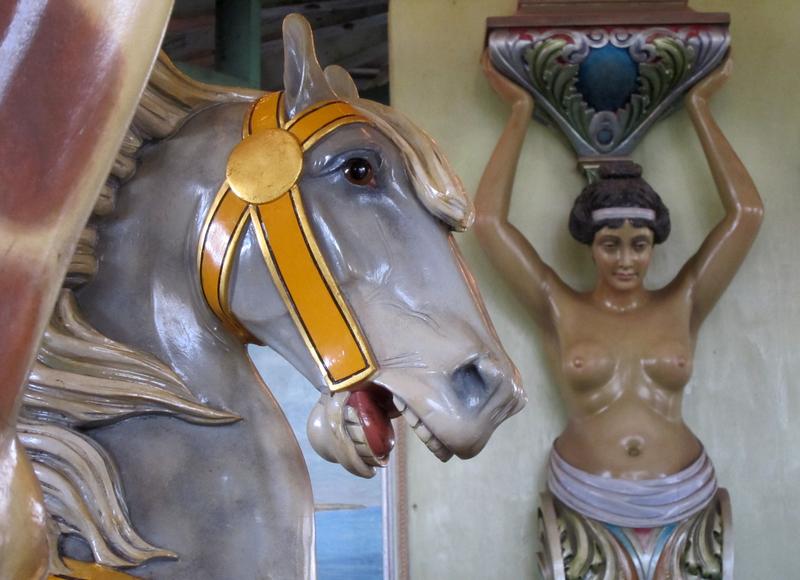 Two of the stories on this program come from an evening at Symphony Space hosted and curated by the prolific and multi-talented fantasy writer Neil Gaiman.  
The evening was devoted to magical realism, which Gaiman defines as writing that creates a work just to one side of reality, that makes you look at the real world in unexpected ways.  This is certainly true of his own story, "Troll Bridge," a reworking of the traditional fairytale "Three Billy Goats Gruff."  Literary commentator Hannah Tinti notes that the story "highlights Gaiman's unlimited imagination and unique way of weaving elements of fairy tales into everyday life to explore larger spiritual issues."  Gaiman reads his own story.
Our second story is by one of Gaiman's literary idols and influences, the Argentinean writer Jorge Luis Borges, who lived from 1899 to 1986.  "The Circular Ruins" was included in his collections The Garden of the Forking Paths and Ficciones, and describes a mystical character who has set himself a mystical task:  "He wanted to dream a man."  The reader is four-time Tony Award-winner Boyd Gaines, most recently seen on Broadway in "Driving Miss Daisy."
The final story on this program is the 2011 winner of our annual Stella Kupferberg Short Story Prize competition.   "Tender" was written by Carly Sachs, who received her MFA from The New School.  It is told from the point of view of a woman bartender, and Hannah Tinti notes that this is a is perfect setup for a story because of its intimacy and immediacy.   She also says that "Tender" deals in an intriguing way with the traditional romance of the solider returning home from war.  But in this case, the war is the current one in Afghanistan, and today's soldiers don't come home to the hero's welcome so common in earlier books and films.  The reader is actress, singer, and songwriter Mary Brienza, one of the regular stars of Symphony Space's political cabaret, "The Thalia Follies."
The SELECTED SHORTS theme is David Peterson's "That's the Deal," performed by the Deardorf/Peterson Group.
"Troll Bridge," by Neil Gaiman, performed by Neil Gaiman
 "The Circular Ruins," by Jorge Luis Borges, performed by Boyd Gaines
 "Tender" by Carly Sachs, performed by Mary Brienza
For additional works featured on SELECTED SHORTS, please visit http://www.symphonyspace.org/genres/seriesPage.php?seriesId=71&genreId=4
We're interested in your response to these programs.  Please comment on this site or visit www.selectedshorts.org
And for more thoughts on the stories in SHORTS, check out literary commentator Hannah Tinti's site at http://hannahtinti.com
Announcing the 2012 Stella Kupferberg Memorial Short Story Prize.  This year's theme is "objects of desire."  The judge is the author Maile Meloy and the deadline is March 2, 2012.