In Wake of Officer Peter Figoski's Death, Bloomberg Spotlights Illegal Gun Sales
Two days after the shooting death of Officer Peter Figoski, Mayor Michael Bloomberg renewed his call for regulations on illegal guns and announced the results of the city's latest illegal gun sting, spotlighting what he called the "vast and growing" online gun market.
The gun used in the killing of Figoski in Brooklyn on Monday was an illegal Ruger 9mm semi-automatic, similar to one of the weapons purchased online during an undercover sting by private security agent overseen by the city and displayed on a table next to the mayor.
It was sold at a Virginia pawn shop in 1999, but the owner claimed he lost it during an eviction from his residence.
"We're not going to have more Peter Figoskis," Bloomberg said Wednesday.

The new investigation was conducted in 14 states, and involved undercover agents posing as buyers. According to city officials, 77 out of 125 online gun sellers went through with sales despite being told by buyers that they would not be able to pass a background check, if one were administered.
Officials said all evidence compiled during the investigation had been passed on to the Bureau of Alcohol, Tobacco and Firearms.

Federal law does not require a background check to be performed by "private sellers," but does forbid a seller from completing the transaction if led to believe a buyer would fail a background check.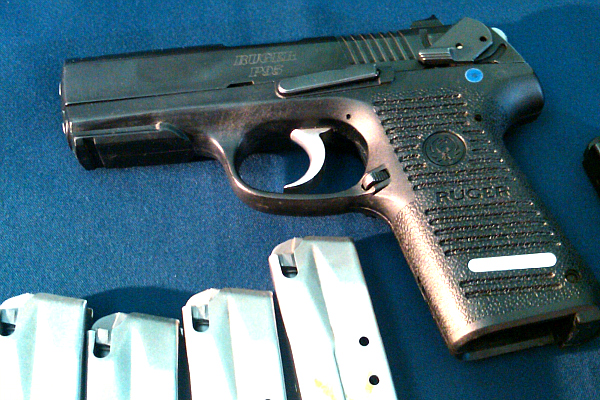 "We already contend with the iron pipeline bringing guns into New York City," said police commissioner Ray Kelly. "The last thing we need is an electronic pipeline."
(Photo: A Ruger 9mm, similar to the kind used in the death of officer Peter Figoski. Arun Venugopal/WNYC)

The mayor's criminal justice coordinator, John Feinblatt, warned that online purchases were "even more potentially lethal" than gun shows, "because these websites are open 24 hours a day, seven days a week, and they can be completely anonymous."