Saddam Hussein Dinnerware Used in Art Exhibit Returned to Iraq
Federal prosecutors announced Wednesday that stolen Wedgewood china looted from one of Saddam Hussein's palaces had been turned over to Iraqi diplomats.
The news hits close to home for an arts group in New York since the plates were used as part of an art project that started with an interest in dates and dinner plates.
Artist Michael Rakowitz, who is Jewish and of Iraqi descent, had seen the dinner plates once belonging to Saddam Hussein on sale on eBay and he had wanted to do a project involving Iraqi date syrup. Thus, a collaborative art project was born, one which he dubbed "Spoils."
Working with Chef Kevin Lasko of Park Avenue Autumn, Rakowitz served "Spoils" on the looted plates he bought on eBay. On the dishes was an Iraqi desert known as Debes wa Rashi (Date Syrup mixed with Tahini) served as a base for a venison dish — think American deer hunt meets Iraqi date harvest. 
"Spoils," which was available for the eating Park Avenue Autumn from September 28 to November 26, was about complicating the dining experience.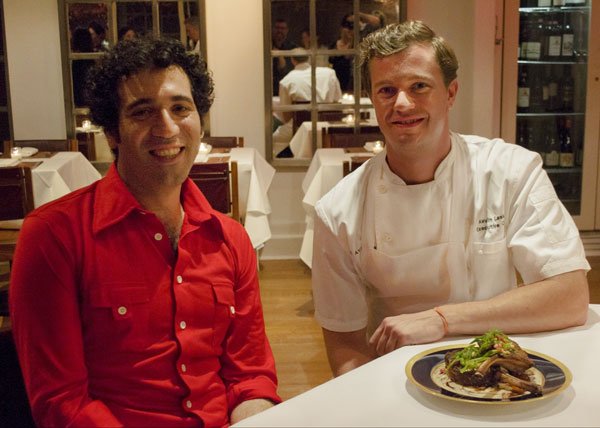 "This really delicious meal that incorporates this fruit — the date — was supposed to be the harbinger of good or sweet things to come. [It] is complicated by the experience of being presented on a bitter surface," Rakowitz explained. "And that tension between the plate, the dish and the diner's tongue was very much a part of the work, and forcing the diner to take a position, really, because it's not an easy thing to be served on these plates."
The experience became even more complicated when a cease and desist order was delivered two days before Thanksgiving. Anne Pasternak, president and artistic director of Creative Time, said that's when she learned the Iraqi government wanted the stolen plates back.
Both Pasternak and Rakowitz said they believed the purchase of the plates were legal. Rakowitz bought them from a U.S. serviceman who said he had purchased the dishes at a flea market on his base in Iraq after Saddam Hussein's regime had fallen and his palaces were looted.
Pasternak said she was "delighted" to comply and return the more than a dozen plates back to the custody of the Iraqi government.
Pasternak videotaped the handover, which happened on Tuesday, saying her arts organization wanted to document it and use it as an educational tool. 
The repatriation of the dinner plates also pleased Rakowitz.
"It shows that maybe in the emergence of this new Iraq, that there won't be this erasure of the narrative of the past," he said. "That they won't submit to this amnesia of the past regime and they'll keep those traces alive as part of its cultural memory."
It's also a great ending for his project.
(Photo: Artist Michael Rakowitz and Chef Kevin Lasko with a plate full of 'Spoils.' Photo by Christopher Kissock, Courtesy of Creative Time)