5 Arraigned in NYPD Officer's Death, Face Murder Charges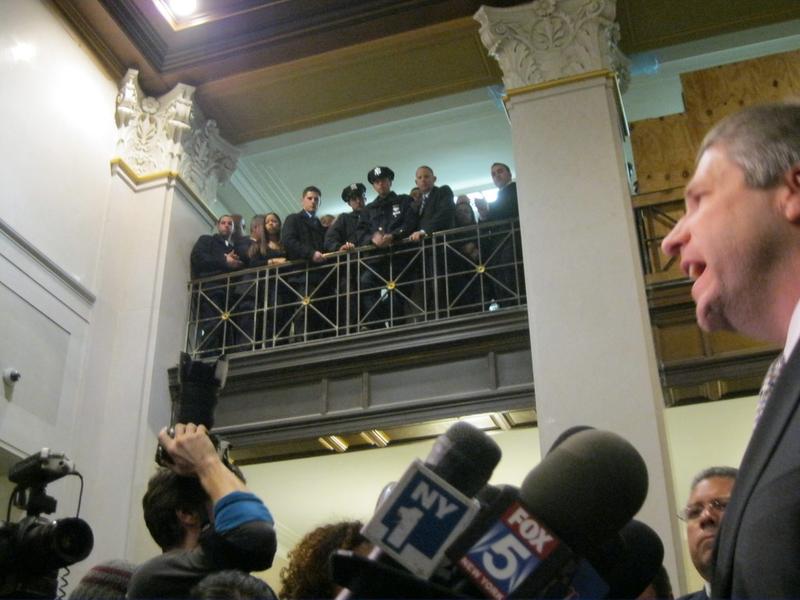 Five men accused of being involved in killing of a New York Police Department officer have been arraigned on murder charges and ordered held without bail.
Lamont Pride, 27, the man who is suspected of shooting NYPD officer Peter Figoski, appeared in the packed courtroom, shackled and wearing a white jumpsuit. He had no reaction and did not speak in court. He was arraigned on first-degree murder charges.
His four co-defendants were arraigned on second-degree murder charges later in the evening.
Brooklyn Prosecutor Kenneth Taub said that the group had planned to rob an alleged marijuana dealer. Nelson Morales, 27, was accused of being the ring leader of the home invasion. Taub called Pride the muscle of the group and alleged that when officer Peter Figoski blocked his exit, Pride made the decision to kill Figoski rather than conform and be arrested.
All were charged with murder because statue reads that every person who participates knowingly in a crime bears the responsibility of each of their partners. Morales was arraigned with Kevin Santos, Ariel Tejada and Michael Velez.
The defense attorneys for the four did not speak after the arraignment, but said in court that they would make bail arguments on Friday when they make an appearance before a grand jury.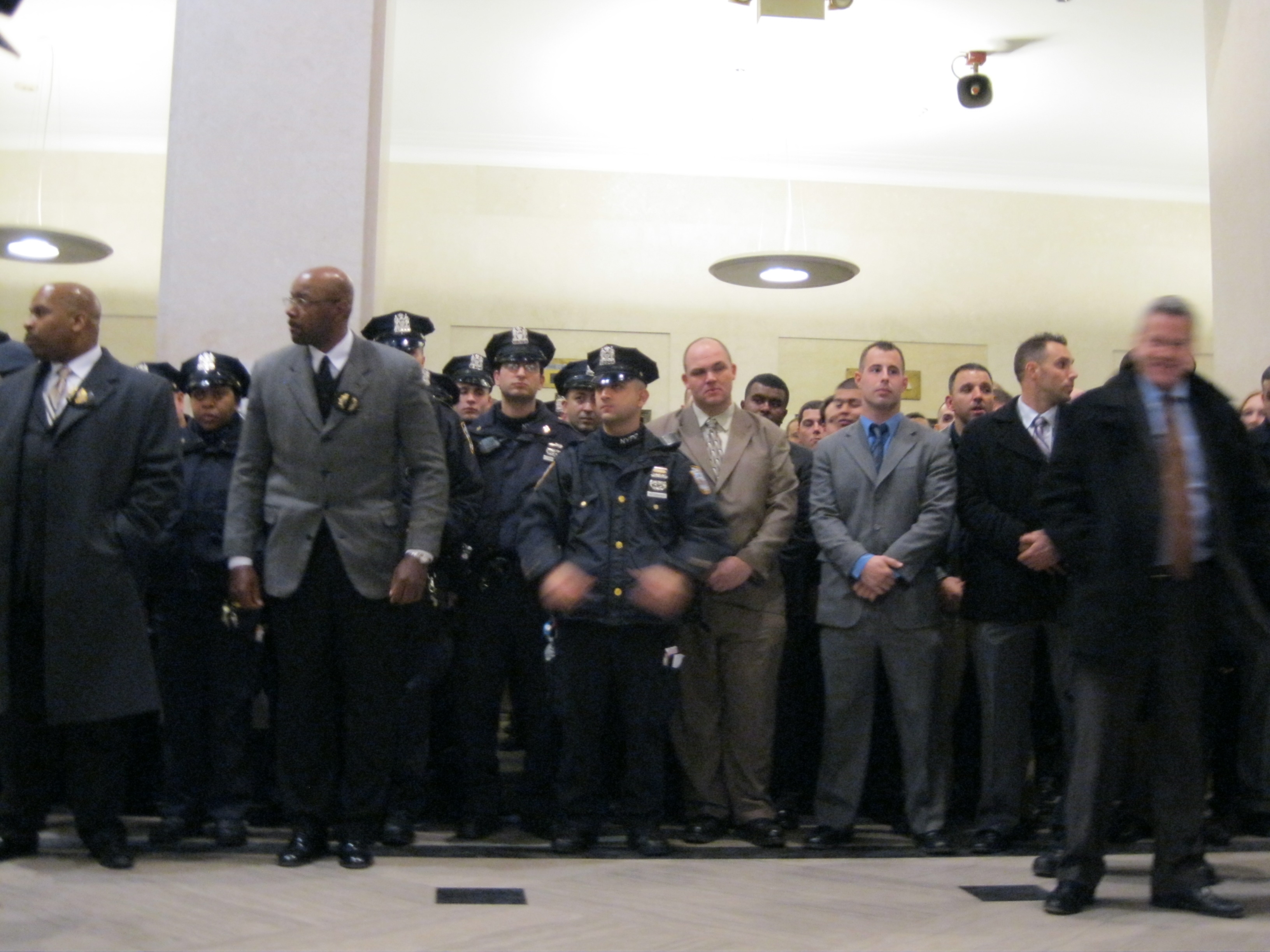 PBA President Patrick Lynch spoke after the arraignment and noted that Figoski played a part in the events of the evening. "As they [the defendants] were brought into this court, the one thing we held in our hearts was to know that police officer Figoski's handcuffs were on these perps that walked into that building today."
Figoski and his partner responded to a burglary on Monday that was the site of an alleged drug dealer being ripped off by a "career criminal, Commissioner Ray Kelly said.
(Photo: Police officers packed the courthouse where suspects in Officer Figoski's death were being arraigned. Cindy Rodriguez/WNYC)
"I'm very proud of the detectives involved in this case," Kelly said. "I mean, this was an all-out effort, 24 hour intensive investigation and effort, and I think the results speak for themselves."
Pride, of Greensboro, N.C., was arrested Monday and identified as the alleged shooter. He had an outstanding violent felony warrant in North Carolina and more recent drug-related arrests in the city.
"He should not have been out on the street," Kelly said. "He should've, ideally, been extradited to North Carolina. But that didn't happen."
Pride was released after police found they had no grounds to hold him under the North Carolina warrants, police Commissioner Raymond Kelly said at a news conference announcing that Pride and the other men involved in the officer's shooting death were facing murder charges.
Following the second arrest on Nov. 3, an NYPD supervisor called North Carolina authorities out of "concern that there's an individual who's wanted for a violent act who could be let go," Kelly said. On Nov. 7, North Carolina officials amended the warrants to require Pride be held until state authorities could retrieve him, but by then he had been released pending a January court date in New York, Kelly said.
PBA President Lynch added that Pride should not have been let out after his previous arrests. "If he wouldn't turn himself on an outstanding warrant why would the judge believe that he would show up for court?" Lynch said. "Now a New York City police officer is dead. That should never happen again."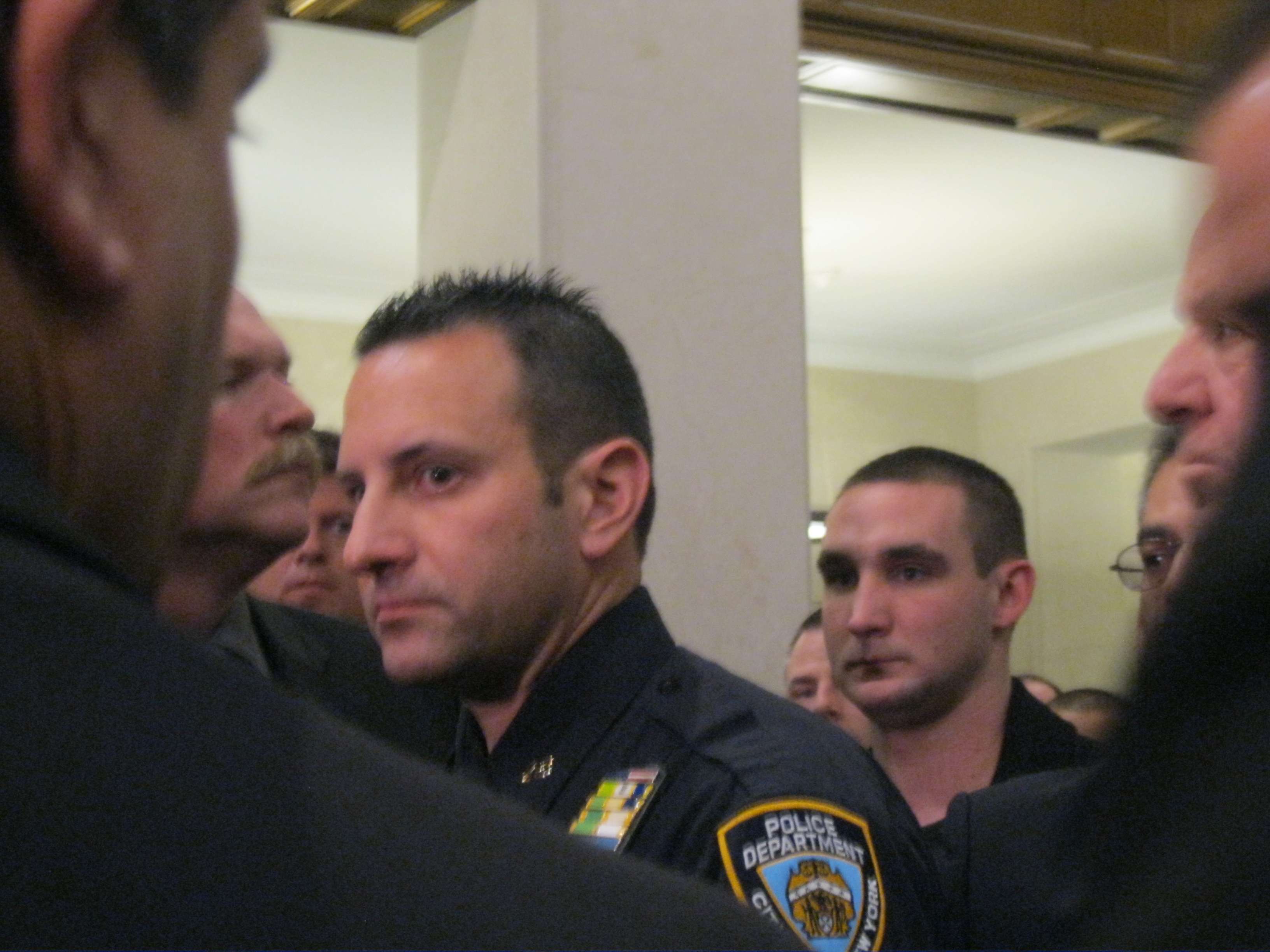 Santos, 30, of Queens was allegedly struggling with Figoski's partner, officer Glenn Estrada, while Pride allegedly shot Figoski in the face.
"We initially thought that two other individuals at the scene were good Samaritans helping the victim but we now know they were involved in the robbery," Kelly said.
Figoski, 47, and spent his entire  22-year career at the busy 75th precinct in Brooklyn, where the mood was "very somber," according to Lt. John Tennant. He described Figoski as "a dedicated officer" who was "very well liked."
(Photo: Officer Estrada leaves the Brooklyn courthouse. Cindy Rodriguez/WNYC)
"In the case of officer Figoski, it robbed his daughters of a caring father and this department and East New York of a great police officer," Kelly told reporters Tuesday.
Figoski was called a role model by Precinct Commander Inspector Jeffrey Maddrey, who told WNYC Figoski had worked midnights since 2002 to spend more time with his four daughters.
On Tuesday, police continued to comb the residential block of two-story row houses in Cypress Hills where Figoski was shot.
Residents on the block complained that the house where the shooting occurred was operating illegally as a single room occupancy building. City officials confirmed that back in October 2008, they had observed that 25 Pine Street had been converted to a five room SRO, though only one or two residential units were permitted. But they said none of the violations were considered life threatening.
With reporting from Arun Venugopal and the Associated Press