NYPD Mourns Loss of Dedicated Family Man, Model Cop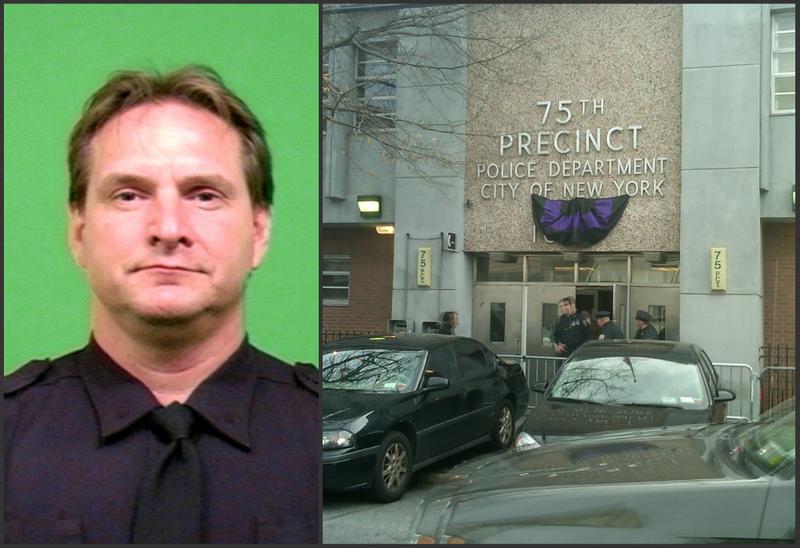 Officer Peter Figoski was a role model for other officers and chose to work the midnight shift at his Brooklyn precinct so that he could spend more time with his family, his commanding officer told WNYC.
Figoski, 47, died of a single gun shot to the face in the early hours of Monday morning. He was responding to a 911 call of a burglary in progress.

He was a "dedicated officer" who "always had a smile on his face," Inspector Jeffrey Maddrey, commanding officer of the 75th precinct in Brooklyn, told WNYC in a phone interview.

"He was always helping out the younger guys," Maddrey recalled.
On Tuesday, police arrested four additional suspects — including a second man who fled the scene, two others who posed as concerned neighbors and a getaway driver, police said.
Alleged shooter Lamont Pride, 27, was arrested by Figoski's partner on the scene. He faces murder charges. Police say the four suspects will be charged.
On Monday, black and purple bunting was hung on the façade of the 75th precinct in East New York to mark Figoski's death. Outside the precinct, it wasn't just cops that mourned.
East New York resident, Edwina Dixon, made a point to stop by to offer her condolences. "It's terrible today. No one has any respect but we will call on them when we need their help. We need to lobby together for our precinct and show them support because when we need them they are always here for us."
A neighboring firehouse brought the precinct lunch as police officers embraced each other when they came and went from the busy precinct.
Tears and emotion were visible.

Figoski spent his entire 22-year career at the 75.

Figoski had chosen to work the midnight-to-7:50 a.m. shift since 2002 so he could spend more time with his family, according to Maddrey. The divorced father of four has two college-aged daughters and two in high school. He lived in West Babylon, Long Island.

Maddrey said Figoski's record was exemplary. He had more than 200 arrests to his credit, half of which were serious felonies. He received a dozen NYPD medals including 8 for exceptional police duty.

"Pete was always pleasant. Never grumpy. He had a great character. And always a positive attitude," said Maddrey.

Maddrey said that thanks to Figoski's longevity at the 75 he knew the neighborhoods he patrolled intimately and was able to "serve the community with diplomacy."
 
In the early hours of Monday morning, the veteran officer and his partner Glenn Estrada were working back up on a call to 25 Pine Street when the pair encountered two men trying to escape from that address after allegedly pistol whipping and robbing a tenant in a basement apartment.

Estrada, Figoski's partner, left the suspect he was trying to subdue to pursue his partner's alleged shooter, 27-year-old Lamont Pride. Pride is being held at the precinct on murder charges.

Estrada sustained injuries to his shoulder. He has been treated and released.

The robbery victim said his assailants stole an inexpensive watch and $770 in cash, police said. The tenant is currently being treated at Brookedale hospital for head injuries.

Law enforcement sources say Lamont Pride of Brooklyn has five unsealed prior arrests, including several for drug possession and sale. He is wanted on an outstanding warrant for aggravated assault in North Carolina, according to the NYPD.
Over the arc of Figoski's career he did witness a stunning decline in violence in the precinct he served. In 1990, the precinct experienced 109 murders. That number dropped to 33 in 2010.