Hospitals' Challenge: Slow Down Revolving Door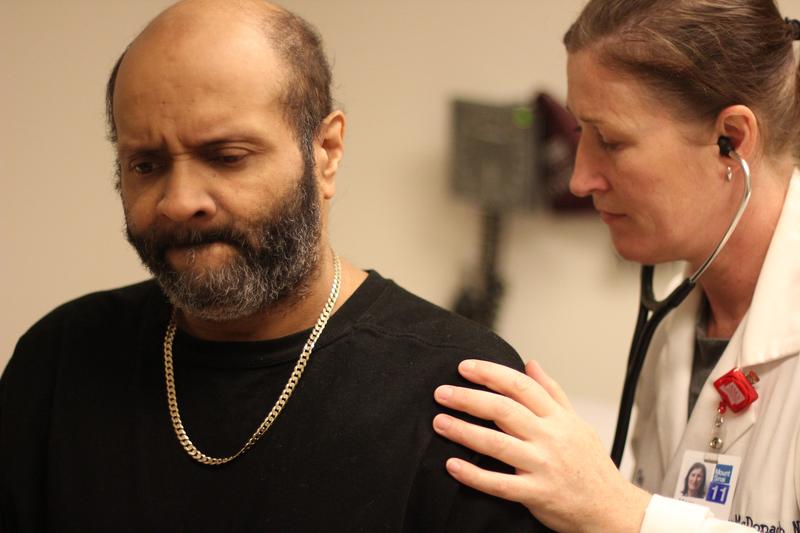 For years, Joseuly Claudio was a regular at Mt. Sinai Hospital in Manhattan. The 53-year-old triple-bypass heart failure patient had 20 emergency room visits and overnight admissions last year, costing taxpayers $140,000 through Medicare and Medicaid programs.
This year, Claudio has only been to the emergency room or in patient beds seven times. And the hospital billed Washington and Albany $54,000 by – a 60-percent drop by comparison.
The decline is thanks to a program created by Mt. Sinai known as PACT — its Preventable Admissions Care Team — aimed at patients like Claudio, who have  complicated, chronic health problems, with the goal of making them more self-sufficient and preventing unnecessary emergency room visits. 
Close to one in five discharged Medicare patients is back in the hospital within 30 days, and research suggests the overwhelming majority of those return visits could be prevented with better treatment in the hospital and at home. 
Starting next fall, the US Department of Health and Human Services will begin penalizing hospitals if their readmission rates are higher than expected for three conditions: heart attacks, heart failure and pneumonia. 
The new federal policy has prompted hospitals across the country to look at their readmission rates and develop ways to reduce them.
Some are hiring private companies to call patients at home to make sure they're taking their medications, eating right and keeping medical appointments. Others have created programs in-house of varying sizes and intensity. 
In addition to heart failure, Claudio has diabetes, hypertension and severe gastroparesis, a stomach problem that makes him gag constantly. Claudio was bad at taking insulin and various medications, keeping doctors' appointments and maintaining a healthy diet. He visits the PACT clinic biweekly, where he primarily meets with a social worker and nurse practitioner, and occasionally sees a doctor.    
"Sometimes I dehydrate, and I don't know if it's my blood glucose or high blood pressure, low blood pressure," Claudio said. 
Mt. Sinai has the eighth worst record in the country for heart attack readmission. 
(Photo: Mt. Sinai Medical Center in Manhattan. Fred Mogul/WNYC)
Hospital administrator Claudia Colgan challenges how the federal data is gathered -- she says the "risk adjustment" for hospitals serving poor and less healthy patients doesn't go far enough -- but she said that getting readmissions down is a top priority. She says it will take a major culture shift. 
"It's the default posture to admit patients," Colgan said. "If you are the doctor on call, and a patient you have never met before calls and says, 'I have these symptoms,' the likelihood is you're going to say, 'You know what – go to the emergency room.' And what we've tried to do is not have that happen." 
Dr. Eric Coleman, from the University of Colorado said for too long hospitals have benefited from a system that rewards them for excessive care. 
"There are conflicting incentives," said Dr. Coleman, who has developed a transitional care program that is one of the inspirations for PACT. "Depending on what part of the country you're in, a hospital might rely on readmissions accounting for between 15 and 25 percent of their revenue." 
In the first year that penalties kick in, 1 percent of hospitals' Medicare payments will be withheld, and that forfeiture of income would climb in subsequent years — at a time when payers are reducing fees to hospitals on a number of other fronts, too. 
If Mt. Sinai's readmission rate triggers the penalty, it could lose an estimated $2 to 4 million — and even more, if the problem persists.  
"It's really an unfunded mandate," Colgan said. "Medicare doesn't pay for transitional care, but in order to reduce your readmissions, you need to provide transitional care."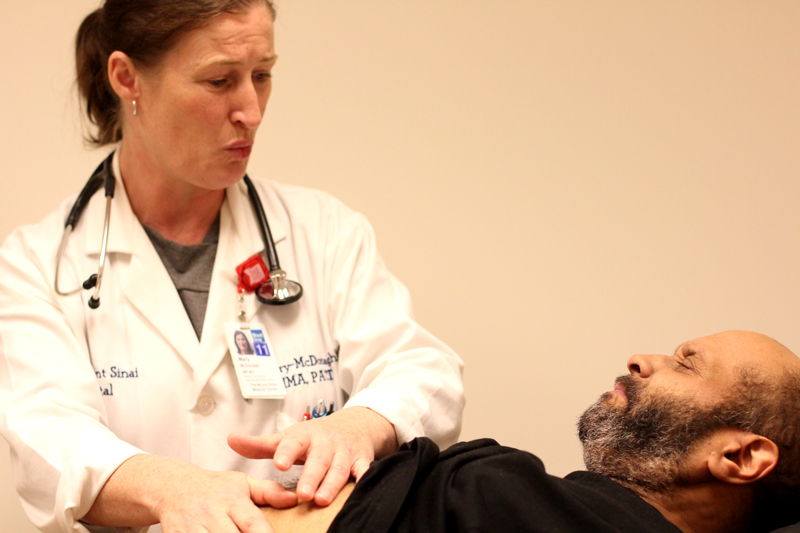 There are some signs it's paying off medically, if not economically. In the program's first full year, its 500 patients have had a 40 percent drop in readmissions and a 55 percent drop in emergency room visits. 
(Photo: Patient at the hospital. Fred Mogul/WNYC)
Claudio's health has improved only modestly, but he said the counseling has helped his peace of mind improve dramatically. One recent evening, when he couldn't even keep water down and was feeling dehydrated, he didn't dial 911, as he might have before.
He's learned to gauge his symptoms and control his anxiety better. This time, he lay down, went to sleep and waited for the PACT clinic to open on Monday to call. 
"I feel more at ease, because I have them," Claudio said of the PACT team. "I try not to panic, and if it gets worse, I'll call them, and they will tell me to come here and maybe I just need the fluids, so I don't have to go to the emergency room." 
Mt. Sinai is absorbing almost all of the costs of those twice-a-week clinic visits. The PACT program this year will cost the hospital about $1 million out of pocket. It's not clear how long Mt. Sinai can foot the bill for PACT, Colgan said, when "the only return on investment is avoiding the penalty."
Correction: An earlier version of this article said Mt. Sinai had the eighth worst record in the country for heart failure. This is incorrect. Mt Sinai has the eighth worst record in the country for heart attack readmission. WNYC regrets the error.