NYPD Officer Shot, Killed During Brooklyn Break-in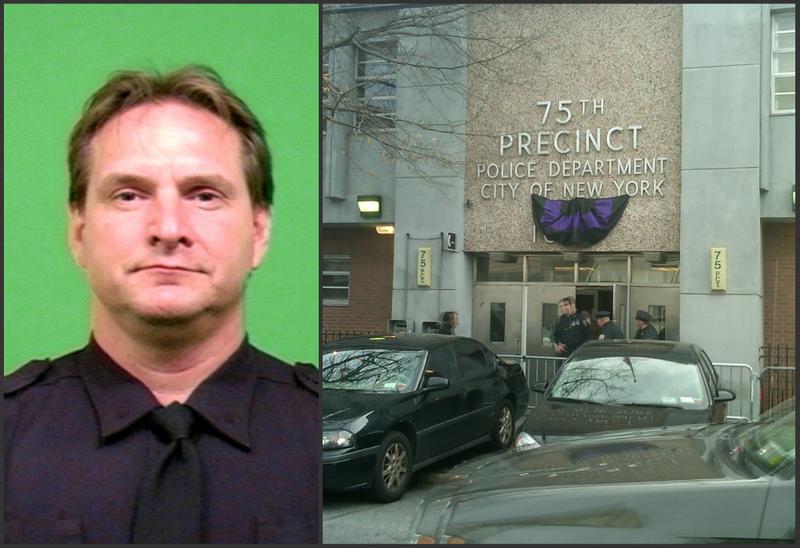 A 22-year veteran police officer responding to a break-in Monday morning was shot in the face and killed by one of the suspects hiding inside the Brooklyn apartment when officers arrived, police officials said.
Officer Peter Figoski, who could have retired two years ago with a full pension, was pronounced dead at 7:17 a.m. at a hospital just hours after the shooting, authorities said.
Lamont Pride, 27, was arrested and faces murder charges. It's not clear when he would be arraigned, and there was no information on whether he had an attorney. A second suspect was still being sought.
Figoski had more than 200 arrests in his career and had 12 medals awarded, including 8 for exceptional police duty.
Fellow police officers teared up outside the 75 precinct station house in Brooklyn where Figoski worked and where purple and black bunting was affixed to the building's facade Monday to mark the Figoski's death.
He was part of a back-up team of officers who responded to a report of a break-in at the basement apartment in the East New York section of Brooklyn, Police Commissioner Raymond Kelly said. The building owner, who lives on the first and second floors, called 911 at about 2:15 a.m.
The two suspects had tried to flee through the back of the long, narrow apartment, but they couldn't find a way out and were hiding in a side room as officers walked past them and started to interview the tenant and a neighbor. They were trying to escape through the front when they ran into Figoski. He was shot once.
They're investigating whether some of the large amount of cash stolen was drug money.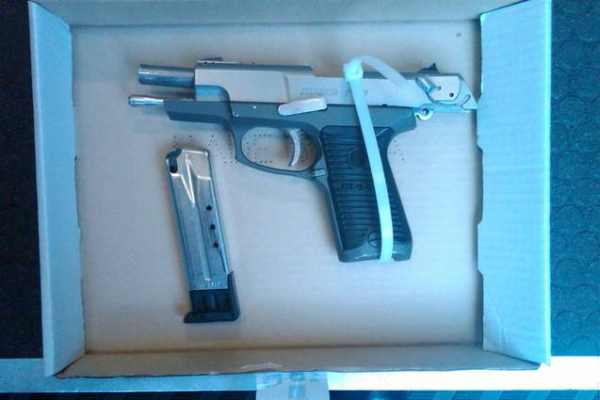 Figoski's partner, Glenn Estrada, was struggling with the second suspect in front of the house when he heard the shot and watched the suspect running away. He chased after him for blocks before capturing him, Kelly said. He was treated for a shoulder injury during the fight.
(Photo: A sliver 9mm Ruger semi-automatic pistol was recovered under a parked car on Chestnut Street near Fulton Street./Courtesy of NYPD)
"I want to commend Officer Estrada, who had the presence of mind to focus on the man with the gun, and the courage to chase him down and capture him," Kelly said.
Police found a silver, semi-automatic pistol under a parked car near where Pride was arrested. There was one round discharged from the weapon, and the shell casing had jammed inside the gun. Kelly said the gun had ten other live grounds and the gunfire could have been worse had the weapon not jammed.
Police found a second gun that they believe belongs to the at-large suspect, described as a male, Hispanic, mid-20s, wearing grey hoodie and white pants. A third gun, a revolver, was discovered in the microwave at the apartment.
The organization COP SHOT, which stands for Citizens Outraged at Police Being Shot, is offering a $10,000 reward for information that leads to the arrest and conviction of the second suspect.
Figoski, 47, of West Babylon, N.Y., was divorced and has four daughters. Carolyn, 16, and Corrine, 14, are in high school, and Christine, 20, and Caitlyn, 18, are in college. His brother Robert Figoski is a retired police officer, and his brother-in-law is currently an officer.
"It is a family that has dedicated its lives to making this city safe and it's just such a tragedy," Mayor Michael Bloomberg said.
A Suffolk County police cruiser kept guard Monday outside Peter Figoski's dormered, Cape Cod-style home on a quiet street on suburban Long Island; there was no answer at the door.
"I got goosebumps all over my body when I heard the news," said Helen Krebs, who lives across the street. She said Figoski's two eldest daughters had babysat for her 5-year-old son, Matthew, and she frequently saw Figoski working on his yard.
"He raised his daughters wonderfully. They were hard-working, conscientious, wonderful salt-of-the-earth-type people," Krebs said.
 "I could rely on him to be very helpful if I needed something," she said. "It was comforting having him as a neighbor across the street."
The Brooklyn tenant told police he heard the suspects pounding on the basement door, claiming to be police. They broke down the door and demanded money, pistol-whipped him and took $770 in cash and a watch, police said. The tenant works at a nearby bodega and told police one person was wearing a ski mask.
A ski mask was recovered on the street corner where Pride was arrested. A neighbor also came to help when he heard the commotion and said he saw the men with guns.
Police are investigating whether some of the stolen cash was drug money.
Bloomberg, an outspoken advocate for gun control, said the gun was purchased illegally and reiterated his plea for stricter gun laws around the country. New York has some of the strictest nationwide.
"These guns are bought and used to kill people, and you saw that this morning," Bloomberg said.
It was the second time this year an NYPD officer was killed in the line of duty. Officer Alain Schaberger fell nine feet off a stoop and broke his neck while responding to a domestic violence call in Brooklyn in March. The man accused of pushing him has pleaded not guilty to murder.
The shooting Monday recalled the 2007 death of Officer Russel Timoshenko. He was shot twice in the face during a traffic stop in Brooklyn and later died. His partner, Herman Yan, was saved by his bullet-resistant vest.
With reporting by Bob Hennelly