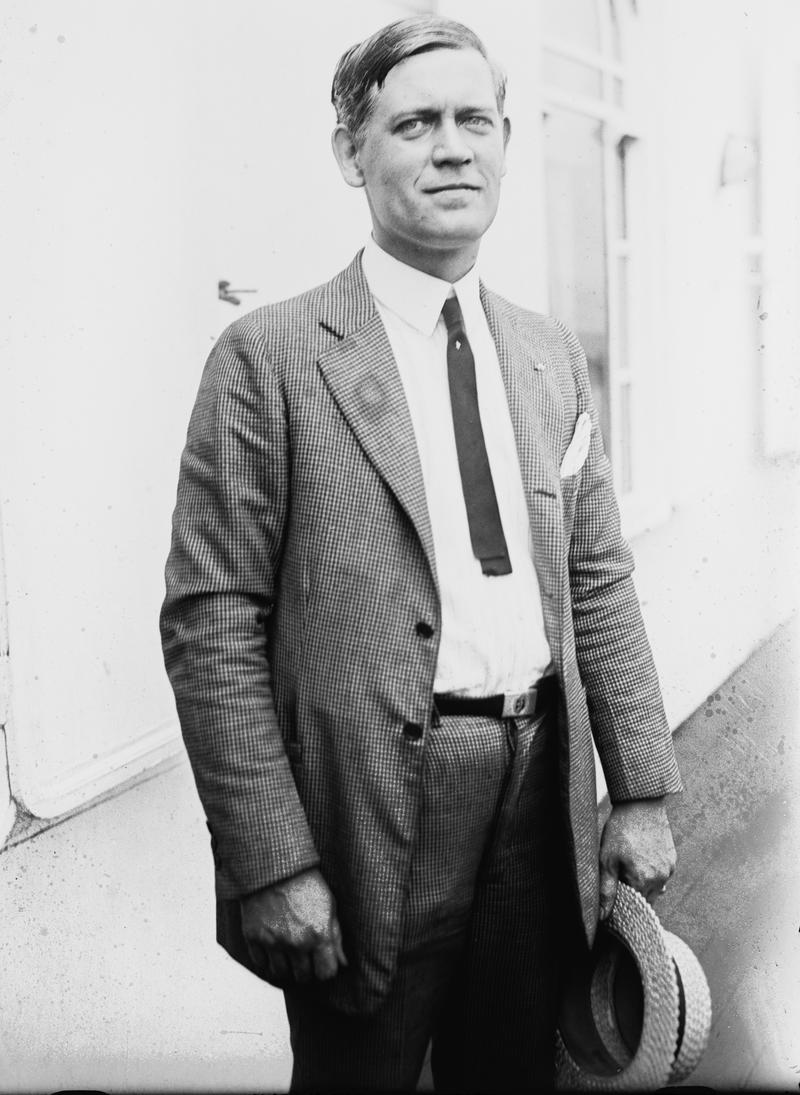 Thornton Fisher (1888-1975) began his broadcasting career in 1923 at AT&T's WEAF in New York as one of radio's earliest sports commentators. He switched to WNYC the following year, not long after the municipal station began broadcasting. The Evening Leader of Corning, New York  praised Fisher's Tuesday and Thursday evening program, Sports Analysis, and said, "he is one of the keenest sports writers and cartoonists in the world of journalism. His love for all sports, coupled with his sparkling wit and understanding of every phase of every game, have created an immortal place for him as chronicler of the progress of sports."[1]
In 1929, The Pittsburgh Press described Fisher as a "tireless worker" heard over KDKA who boasted of maintaining a 20 year sports log, "one of the most complete sporting records in existence" whose daily updates took an hour or more.[2] By the 1930s Fisher was a regular on the NBC network with the program Sports Page of the Air.
Fisher began his career drawing several newspaper comics and panels in the 1910's. He worked for the Cleveland Leader and New York Daily News and as gag cartoonist for the St Louis Republic and Washington Star before becoming successful with comic strips and panel series, including Wishing the Wisp in The New York Herald. Other successful strips were Raising the Family, The Marrying of Mary and Betty's Brother Bobby. In the 1920s his popular sports cartoons were published across the U.S. through the World Syndicate. Fisher also sketched many sporting celebrities and other personalities.
[1] "Thornton Fisher Returns With Sports Analysis," The Evening Leader, December 18, 1924.
[2] "Sports Broadcaster is Tireless Worker," The Pittsburgh Press, June 2, 1929, p.6.
___________________________________________________________________________________
Broadcast on WNYC Today in:
1924: Commentator Thornton Fisher hosts Sports Analysis.
1941: Conductor John Barnett leads a concert at the Brooklyn Museum, featuring Thomas Scott's Plymouth Rock, Walter Piston's Concerto for Piano and Orchestra and Lamar Stringfield's Dance of the Frogs and Kidder Kole.
1950: British Prime Minister Clement Atlee delivers an address at the Washington Press Club
1962: Seymour Siegel interviews city treasurer Hilda Schwartz on City Close-up.
1972: Mrs. Carl Stern, the President of the Musicians Foundation is Herman Neuman's guest on Hands Across the Sea.
1980: Speculum Musicae perform at Symphony Space
1993: The Turtle Island String Quartet performs for this edition of Around New York.
2004: New York's death penalty is now in the hands of the State Assembly. The law was struck down in June on a technicality. Governor Pataki and Senate Republicans want to fix the law quickly so it's back on the books. But Assembly Democrats are taking a closer look. Beth Fertig reports on their first in a series of public hearings.