Pizza Joints by the Numbers
Manhattan south of 59th street is pizza country, while Eastern Queens is not.
Those are some of the findings from an analysis of the geographic distribution of the 1,676 pizza parlors across the five boroughs, by the city's Economic Development Corporation.
Patrick Muncie, a spokesman with the NYCEDC said, "citywide the neighborhood that has the most is the East Village, with 33 pizza places. If you look at Queens, actually Ridgewood has the most. If you look at Brooklyn, Williamsburg is number one in Brooklyn."
Rounding out the list of neighborhoods with the most pizza joints in the other boroughs is Williamsbridge in the Bronx and New Dorp in Staten Island.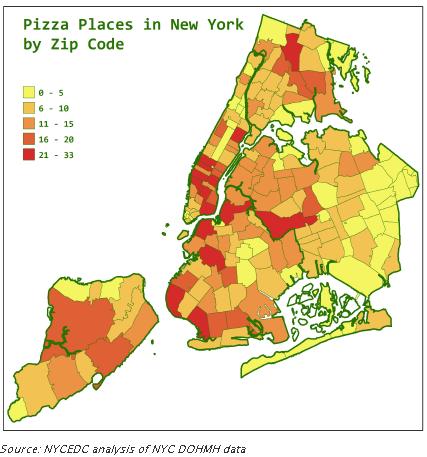 (Graphic: Map of pizza parlor concentrations by zip code./Courtesy of NYCEDC)
The list, however, didn't weigh in on where the best pizza in the city could be found.