Last Chance Foods: On the Hunt for Sustainable Venison
Every day, most Americans are faced with a multitude of choices when it comes to food. Do they shop at the convenience store, supermarket or farm stand? Maintain a diet that's vegan, gluten-free, vegetarian or one that includes meat? Each decision bears a series of large and small consequences that affect both individual health and, potentially, the environment as a whole.
For those meat-eaters who are concerned with eating locally and sustainably, hunting may be a viable option. Deer hunting season in southern New York State ends on Dec. 20, though bow hunting continues through the end of the year in some locations.
Peter Zander, who hosts hunting workshops and hunting weekends on 40 acres he owns in Columbia County, N.Y., explains that his motivation for killing deer is to maintain the most intimate connection he can to the meat he eats.
When asked whether humans have an unfair advantage when pitted against wild animals, Zander is unfazed.
"I don't really want it to be evenly matched, I'm there to harvest my food — I'm not there to find a trophy," he said. "I don't want to take a chance with [a weapon that is] under-powered or questionable. I want a sure shot that will take the animal out as humanely as I possibly can."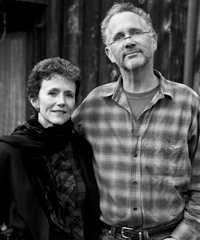 His wife, Nancy, is not a hunter, but recently joined a hunting party for the first time to feed and care for those on the trip.
"[The experience] was transformative because I saw first-hand … the reverence that the hunter has for the woods, and all of mother nature, and the animal that they're hunting," she said. "I saw the chance that these guys take, the knowledge that they have to have to go out into the woods and try and get that animal. And they're sometimes sitting in a tree stand for five hours in the pitch black, in the freezing cold, but they know which way the wind is blowing literally … It's the most elemental, vital connection that you can have with your food."
After Peter kills the deer, it's time to butcher the meat. He notes that quickly taking the animal apart is key to making sure the meat doesn't become gamey.
"By doing it myself, I can eliminate all the fat, and I think that that's the most important thing," he said. "The fat on a deer is more like tallow and it is not a good flavor. And in fact, it will contaminate the meat just by being next to it if you store it that way."
Nancy then uses the venison throughout the year. During the summer, she'll grill cuts and serve them with chimchurri sauce. With a source of lean meat ever at the ready, she also uses it on a day-to-day basis, sometimes sauteing thin slices to use in place of lunch meat.
One of Nancy's favorite dishes is her Five Spice Venison Stew (see recipe below). When butchered and cooked with skill, venison is tender, slightly rich, and absent of almost any gamey flavor.
"If you're a meat eater, some place out there in the world, there is an animal getting harvested for your food," she said. "And if that's the case, and you're going to eat meat that way, I would much rather know that the animal lived in the wild was revered somehow."

Five Spice Venison Stew
by Nancy Zander
2 lbs venison loin, trimmed and cut into approximately 1-inch cubes
4 tbsp butter
4 tbsp olive or canola oil
flour for dredging
1 large onion, roughly chopped
3 or 4 cloves of garlic
8 oz. white mushrooms, quartered
1 tbsp Chinese five spice powder
½ cup red wine
¾ cup strong brewed coffee
1 ½ tbsp. brown sugar
1 tsp Dijon mustard
1 tsp minced or grated fresh ginger
⅓ cup soy sauce
juice and zest from one orange
2 cups peeled sweet potatoes, cut into 1-inch cubes
1 ½ cups baby carrots
approximately 3 cups free-range chicken broth
fresh pasta, preferably pappardelle or fettuccine
fresh chopped chives for garnish
Preheat oven to 325 degrees.
In a large dutch oven, melt 2 tbsp butter and 1-2 tbsp of oil over medium/low heat. Make sure the oil covers the bottom of the pan. Dredge the meat in flour. Working in small batches so you don't crowd the meat, brown it on all sides. This will happen fairly quickly. Regulate the heat so the meat browns but the flour doesn't burn. Remove each batch with a slotted spoon, place into a bowl. Add butter and oil as necessary, and repeat until all meat is browned.
Lower the heat a bit. Add more butter and oil if necessary, then add onions. Saute over low heat until translucent, stirring two or three times.
While onions are cooking, combine coffee and orange juice in a bowl. Mix well and set aside.
Add mushrooms to the dutch oven and saute for 5 minutes, stirring once or twice. Add garlic to vegetables and sprinkle in five spice power. Saute over medium heat for 1 minute, stirring slowly but constantly. Deglaze the pan with red wine, stirring, and let it reduce for a minute or two.
Add the bowl of sauce ingredients, the meat and any accumulated juices, then the sweet potatoes and carrots. Add enough broth to cover all the meat and vegetables. Stir well to combine. Bring to a simmer.
Cover pot with foil, shiny side down, and place in the lower third of the oven. Bake covered for one hour. Uncover, remove foil, and continue to cook for another 1 ½ hours. Adjust seasonings, check to be sure sweet potatoes are fully cooked. They should be falling apart enough to thicken the sauce a bit. If the sauce is too liquid, mix a tbsp of corn starch with ¼ cup of the liquid, mix to a smooth paste, and stir back into the pot until smooth. Cook for another 30 minutes.
Serve over cooked and drained pasta, sprinkled with chopped chives.
*Stew is always great the second day, but if you are serving this for guests, cook it early on the day it is being served, and let it rest. Your house will smell wonderful when your friends arrive.