Frosting White-Out with White House Cake
My fellow Americans, I kept my campaign promise: I baked Pumpkin Cake with Orange Cream Cheese Frosting using a recipe the White House press office recently stuffed into our Inboxes.
Should I become your White House pastry chef, I will bring you less frosting on your country's annual Christmas bundt cake!
With the recent failure of a bipartisan Congressional super committee to reach agreement on a way to cut our deficit, we face across-the-board spending cuts in 2013. I would ensure that our nation's pastry kitchen would join in this sacrifice by voluntarily making frosting reductions.  
Specifically, in the case of the holiday pumpkin cake, I propose reducing the amount of cream cheese by 4 ounces and cutting the amount of sugar by 1/4 cup.  
I'd also find some savings in the liquid ingredients. The allotment of fresh-squeezed orange juice would be reduced to 2 or 3 tablespoons, while appropriations for heavy cream would be eliminated entirely. This would address the problem of frosting overruns.
With these changes, I believe we, as a nation of bakers, will achieve greater results with the White House Pumpkin Cake with Cream Cheese and Orange Frosting. I hope I can count on your vote.
(Try it yourself and let me know what you think!)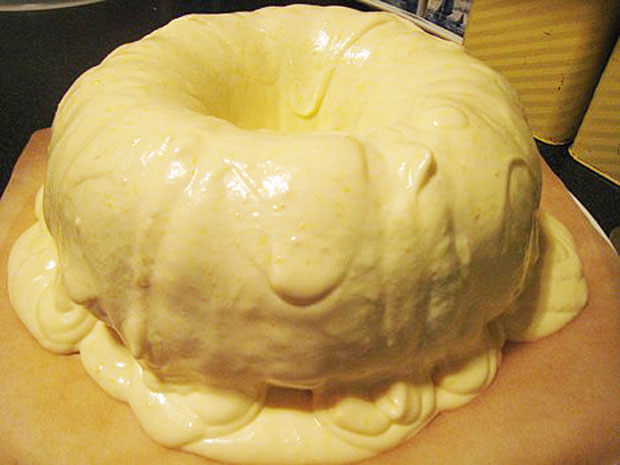 Frosting overruns! (Photo by Amy Eddings/WNYC)