East Harlem Bike Lanes: 'Change Is Scary'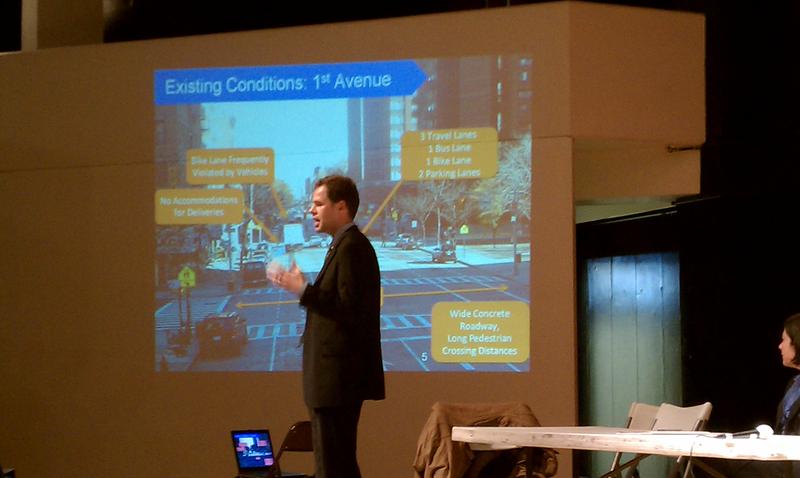 The city's transportation department made their case for bike lanes to an East Harlem Community Board Tuesday during a heated public hearing.
The city planned to start construction of the lanes that would run from 96th Street to 125th Street next spring. But that schedule was thrown into doubt last month when the Community Board 11 voted to rescind their support of the lanes after local business owners protested.

The transportation department, making its sixth visit to the board, showed a PowerPoint of the street redesign, talked about its benefits and pledged to work closely with business owners and other community members to address concerns.

And concerns were plentiful. Business owners, like Frank Brija, who owns Patsy's Pizzeria and is also a member of CB11, said he was a bike rider himself and liked bike lanes in general — just not on his street.

"I'm here to say, 'Why can't we just compromise?'" he said. "First Avenue, we know, is like a next highway to the FDR Drive. When there's traffic there, it becomes so congested."

He suggested that the bike lanes be relocated to Pleasant Avenue or Paladino Avenue.

But naysayers were in the minority at the hearing. During the public comment session, person after person got up to speak in favor of the lanes.

Members of Community Board 7 on Manhattan's Upper West Side — which recently unveiled data on its own year-old bike lane — were on hand to assuage fears.

"We had a debate on our board which was very similar to what you're currently experiencing," said Ken Coughlin. "I'm here to tell you that now we have more than a year of experience, all these concerns are basically groundless."

He told the group that Columbus Avenue had seen reductions in injuries, speeding cars and double parking since that lane's installation.

"Change can be difficult, but what we got for our change was a safer street, a more livable street, a more functional street for everyone, and, I think, a more beautiful street."

At several points people spoke over each other and at times the discussion got heated enough that a board member intervened to smooth over hurt feelings.

One of the last members of the public to speak, resident Diego Quiñones, surveyed the room and summed up the events of the evening:  "Wow, change is scary, huh?"

Matthew Washington, the chair of CB11, said afterward that the board would formally revisit the lanes at the committee level in January.

"We have to mold this proposal, as it's been molded already, to get to that ultimate point where all people feel that issues have been addressed," he said.
Read more on Transportation Nation, a site that combines the work of public radio newsrooms and our listeners as the way we build, rebuild and get around the nation changes.