Get to Know a Local Tree Dealer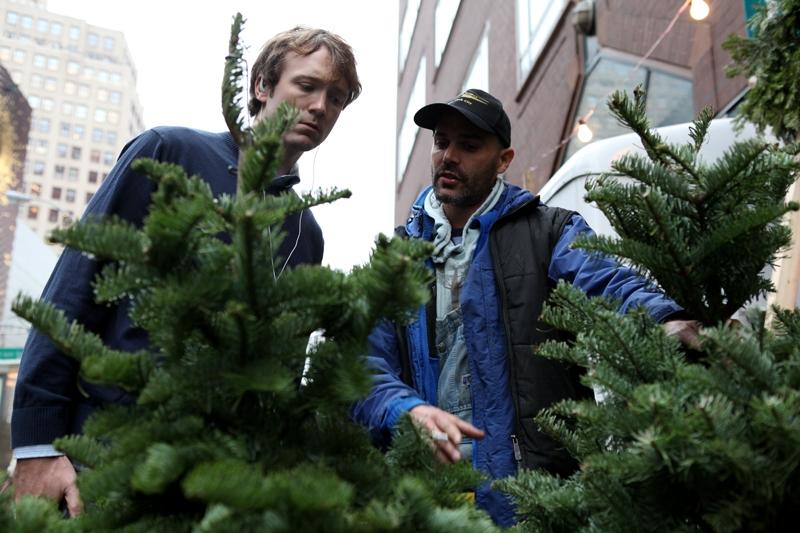 The life of a tree man can be delirious. Puffing on a menthol cigarette, that "goes well with the trees," Jonathan Lerner inhabits the corner of 14th Street and 4th Ave with his partner, Russian-born Dimitri Grigoriev, selling Douglas Firs, Canadian Balsams and Fraser Firs.
"Our life outside of this doesn't exist anymore. We are in this tree world," Lerner said. It's a change for a guy who never had a tree growing up, and only bought his first tree last year.                
The duo will pull 14-hour shifts until Christmas. Lerner said he often loses track of the date. He forgets to pay bills on time, but finds the work invigorating. "By the end of the night I feel really good. After 14 hours, it's better than going out and partying," the 41-year-old Manhattan native said.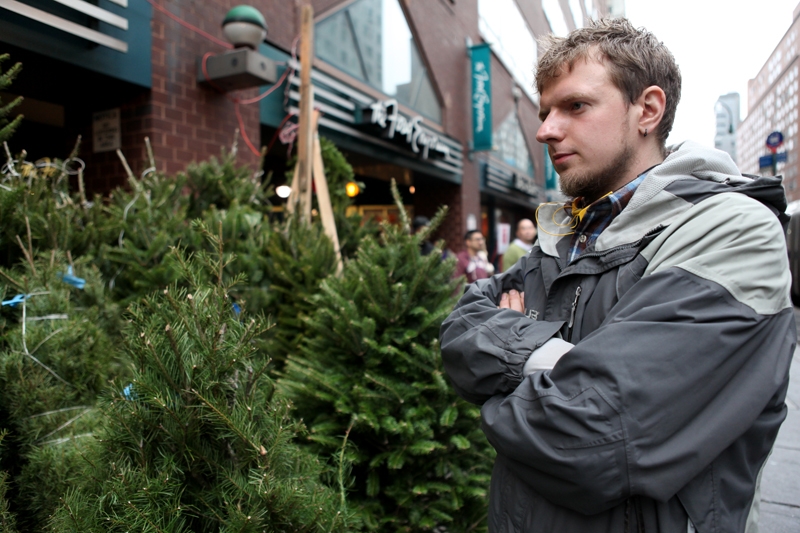 His partner, Grigoriev, 25, agrees. "It's extremely hard and extremely fun, that's the kind of thing we're having here," he said.
Two months ago, Lerner, was a vegan, teaching yoga in Costa Rica. Now, his job requires a radically different diet. "It's all about coffee, cigarettes and meat," he said. Fortunately, there is a halal cart 12 feet from his Christmas tree stand that serves up steaming platters.
(Photo right: Dimitri Grigoriev selling trees at Union Square. Stephen Nessen/WNYC)
Despite being a heavy smoker and adapting to his carnivorous New York life, Lerner believes his health has improved since he started selling Christmas trees.
"Just by being around the trees. Breathing in the oil, the scent, just opens up the lungs and the brain and the heart," he said.
Their stand is one of 12 in the city owned by Soho Trees. It's open 24 hours, with another person taking the 10 hour shift.
Lerner and Grigoriev are both first time sellers and like the smell that follows them home.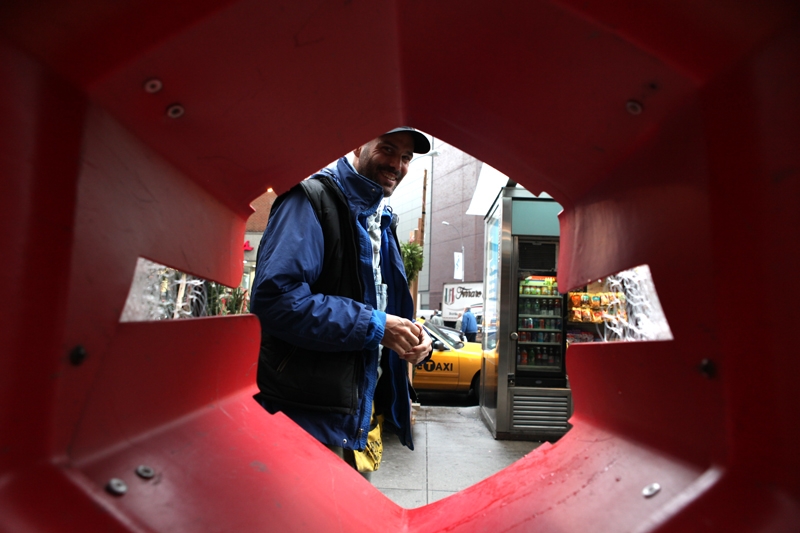 "Our clothes are quite dirty, but our smell is quite nice. So when we hit the subway late at night, people don't necessarily think we're living on the street," Lerner said. He often passes out freshly cut branches on the subway.
Lerner and Grigoriev are looking forward to when the season winds down and the Christmas tree Olympics start. Organized by their employer, the tree vendors will compete in events like racing around the block holding a tree, and bailing co-workers.
(Photo: Jonathan Lerner, a first year Christmas Tree salesman. Stephen Nessen/WNYC.)