The Gingrich-Cain Mutual Admiration Campaign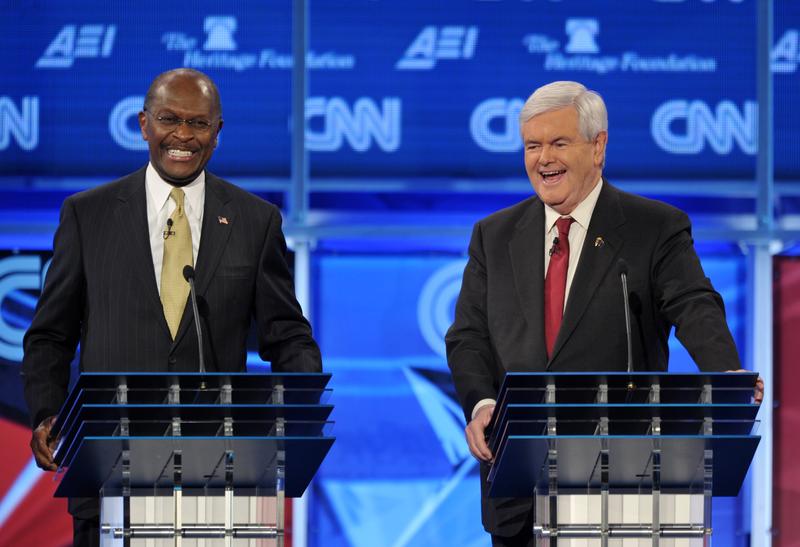 Former presidential candidate Herman Cain will reportedly endorse Newt Gingrich's bid for the presidency today, underscoring the thrust of momentum the former Speaker has picked up with Cain's exit.
The two men from Georgia make for an odd pair. Cain, the former pizza executive and restaurant lobbyist, has never held elective office. He famously flubbed his talking points on Obama's Libya policy and deferred questions about Afghanistan to "the experts and their advice."
In contrast, former House Speaker Gingrich is campaigning as the expert in the race. The Washington veteran with a doctorate in history stuffs his remarks with so many references to his books, his experience in office, and the lessons of the past that they often obscure his skewering punchlines. 
The two candidates' campaigns have also resembled each other's in another sense. Both struggled with overstretched campaign staffs and paired campaign events with book promotions, stopping to sign and sell books in communities far away from early primary voters. And even on policy, Gingrich took cues from Cain. After Cain's 9-9-9 plan gained traction in October, Gingrich called for an optional 15 percent flat tax to "liberate taxpayers from the IRS tax code" in an Iowa newspaper op-ed. 
But most importantly, the two saw a little of themselves in the other's rebellious streak. Particularly in the last month, even as sexual harassment charges against Cain mounted, the two men campaigned as allies and stressed their long history of mutual admiration.
"They're both from Atlanta. They're both big, bold, brash, with big mouths," summed up Republican strategist Mark McKinnon, a former advisor to George W. Bush. "They've got a lot of DNA in common." 
When Newt Gingrich addressed reporters in the minutes after Cain's weekend announcement, he praised Cain and his 9-9-9 plan's influence on the Republican presidential race.
"Whether you liked it or disliked it, it was a big idea and started to elevate the debate toward big solutions and the same nit-picking, consultant-driven negativity," Gingrich said.  
This warmth was more than the usual niceties of a political eulogy. As Gingrich pointed out, he and Cain go back.
"He is a friend of mine," Gingrich said on Saturday. "We worked together against HillaryCare in the early 90's. I was very honored to be able to appoint him to the Tax Commission with Jack Kemp when I was Speaker."
And they didn't just know each other. Even back then, Gingrich liked Cain's thinking.
In a 1995 profile of Gingrich, Joan Didion wrote in The New York Review of Books about the intellectual influences the then-House Speaker would tick off. They were wide and varied, including Thomas Jefferson, Franklin Roosevelt, Isaac Asimov — and "an Omaha entrepreneur named Herman Cain."
Sixteen years later, both Cain and Gingrich portrayed themselves as iconoclasts as they ran for president. Gingrich talks about his big ideas. Herman Cain touted his bold solutions.
After sexual misconduct allegations against Herman Cain first surfaced in October, former House Speaker Newt Gingrich did not distance himself from the candidate. Instead, the two spent the month of November stoking rumors of a possible joint ticket.
"The thing I would look for the most is someone who is not afraid to challenge the system," Herman Cain said in an interview with Iowa radio station WHO on the day after Politico first broke the story about charges that Cain sexually harassed two former colleagues.  "Newt is looking well because since he left, he was able to step outside of Washington, D.C. and take a fresh look at it, which is good." 
Gingrich was similarly effusive a week later in what was billed as a Lincoln/Douglas-type debate in Texas. 
"We both represent a willingness to talk about common sense without regard to whatever the national establishment thinks is acceptable. And that's radical," Gingrich said. 
During the head-to-head conversation, which was a fundraiser for a Texas Tea Party group, they avoided mention of the allegations swirling around Cain, and the tone was jovial.
Given the chance to ask Gingrich a parting question, Cain offered this zinger: "If you were vice president of the United States, what would you want the president to assign you to do first?"
Gingrich met the question with a deep belly laugh. 
Just a few days later, Gingrich went right at the allegations against Cain, dismissing the stories as "gossip" in an interview on the Today Show. 
"Herman Cain, I suspect, is getting far fewer questions from citizens about these kind of things than he is about jobs," Gingrich said.
Gingrich continued to publicly support Cain as allegations against the former pizza executive mounted. Even after Gingrich overtook Cain in national polls in mid-November, he called a joint ticket with Cain "a real possibility." By that point, of course, it was clear that Gingrich was perfectly positioned to benefit from Cain's troubles. 
"He saw no upside to attacking Herman Cain and saw that there was a potential base of voters that would shift to Gingrich if the Cain campaign collapsed," said strategist McKinnon. "So I think it was smart strategically to talk about, or at least keep in the mix the idea of a ticket and not to shoot it down."
The two were talking up to the end. Gingrich said they shared a private phone conversation before Cain announced he was bowing out and would endorse another candidate.
But in the end, Cain's endorsement may not be as big of a factor for conservative voters as diminishing options. That at least was the assessment of Bill Miller, a New Jersey Tea Party activist who came out to see Newt Gingrich over the weekend.
"Ron Paul's at a ceiling. He's not going anywhere further. Michelle Bachmann who I love, I adore, she's not going anywhere. And I dont' see Santorum doing it either," he said.
"So basically it comes down to Gingrich and Romney," Miller said and paused. "It's Gingrich."
That then, is the parting gift the former pizza executive is bestoying on his friend, the former House Speaker: totally unexpected, if reluctant, political legs. 
"I think Newt Gingrich thinks he could be president and ought to be president, but I don't think he really thought he was going to be president," McKinnon said. "And I think like Herman Cain, he actually started the campaign with the notion of upping the equity of Newt Gingrich Inc."