Last Chance Foods: Praise for Mustard Greens
Now that Thanksgiving is over, the race toward the winter holidays has officially begun. This is a great time to get in a few healthy meals before the onslaught of cookies, eggnog and heavy holiday foods. Mustard greens, like kale and collards, are currently at their peak, and fit the bill for a lighter seasonal dish.
Melissa Clark, the author of "Cook This Now: 120 Easy and Delectable Dishes You Can't Wait to Make," says that mustard greens are more flavorful than some other hearty winter greens.
"They're much spicier, much more intense," she said. "They still have that fresh green flavor and that kind of vibrancy that you love in winter greens, but they also have a little bit of a kick."
For those who prefer to avoid the radish-like zing of mustard greens, Clark says to look for small, tender young leaves.
"The bigger they are the spicier they are," she said.
Often salad or braising mixes include small leaves of red mustard greens (pictured below).
Regardless of size, mustard greens boast a healthy dose of calcium, potassium, fiber, and folates. As part of the cruciferous family of vegetables, which also includes broccoli and brussels, they also include have cancer-fighting properties. Clark notes that cooking them lessens the amount of fiber and some vitamins, but helps other healthy properties.
"For some reason, the cooking really intensifies a lot of these phyto chemicals and a lot of these other compounds, which are the ones that fight cancer and which are the ones that will actually lower your cholesterol," she explained.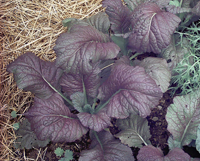 Raw or cooked mustard greens provide hearty winter flavor without being too heavy or rich. They can be sliced finely for a raw salad, and Clark recommends dressing them with a hearty vinaigrette that's equally flavorful. She likes to pair cooked mustard greens with anchovies.
"Anchovy and mustard greens, you know, you think, 'Oh my God, two strong flavors," Clark noted. "[But it's] a match made in heaven."
Below, try Clark's recipe for Raw Mustard Greens Salad with Gruyère and Anchovy Croutons.
Raw Mustard Greens Salad with Gruyère and Anchovy Croutons
by Melissa Clark
Makes 6 servings
5 anchovy fillets, finely chopped
3 garlic cloves, pressed
1/2 cup extra-virgin olive oil
3 cups 3/4-inch cubes crustless country bread
1 cup (packed) coarsely grated Gruyère cheese (about 4 ounces), divided
Nonstick vegetable oil spray
1 bunch mustard greens (about 12 ounces), center rib and stem cut from each leaf, leaves cut crosswise into 1/2-inch-wide strips
5 teaspoons (or more) fresh lemon juice
Preheat oven to 375°F. Combine anchovies and garlic in small bowl. Gradually whisk in oil. Place bread cubes in medium bowl. Drizzle 2 tablespoons anchovy oil over, tossing to coat. Sprinkle bread with salt, pepper, and half of cheese; toss to coat.
Spray rimmed baking sheet with nonstick spray. Scatter bread on sheet. Bake croutons until crisp and golden, stirring occasionally, about 20 minutes. Set aside.
Measure 8 cups (loosely packed) mustard greens and place in large bowl (reserve any remaining greens for another use). Add croutons and remaining cheese to bowl. Whisk 5 teaspoons lemon juice into remaining anchovy oil; season dressing with salt, pepper, and more lemon juice, if desired. Add dressing to salad; toss to coat.