City Says Fracking May Compromise Water Supply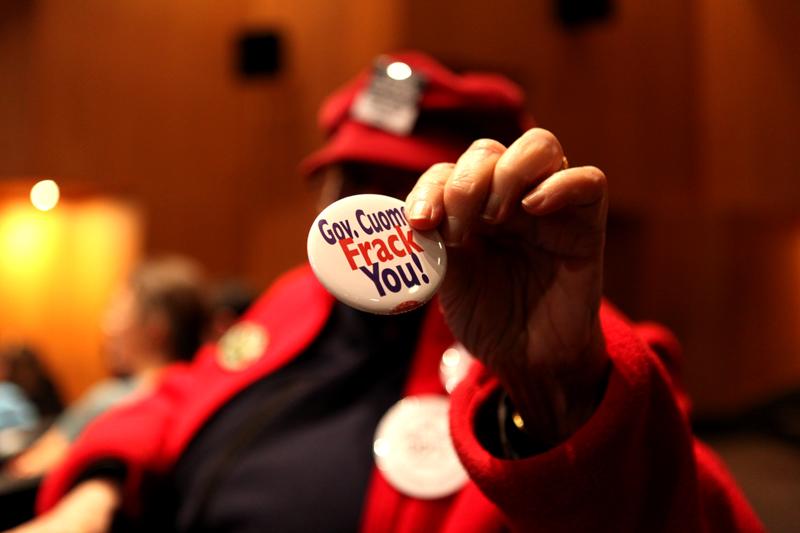 Hundreds of anti-hydraulic fracturing activists rallied outside the Tribeca Performing Arts Center to protest the drilling technique they see as a serious public health hazard. Inside the hearings, a Bloomberg administration official said the city regards proposed state controls on so-called fracking does not guarantee the safety of drinking water.
City officials believe small earthquakes triggered by hydraulic fracturing, or fracking, could cause cracks in the concrete lining of tunnels that channel millions of gallons of water to New York City taps every day.
Paul Rush, deputy commissioner at the Department of Environmental Protection, said Albany's drilling plans don't fully take into account the danger to decades-old water tunnels, some of which lie close to geological faults.
"The specific risk to the city's tunnels, which are lined with unreinforced concrete, include direct penetration, differential pressures, microseismic activity, and impacts from migration of fluids and or gas," Rush said, adding that the maps in the state's draft environmental review of fracking leave out some faults identified by the city.
Rush did not provide an estimate of the cost of repairing a tunnel.
Around nine million people in New York City and downstate New York State depend on the unfiltered water that comes from Catskill mountain reservoirs. The state has proposed a buffer zone around the Delaware Watershed, but this does not include all tunnels and aqueducts.
Gas drillers said New York sits on a potential natural gas bonanza. But these hearings were dominated by anti-fracking speakers. In the afternoon session, only two out of approximately 60 commenters spoke in support of fracking.
Separately, state officials extended the public comment period on the proposed regulations by 30 days, a move environmentalists cheered. The new deadline for comment is January 11, 2012.
Brad Gill, executive director of the Independent Oil & Gas Association of New York, criticized the move in a statement: "While today's extension of the comment period may seem inconsequential to some, it is in fact a continuation of the existing four-year ban on economic opportunity for Upstate New York."