Iconic Steuben Glass in Upstate NY Shutters After a Century
Corning, NY —
Steuben Glass of Corning, N.Y., officially closed its doors this week after more than a century in business. The brand Steuben became synonymous with luxury in the early part of the 20th century but gradually lost the cache necessary to compete in today's marketplace other than as high-end collectibles.
Steuben, which was founded in 1903, very deliberately cultivated its aura as a status symbol. In 1947, Harry Truman became the first U.S president to give Steuben glass as a gift of state when he gave a so-called Merry-Go-Round Bowl to then-Princess Elizabeth as a wedding gift.

"One of the vision documents that was written at the time stated that the idea was that Steuben should be perceived as luxurious and almost as unattainable as a Cadillac," said Corning Museum of Glass creative director Rob Cassetti.

At a shop in downtown Corning, N.Y., you can still buy a table top lamp made during Steuben's early years for a sticker price of almost $30,000.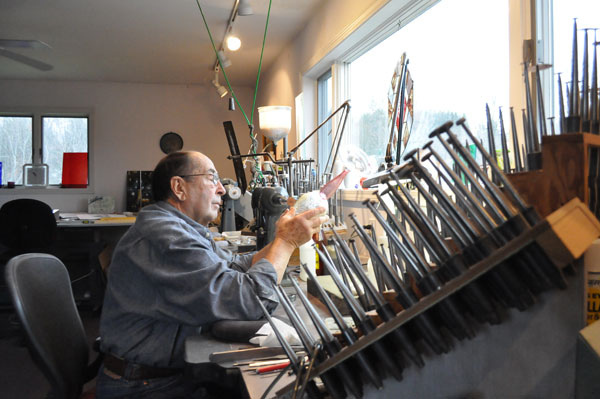 (Photo: Master engraver Max Erlacher worked at Steuben for more than two decades. Courtesy of Matt Richmond/WSKG)

Steuben maintained its status for the rest of the 20th century, until the 2008 recession dealt it a final blow. It was the same year Corning sold the company to Schottenstein Stores, an Ohio-based corporation that specializes in discount retail stores. Though Steuben never turned a profit, the economic collapse depleted already weak demand for the luxury item.

Some of Steuben's 70 or so workers were picked up by former owner Corning Inc., which bought back the Steuben name, to work on specialized glass for products like smartphones and televisions. Others have their own studios, some teach classes at the Corning Museum of Glass.

"They always used the best glass," said Max Erlacher, a master engraver who worked at Steuben for 23 years. But he said the recent owners let standards slip.
"They tried to automate the process, and the designs weren't as good anymore."

Design was a top priority for the company's founder, Frederick Carder. He not only owned the company but he also made and designed all the glass items from the years 1903 to 1932.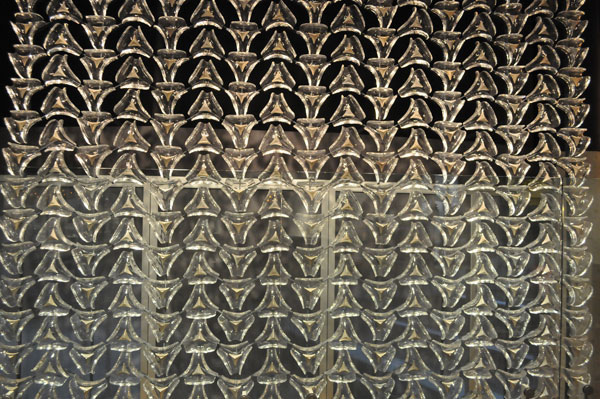 "The man was an absolute genius: he was a chemist, he was a designer, he was an experimenter. In a period of 30 years, he designed almost 7,000 pieces. By comparison over the last 10 or 15 years, I doubt if Steuben has introduced more than a 100 designs," said David Goldstein, a Steuben dealer and collector.
(Photo: Courtesy of Matt Richmond/WSKG)
At the outset of World War I, Steuben found it harder to get the supplies it needed, forcing a sale to Corning Glass Works. Corning, a larger and more diverse company, had access to the gas and lead necessary to manufacture glass, according to Tom Dimitroff, who wrote a book about Carder.

"It really took off after World War I in the Roaring '20s, when Corning Glass Works purchased Steuben," Dimitroff said. "We had Carder's creativity, Corning's corporate organization and skills at merchandising."

Steuben rarely made money. But when the stock market crashed in 1929 and the Great Depression began, it became harder to overlook the losses. Corning's Arthur Houghton took full control of Steuben in 1933. He made a complete and public break from the Carder era, which was characterized by the use of colored glass and designs exclusively by Carder.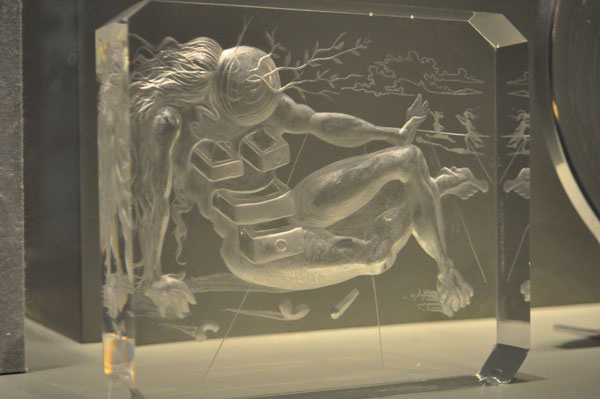 (Photo: Designed by Salvador Dali, from modern Steuben era, at Corning Museum of Glass.  Courtesy of Matt Richmond/WSKG)
"Steuben had a well-publicized event where they literally staged the public destruction of Carder Steuben glass," said Cassetti of the glass museum. "They destroyed it in front of the public."

Still, the association of fine craftsmanship and design continued under Houghton and up to the near present, he said, a legacy that remains.