Tour Guides Protest Possible Replacement by Audio Recordings
New York City tour guides protested proposed plans by the city's biggest tour bus company to replace its staff with audio recordings outside City Hall on Tuesday.
Gray Lines New York told the union that represents the guides last week that it plans to reduce its staff by two-thirds in January 2012 so it can be in compliance with a law that requires open-air sight-seeing buses to be equipped with personal headphones, replacing existing PA systems. Companies are required to complete installation of the headphones by July 2015.
When the so-called Head Sets Bill was passed in April 2010, there was no mention of layoffs or job protection in the bill. With layoffs announced, tour guides are now calling on the City Council to amend the legislation to ensure they are kept on buses.
Company spokesmen for Twin America, which owns Gray Lines New York, were not available for comment.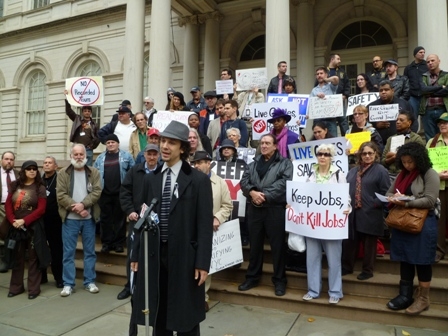 Jack D'Orio, who has been a tour guide for 17 years, demonstrated outside City Hall and said tourists will miss out if pre-recorded audio replaces tour guides.
"We do a lot of things on that bus," D'Orio said. "We make recommendations, give information other than what's on the routes. We help people who might be in danger of getting hurt on the bus. We assist the driver. We do a lot more than simply talk in a mic. We're a big part of the tour."
Council member Gale Brewer, the bill's main sponsor, said the law was not intended to cost guides their jobs.
(Photo: Tour guides rally outside City Hall Tuesday to protest use of audio recordings on tour buses. Natasja Sheriff/WNYC)