The Process Is Political: Occupy Taking It to Obama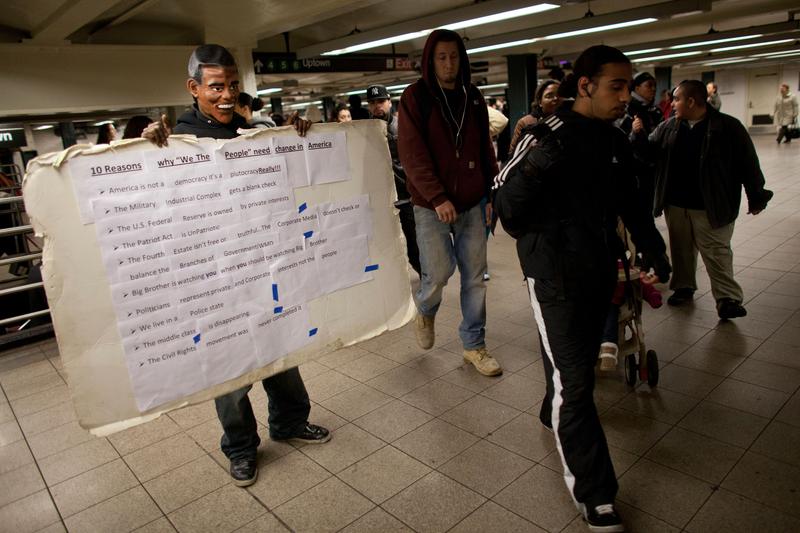 Occupy Wall Street will protest a high-dollar Obama fundraiser in Manhattan this week. A look at retirement and redistricting: Rep. Barney Frank in 2011 and Rep. Tom DeLay in 2006. And while Republicans campaign on Obama's "job-killing regulations," NPR stops to look at exactly how a White House office has been treating regulations, and finds Obama's doing more tweaking than Bush did. 
Obama, Meet OWS NYC: Occupy protesters plan to picket an Obama fundraiser in Manhattan on Wednesday. "President Obama is coming to NYC to raise money from the 1%, at fundraisers that cost $35,800 a person. Today OWS DA consensed upon supporting a march/demonstration to the presidential fundraiser," reads an Occupy press release sent out this morning. 
Occupy protesters already got up close and personal with Obama during a New Hampshire speech last week, interrupting his speech with a "mic check," the movement's particular brand of amplifying its message. "I'm going to be talking about a whole range of things today and I appreciate you guys making your point. Let me go ahead and make mine," Obama said at the time, and made the case that his jobs bill would address some of the movement's concerns. 
But Occupy protesters are taking a bipartisan approach. They also plan to picket a Rush Limbaugh appearance in Manhattan this evening. 
Retirement and Redistricting: Rep. Barney Frank is retiring from the House after 15 terms in part because new Congressional maps changed his electoral calculus. "I was planning to run again and then the congressional redistricting came," Frank said Monday. "This decision was precipitated by congressional redistricting, not entirely caused by it." Not that he thought he'd lose, of course. "I think I'd win," Frank said, "but I could not put the requisite effort" into the necessary fundraising. 
That makes seventeen Democrats surrendering their seats compared to six Republicans. But while Frank points to the new maps — and not the prospect of another term under Republican-controlled House — don't look to redistricting as the cause of any Democratic struggles in 2012, at least for now. "While the process is far from complete in many states, results thus far indicate redistricting will amount to a wash for both parties," writes Josh Lederman at The Hill. 
It's worth remembering that just a little over five years ago, another Congressional powerhouse retired in the shadow of a redrawn Congressional map. In the spring of 2005, it was Republican Tom Delay of Texas, and redistricting politics, not new constituents that came to bear. After Delay helped engineer a mid-cycle map overhaul in Texas that favored Republicans, the New Yorker pondered, "Will Tom Delay's redistricting in Texas cost him his seat?"
The new map in Texas was headed to the Supreme Court, which only added to his political baggage after his 2005 indictment on money-laundering. (The Supreme Court largely upheld the Texas map; Delay was convicted in 2010.) Delay announced he wouldn't run for reelection in April 2006, but like Frank, he spun it as an opportunity rather than a defeat. "I feel that I could have won the race," Delay told Time. "I just felt like I didn't want to risk the seat and that I can do more on the outside of the House than I can on the inside right now." 
Nuance or Gutting in Obama Regulatory Office?: That's the question raised by Ari Shapiro's report for NPR about the pace of activity picking up at the White House Office of Information and Regulatory Affairs, OIRA. (The report also does a great job clearly explaining just what O-eye-Ra does, to boot.) A study by the Center for Progressive Reform charges that under Obama, the office has become "a killing ground for protective rules."
But agency staff say it's the Obama administration's greater attention to detail — and a more hospitable attitude to new regulations generally — that explains the uptick in regulatory adjustments since the Bush administration. "When you are dealing with the most complex questions of policy, it's to be expected that there are going to be questions raised and insights gleaned that cause an agency to say, 'You know what? We should make a change here or there. We can do this in an even better way,'" office staffer Michael Fitzpatrick told NPR.