Egyptian New Yorkers Protest In Solidarity With Those in Tahrir Square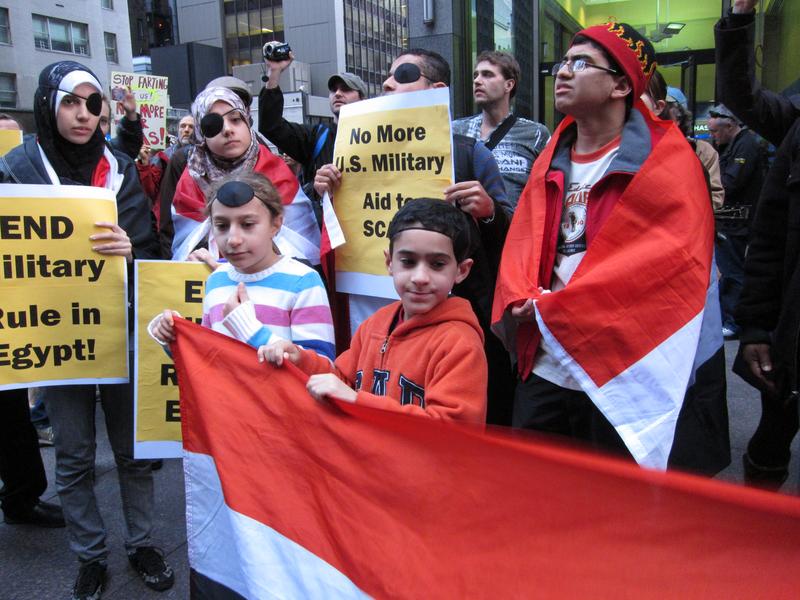 While protests rage on in Tahrir Square, about 75 Egyptian Americans and their supporters gathered outside the headquarters of Point Lookout Capital Friday afternoon.
This private investment firm holds the majority of shares in Combined Systems Incorporated, a weapons manufacturer selling tear gas to the Egyptian military. Shimaa Helmy, visiting from Egypt, said she was there to raise awareness of the ties that connect the U.S. and the Egyptian military.
"We're dealing with the corruption of our country and the corruption of the U.S. as well. People here in the U.S. pay tax money and this tax money goes to the Egyptian military so it should be an issue that they are concerned about as well," Helmy said.
Many of the Egyptian-American protesters were there to show their support for those fighting the military in Tahrir Square.
"I have friends, family, people I know that I've met through twitter and social media that are in Tahrir and around Egypt that are suffocating from gas or dying from live bullets," said Omar Zaki, who's parents are Egyptian.
Some carried placards with faces of Egyptian protestors who had been killed by tear gas. Others wore eye patches to raise awareness about youth who had been shot in the eye with rubber bullets.
"It's heartbreaking, we were hoping when the revolution started almost nine months ago that things would get better but unfortunately the military council is not doing what they're supposed to do," said Nady Abdalghaffar, who was at the protest with his son, his shoulders draped with an Egyptian flag.
A number of the demonstrators were also active in Occupy Wall Street protests and said the movements share many of the same concerns. One of the chants was, "From Cairo to NYC, police brutality has got to go."
But el-Ganzouri appeared uncomfortable, grasping for words and repeatedly pausing as he spoke, giving rambling answers when pressed whether he could form a government that will satisfy the public when many prominent figures have shunned joining the new administration.
The military inadvertently sparked the ongoing unrest in Egypt by pushing plans for a political "guardianship" role for itself and immunity from civilian oversight even after a new parliament is seated and a new president is elected.
The last straw came when the military ordered the use of force against a small protest in Tahrir Square last weekend and then launched a failed, joint army-police raid to evacuate a larger crowd. Nearly 40 protesters have died in the past week.
The latest crisis has overshadowed Monday's start of Egypt's first parliamentary elections since former President Hosni Mubarak was replaced by Field Marshal Hussein Tantawi. The vote, which the generals say will be held on schedule despite the unrest, is now seen by many activists and protesters to be serving the military's efforts to project an image of itself as the nation's saviors and true democrats.
With the Associated Press