5 Years Later, Sean Bell's Fiancée Revisits Scene of Shooting
Friday, November 25, 2011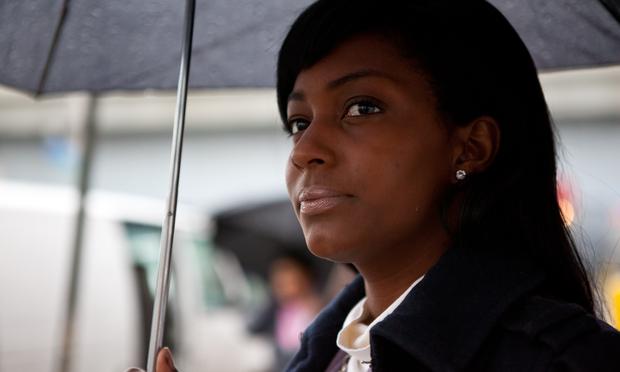 (Stephen Nessen/WNYC)
Standing in the rain, Nicole Paultre Bell returned to the street where her life changed. She examined a shiny new silver gate that she remembered was dented with bullet holes. It was here that her fiancé Sean Bell was shot 50 times by undercover police officers.
For many, his name is synonymous with senseless police violence. The 23-year-old was killed outside of a Queens Strip club in the early hours of November 25, 2006. Plain-clothed officers believed they'd heard the word "gun" spoken from someone in Bell's party. Bell was killed, and two of his friends were badly injured. His fiancée was left just that, a fiancée.
Nicole Paultre Bell, now 27, has two daughters from Bell, Jordyn, 5, and Jada, 8. She recently moved out of her father's home in Jamaica, Queens, where she'd lived with Bell, into her own place in Far Rockaway. She has started a non-profit called When It's Real It's Forever, and runs a little league team named after Sean Bell.
On Friday, she will head to the corner of Liverpool Street (now named Sean Bell Way) and 94th Avenue, to memorialize Sean Bell, as she does every year. Friends, family and community members will bring out laminated photos, candles and will ring a bell 50 times at 4:10 a.m., about the time Sean Bell was shot.
"That's my time to think about everything that we've been through, everything that Sean went through that night just trying to make it home to his family, trying to make it home to get married the next day," she said recently. "It really sets in at that point. And it's hard, but it is for his memory, and for other people who fell victim to senseless violence."
Nicole wears a small metal pin on her jacket that reads, "Sean Bell See You Later." She said he always said that to people, especially on the phone. "If you said 'Bye' and hung up, he'd call you right back and say, 'Don't say that, say, see you later.' We even put that on his tombstone. That was something that he lived by."
More in:
Stephen Nessen reports for the WNYC Newsroom and can often be heard live on Morning Edition.