I've always thought the song "Reasons To Be Cheerful, Part 3" – by the late English rocker Ian Dury – was both silly and inspired.  Silly because its chorus basically consisted of the title line, followed by counting to three, and its verses consisted of a rapid-fire spray of words that ran from the occasionally sublime ("John Coltrane's soprano") to the outright ridiculous ("Days when I ain't spotty, Sitting on the potty").  And inspired because… well, I was never sure why.  It was, after all, a random list of things that Ian Dury was grateful for. 
Now I know: recent scientific research suggests that gratitude is good for you.  Experiments show that people who take a moment to think about the people, places, and things that mean something to them – that they're thankful for – sleep better, have a healthier outlook on life, and are less prone to depression and anxiety.  
So for Thanksgiving, let me share some of the things, from the silly to the inspiring, that I am grateful for this year:
Robin Van Persie.  The Dutch striker simply can't stop scoring goals for Arsenal, the north London soccer club.  He's finally been healthy this year and is the main reason we Arsenal fans have something to cheer about after a disastrous start to the current season. 
Brian Eno.  The English composer/producer/theorist changed the way I listened to music.  He and his protégé, composer Ben Frost, were on Soundcheck on November 11, and it was great to reconnect with Eno – not because he has The Biggest Brain in Rock, but because I had forgotten how funny and what a great storyteller he is.  (On his first visit to the USA, with Roxy Music in the early 70s – "record company people would meet us with bags of grass, but we were totally against drugs."  Really?  "Yeah, we didn't want to be mistaken for hippies.")  Hear more from Eno on my "New Sounds" program from last Thursday (Nov 17) and upcoming on December 1.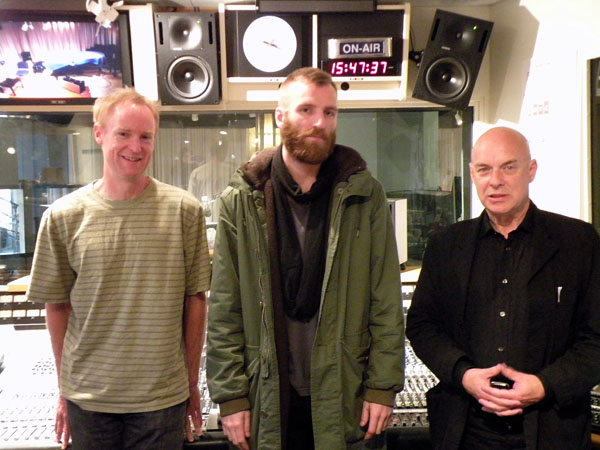 (Photo: From left to right, John Schaefer with Ben Frost and Brian Eno)
John Jeremiah Sullivan.  "Pulphead," his collection of essays, might be the best book I've read this year.  Many are about music (obscure blues, the nearly-legendary Bunny Wailer, Michael Jackson), but many others had me thinking "why am I still reading this? I don't care about reality TV or Christian rock festivals."  The reason is the writing – funny, pointed, sharply-observed, personal; it is simply a joy to read.
Drosselmeyer.  The 15-to-1 longshot won the Breeders Cup Classic on November 5, and I was on him.  Well, not literally.  But he made me a winner on what had been, up to that point, a very frustrating day of horse racing.  Since I usually don't play the ponies much in the winter, that was likely my last bet of the year, and it was a good way to end. 
The Book Of Mormon.  OMG, this has to be the most foul-mouthed, blasphemous, acidic thing to have hit Broadway - ever.  It is also a brilliant parody of Broadway musicals, AND it has (shhhh - they don't want you to know this part) a heart of gold.  I would not take my parents to this, but I would definitely take my daughters.  (Would need to hit a few more Drosselmeyer-sized bets for that to happen though.)
Girls.  Lots of people are working to try to close the continuing gap in recreational and creative programs between boys and girls.  Some are tiny, and under the radar, like the woman who called me last week looking for advice on finding older girls to coach her young soccer players – drawn from the immigrant and Orthodox Jewish communities in Brooklyn's Crown Heights.  (Girls in both communities, she said, are traditionally given no opportunities to exercise.)  Others are spreading across the country, like the Willie May Rock Camp For Girls, which has been established here in NY for several years - a few of my own soccer players have gone through it, and it's great.
30 years.  Yes, it's true.  December 1, 1981 was the date I was hired at WNYC.  I guess it says something vaguely pathetic about me – but something pretty awesome about the station – that I'm still here 30 years later.  The big anniversary bash on Dec 2 in The Greene Space is rife with possibilities for shame and humiliation.  I think I will be very grateful that night for beer. 
What are you grateful for?  Leave a comment.