Latest Tween Trend: Dolls with Bios
Since Manhattan's American Girl store opened on Fifth Ave. and 49th St., it has become a mecca for little ladies who lunch, shop and, as Dr. Seuss put it, "Brush! Brush! Comb! Comb!"
Each year, traffic at the 45,000 square-foot doll palace across the street from Saks Fifth Avenue really picks up the day after Thanksgiving. The store's four floors are packed with tweens leading parents and grandparents to an American Girl doll they want for Christmas or Hanukkah. The shop's salon is also bustling with young girls patiently waiting in line to have their American Girl dolls' hair brushed and braided.
This year, the company turns 25 years old, an enviable milestone for any business especially in this sagging economy. But what's more impressive is that the dollmaker has become the nation's preeminent doll franchise in a relatively short amount of time.
Since its first mail-order catalog debuted in 1986, American Girl has sold over 20 million dolls and a staggering 135 million books that tell the stories of its dolls -- characters like Addy Walker, who escaped from slavery during the Civil War, and Kaya, an American Indian girl growing up in the Nez Pierce tribe in 1764. The company has American Girl mega-stores in Chicago and New York. The Manhattan location brings in the highest sales, according to American Girl president Ellen Brothers.
"We have a large tourist population," Brothers said from the company's headquarters in Middleton, Wisconsin. "Visitors come from all over. We have about 1.2 million visitors a year in that store."
Stony Brook, New York residents Christina and Jeff Robinson figure into that statistic. On a recent Saturday, they took their 8-year-old daughter Emma to lunch at the store's third-floor café. It was the Robinsons's first trip to American Girl Place.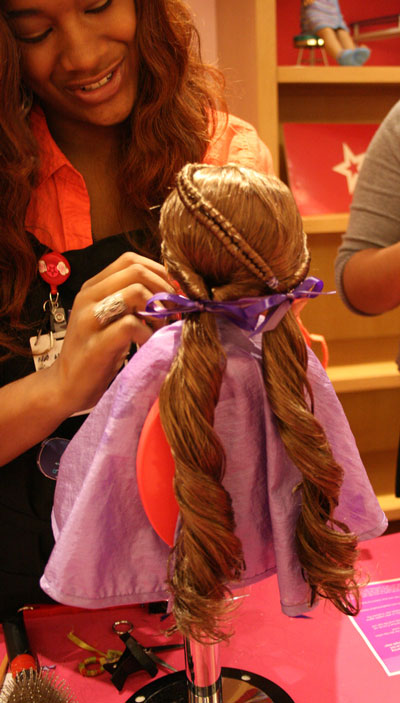 "I want her to definitely experience it while she's still interested in American Girl and plays with dolls," said Christina over mini-cinnamon-buns. "It's a memory to last, basically, forever, in everyone's minds."
Image: An American Girl worker combs and braids a customer's dolls' hair (Shopping Diva)
Similar sentiments were echoed by Oradell, New Jersey parent Zach Martin, who visits the store with his family about once a month.
"It's a bonding experience on top of everything else," he said. "It's a chance for families to get together and have more than just a meal."
In the past five years, American Girl has done surprisingly well despite slumping numbers in national doll sales. The company's revenue has increased 2.6 percent per year on average, even as annual domestic doll sales have pulled in $2.62 billion in 2010 compared to $3.1 billion five years ago, according to the Toy Industry Association.
"Dolls really compete with other children's leisure items," said Janet Shim, a retail industry analyst for IBISWorld, "Like video games, which have really been gaining popularity and electronic toys and other toy media. Also, due to the recession, when consumers were short on money, they were spending less on their toys. They were looking for cheaper options."
Shim said that American Girl dolls have done well because the dolls' costumers have deep pockets. Dolls like the American "Girl of the Year" Kanani Akina, who lives in Hawaii, cost a hefty $100. (Kanani, like other American Girl dolls, comes with a paperback explaining her story.)
"Luxury spending, even during the recession," Shim said, "has been up. The wealthy have been continuously spending. And American Girl has been able to benefit from that trend, to some extent."
Richard Gottlieb, who is founder and president of the toy industry consultants' group Global Toy Experts says American Girl dolls are also becoming collectibles.
"A product like American Girl, it's really a legacy product," he said. "You're going to keep that doll. You may hand it down to your child. Or you may sell it someday for a lot of money, because it's the type of product that becomes a collectible eventually, if not already."
Image: Kirsten Larson, a doll from Sweden whose home was destroyed by a fire. (terren in Virginia)
He added that much of the success of American Girl dolls can be attributed to "play power," which is a consumer's willingness to make an investment in a toy for its short- and long-term value.
American Girl President Ellen Brothers says the brand has done well in part to each doll's storyline and set of values. That came from the company's founder, a schoolteacher from Chicago who wrote children's textbooks named Pleasant Rowland.
"The line began," said Brothers, "all about talking about the pivotal points of American history that girls learn about in school, and letting them know that they're part of that continuum, too."
After the company chooses a bit of history it wants a new character to cover, the doll is created.
"The intellectual property is the first thing in a new character that we work on," said Brothers. "Then we decide, okay, what does the character look like? But her values and her storyline always come first."
In 1998, American Girl was bought by the Mattel corporation, the world's largest toy company, which is known for its iconic and ever-popular Barbie. Brothers says the partnership has been largely positive, but it does come with an ironic twist: now the majority of its American Girl products (along with Mattel's) are made in China.
Check out a slideshow below to see the Manhattan store and some of the American Girl dolls for sale.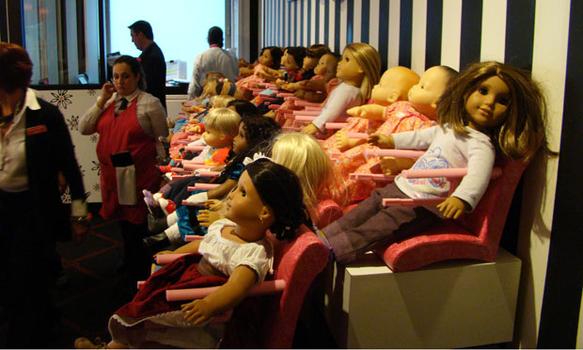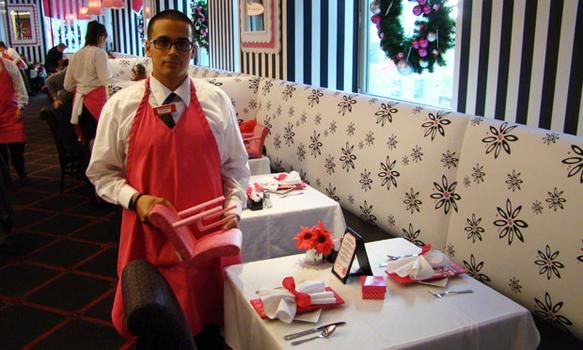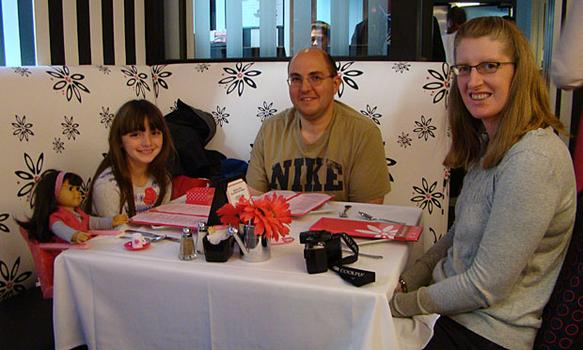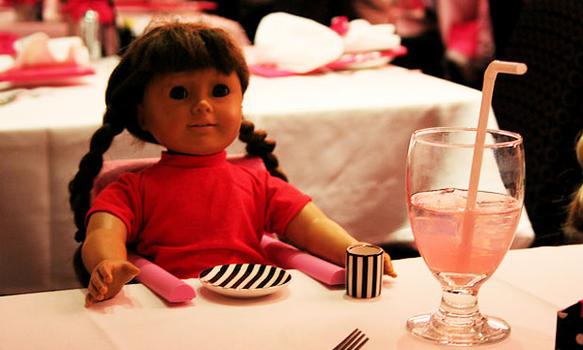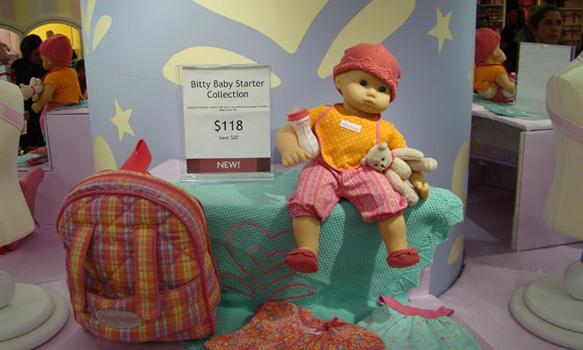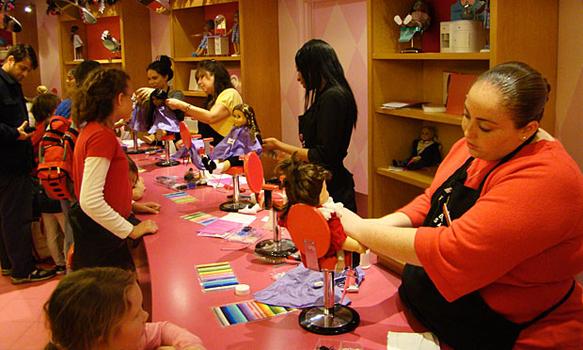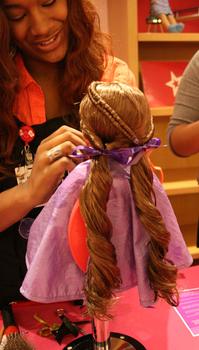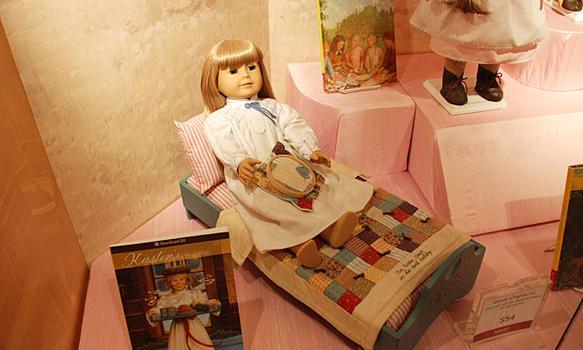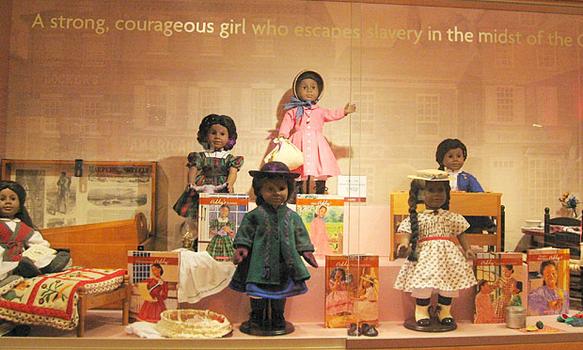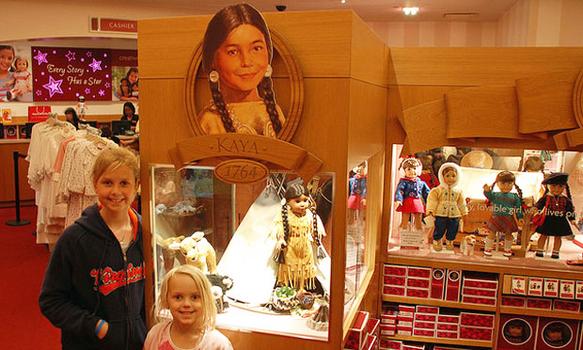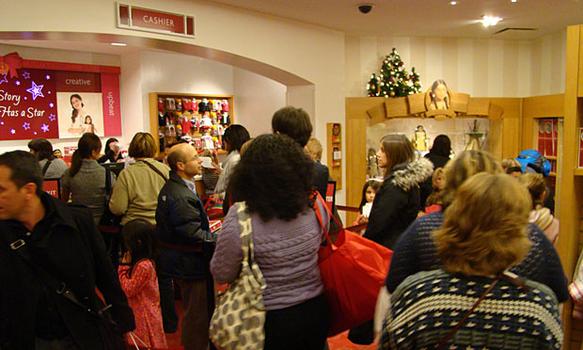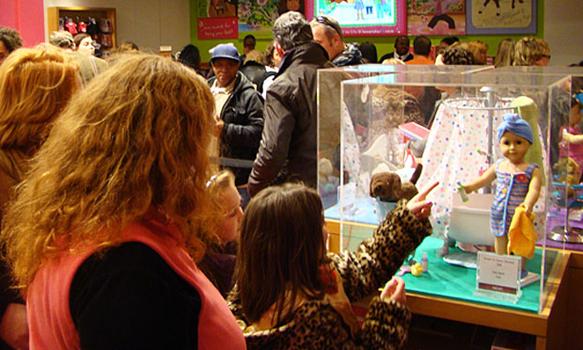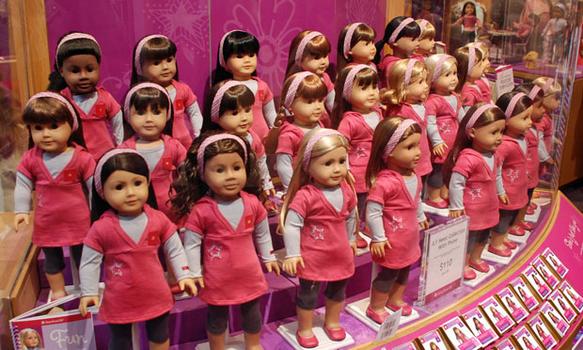 of