Democracy and the 99 Percent
Friday, November 25, 2011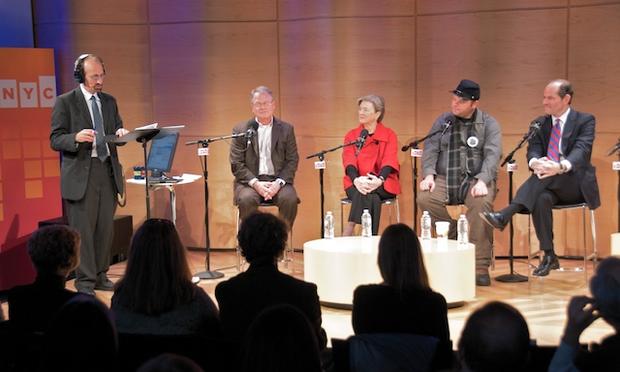 (Eric Camins/WNYC)
Today's show is a best-of, so we won't be taking any calls. But the comments page is always open!
On November 1, 2011 The Brian Lehrer Show invited special guests to the Jerome L. Greene Performance Space with to talk about Occupy Wall Street and voter participation.  Today, we rebroadcast that show.  In the first hour, former New York State Governor Eliot Spitzer, Greg David of Crain's New York Business, Kathryn Wylde of the Partnership for New York City and Jesse LaGreca of Occupy Wall Street discuss the issues behind the movement. Then, panelists from voter participation groups discuss what's keeping New Yorkers from the ballot box as part of a brainstorm session on what could help.
Larry Norden, deputy director of the Democracy Program at the Brennan Center, Adrienne Kivelson, city affairs chair of the League of Women Voters of the City of New York, Lucia Gomez-Jimenez, executive director of La Fuente, Mark Winston Griffith, adjunct faculty at the CUNY Graduate School of Journalism, Rachel Bishop, national programs director at the League of Young Voters, Chung-Wha Hong, executive director of the NY Immigration Coalition, and John Stremlau, vice president for peace programs at the Carter Center, brainstorm ways to turn around the city's low voter turnout.
THEN a conversation about how campaigns approach voter turnout with Michael DuHaime, Republican political strategist and partner at Mercury Public Affairs, and Doug Forand, Democratic political strategist and founding partner at Red Horse Strategies.