Last Chance Foods: Pie-Eyed for Thanksgiving
It's crunch time over at Baked in Red Hook, Brooklyn. The day before Thanksgiving, bakers are making sure all their crusts and pots of filling are ready for Thursday. That's when the assembled pies hit the oven in what Baked's owners, Matt Lewis and Renato Poliafito, describe as "a marathon of pie."
The process of making as much as possible in advance works just fine for pie, they say.
"Nobody's going to tell the difference, I guarantee you, if you froze your crust the night before, or even two days, three days ahead, go ahead. Make your crust, freeze it," said Lewis.
Poliafito agrees, "We'll be impressed if they can discern any kind of difference."
The reason the crust freezes so well in its unbaked form is because of its high butter content. The more the butter stays intact, the more flaky the crust will be after it's baked, when the butter melts and creates air pockets. That's why Lewis and Poliafito warn not to over-handle or over-mix dough for pie crusts. Instead, aim for a sand-like texture with the butter remaining in pea-sized form.
While chef Nate Smith prefers using leaf lard in his savory pie crusts, Lewis and Poliafito stick to butter at the bakery. (Off the record, Lewis admits that he'd use half-lard and half-butter if left to his own devices.)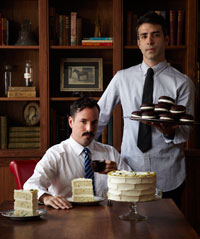 And if the crust needs to be patched up after the transfer from work surface to pie plate, that's perfectly fine.
"A crust that breaks or flakes is exactly what you're supposed to go for," said Lewis. "You don't want something too dense."
They say to leave the task of creating flawless pies to bakers who do it 200 to 300 times a year.
As for the filling, the duo says they while they use traditional main ingredients like pumpkin and pecans in their pies, they're not afraid to add a dash of whiskey, work in some chocolate or even shake things up by throwing in some cheese. (In particular, Lewis notes that pumpkin and cheddar taste great together.)
Once dessert is under control and the eleventh hour is approaching, it's time to start thinking about creating a welcoming environment. That's Poliafito's advice for making sure everyone enjoys the holiday.
"You have to set an atmosphere," he said, adding that lighting can help do that. "And I think if people, you know, arrive in a setting that is comfortable and relaxed, they in turn will be comfortable and relaxed."
Matt agrees, adding that having snacks on hand is also a good way to make sure guests are having fun and not focusing on what's coming out of the oven.
For a successful end to the meal, try Baked's recipe for Bourbon Chocolate Pecan Pie.

Bourbon Chocolate Pecan Pie
by Baked
This is a hearty pie crammed with the sweet-toasty flavor of pecans and a hidden layer of melted chocolate. Matt's dad, Larry, has a small pecan farm in South Carolina, and he is always kind enough to share his extra pecans with Baked. He was also kind enough to share his favorite recipe for pecan pie, and we use it at the bakery to this day. Larry's most important bit of advice: Be generous with the bourbon.
Baked Note: In our opinion, a pecan pie should be eaten within 48 hours of baking it (and there should be no reason for leftovers). Though there are people who would argue otherwise, we think that once the pie crust becomes soggy it is time to part ways with the pie.

Yield : 1 (9-inch) PIE
1 ball of classic pie dough, chilled
2 cups pecan halves, toasted
3 large eggs
¾ cup light corn syrup
3 tablespoons sugar
4 tablespoons firmly packed dark
brown sugar
3 tablespoons unsalted butter, melted
Pinch of salt
1 teaspoon pure vanilla extract
3 tablespoons bourbon
1 cup (6 ounces) semisweet chocolate chips
Dust a work surface with a sprinkling of flour. Unwrap the ball of chilled dough and put it directly on the work surface. Roll out into a 12-inch round.
Transfer the dough to a pie dish and carefully work it into the pie dish, folding any overhang under and crimping the edge as you go. Wrap and freeze the crust until firm, about 2 hours, or up to 3 months.
Preheat the oven to 325 degrees F. Coarsely chop ¾ cup of the pecans. Set aside.
In a large bowl, whisk the eggs until combined. Add the corn syrup, sugars, butter, salt, vanilla, and bourbon. Whisk again until combined. Stir in the chopped pecans and set the filling aside.
Spread the chocolate chips evenly along the bottom of the frozen pie shell. Slowly pour the filling on top of the chocolate chips. Arrange the remaining 1¼ cups pecan halves on top of the filling.
Bake in the center of the oven for 30 minutes, then cover the edges of the crust loosely with aluminum foil and bake for another 30 minutes. Test the pie by sticking a knife in the center of the filling. If the knife comes out clean, the pie is done. If the knife comes out with clumps of filling sticking to it, bake for another 5 minutes and test again.
Cool the pie on a wire rack and serve warm or at room temperature. The pie can be stored in the refrigerator, tightly covered, for up to 2 days.