Archives Thanksgiving: Healthy Vegetables in Tough Times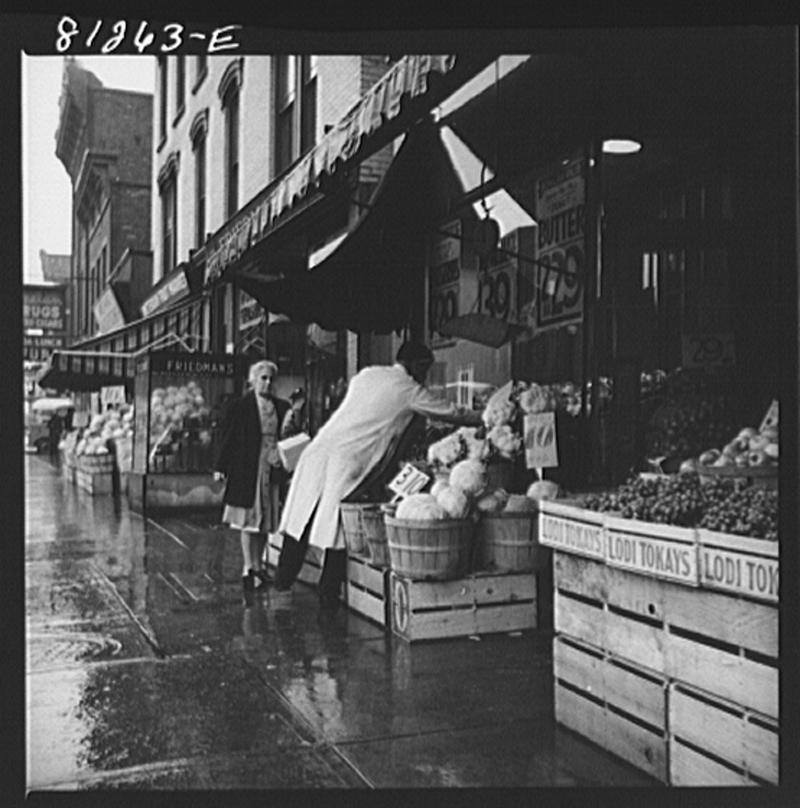 Howdy, Homemakers! Welcome to the first in a special holiday series of Annotations featuring a few culinary highlights from the WNYC radio collection. Today the crew at the Department of Markets brings you their program on "food and rationing with a silver lining," featuring the wisdom of Commissioner Daniel P. Wooley and the experience of Frances Foley Gannon, Director of the Bureau of Consumer Services.
In 1943, the people of New York City were struggling to adapt to the rigorous regulations on food and oil placed upon all citizens by the war effort. Every Sunday afternoon, Mayor Fiorello La Guardia would take to the WNYC airwaves to explain to his constituents the latest news on ceiling prices for meat, dairy, and vegetables, as determined by the Federal Office of Price Administration. During these "Talk to the People" broadcasts, La Guardia would vent his frustrations with wholesalers who gouged consumers by overcharging shop owners and make enthusiastic suggestions as to which vegetables housewives ought to buy and which they should go without.
It was in this atmosphere that the Department of Markets produced a variety of programs designed for mothers and home makers who were struggling to feed their families nutritious meals: food was scarce, and little could be done to enforce price controls at city markets. One of the most prominent voices on these programs was Frances Foley Gannon, who became the Deputy Commissioner for the Department of Public Markets and addressed housewives over WNYC from 1934 until 1963.
In the program originally broadcast on March 12, 1943, Mrs. Gannon and Commissioner Wooley attempt to illuminate those "silver linings" in food and nutrition by passing along information about which foods are plentiful (and cheap!) in the markets that day. In the markets on this day, shoppers could expect to find good buys in artichokes, and apples in continued abundance.
For added perspective, Mrs. Gannon and Commissioner Wooley are joined by Susan Blair, "the inquiring homemaker," who speaks candidly about her experiences with rationing and requests, through an unfortunate cold, instructions for cleaning and preparing spinach. "The main idea is to flavor the spinach with something you do like," Mrs. Gannon suggests. "Bacon and spinach seem to have an affinity for each other."
In addition to these tips, Mrs. Gannon passes along her thoughts on preparing a nutritious tossed green salad chock-ful of fresh vegetables, and Ms. Blair passes along her own recipe for stuffed celery knobs (perhaps more commonly known today as celery root), which Wooley claims "look like something Mr. Jeeter would gnaw on in Tobacco Road."
We've reproduced Ms. Blair's recipe for you here, in case you don't have your paper and pencil ready:
Stuffed Celery Knobs

by Susan Blair, the Inquiring Housewife

 

4 small celery knobs

2 cups water

1 teaspoon lemon juice or vinegar

1 teaspoon salt

1/2 cup chopped, cooked meat

1 hard cooked egg, chopped

1 small onion, minced

1/2 cup dry breadcrumbs, moistened with bouillon cube

1 tablespoon butter or margarine

 

Pare the celery knobs: cut tops off 1/2 inch thick and hollow out the knob to within 1/4 of the sides. Place in water with lemon juice or vinegar and simmer for 45 minutes. Remove and drain. Combine meat, egg, onion, breadcrumbs moistened with stock. Stuff the knobs. Fasten the tops on with a string or toothpick. Add 1 cup of stock and butter. Simmer for 15 minutes. Serve with parsley white sauce. This will serve 4 generous portions.
Audio courtesy of the NYC Municipal Archives WNYC Collection.