Last Chance Foods: Pulling off a Veggie, Vegan or Gluten-Free Thanksgiving
This year, as families and groups of friends gather for Thanksgiving, many vegetarians, vegans and gluten-free eaters will be among those who pull their chairs up to the table.
So many dietary needs has raised questions from hosts and guests on how to prepare tasty vegetarian-friendly, vegan and gluten-free dishes for a mixed crowd, and whether to bring vegetarian main courses to non-vegetarian Thanksgiving meals.
Chef Peter Berley, the author of The Flexitarian Table: Inspired, Flexible Meals for Vegetarians, Meat Lovers and Everyone In Between, encourages guests to bring vegetarian or vegan mains or side dishes, but bring enough enough to share.
"What particularly impresses me over the year of cooking for all types — vegans, vegetarians and carnivores — is that quite often vegetarian offerings are really well accepted," he says.
As for a show-stopping vegetarian main dish, Berley recalls taking on the task of creating just such a thing with his mother many years ago. They would find an enormous Hubbard squash, which can grow to a formidable 20 pounds or more. Other large winter squash like cheese pumpkins would have worked as well. The duo would hollow out the squash, par-bake it just to make it tender and then fill it with stuffing.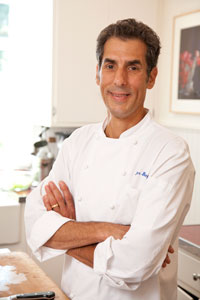 These days, Berley is a fan of making a lasagna as a vegetarian main course. He uses winter squash and spinach as the filling. To make it a particularly special dish, Berley makes fresh pasta for it and layers it with sage bechamel and Gruyere cheese. (Check out the recipe here.)
"The most compelling thing about Thanksgiving in the United States, I think, can be wrapped in three words: The Three Sisters," said Berley. "The Three Sisters represented, for Native Americans, the three spirits of the garden -- corn, squash, and beans -- which are the foundation of sustenance for North America."
Dried corn and dried beans, which are available now, Berley added, work well for a succotash.
"I always see green beans on Thanksgiving, but there are no green beans left in the Northeast where I come from," he said. "One thing I love to do is to get small dumpling squash that can be individually portioned out."
Like the larger version, he par-bakes the squash and then stuffs them. (See the recipe below.) Berley said the dish was a crowd-pleaser in the face of dietary restrictions because the squash can be stuffed with a grain like red quinoa to make it a vegan, gluten-free dish.
All this is to say, for those looking to make a vegetarian main dish this Thanksgiving, there are plenty of options beyond the staid old Tofurkey, which is legendary for being a dense and dry loaf of soy.
"Tofurkey, I think, is an unfortunate thing in the sense that it leaves very little to the imagination really," said Berley. "I don't see soy having any place at Thanksgiving … unless you really like it, of course."
Get Berley's recipe for Roasted Pumpkin With Quinoa Stuffing below or check out his recipe for Lasagna of Fall Vegetables, Sage Bechamel, and Gruyere here.
Roasted Pumpkin with Quinoa Stuffing
Serves 6
If dumpling squash are unavailable, you can substitute 3 small acorn squash, halving them, scooping them out, and roasting them cut side-down until softened, then stuffing them and continuing to roast as called for.

Quinoa Stuffing:
11/4 cups quinoa
4 tablespoons unsalted butter
1 1/2 cups diced onion
Sea salt or kosher salt
1/2 cup diced carrots
1/2 cup diced celery
1 tablespoon minced fresh ginger
1 tablespoon chopped fresh sage
1/2 cup dried cranberries
1/3 cup dried apricots, chopped the size of raisins
1/4 cup dried currants
1/3 cup toasted pumpkin seeds
1/2 teaspoon freshly grated nutmeg
1/4 teaspoon ground cinnamon
Salt
Freshly ground black pepper
Squash:
6 small dumpling squash or 3 medium Acorn squash, halved
Extra-virgin olive oil, for brushing
1. Adjust a rack to the middle shelf of the oven and preheat to 350 degrees.
2. Simmer the quinoa in 21/2 cups of water until fluffy, 15 to 20 minutes.
3. While the quinoa cooks, melt the butter in a saucepan over medium heat. Add the onions and 1/2 teaspoon salt, and cook and stir until softened, 3 to 4 minutes. Stir in the carrots, celery, ginger, and sage. Cover the pan and simmer until the vegetables are tender, 5 to 7 minutes (add a tablespoon of water if necessary, to prevent scorching).
4. In a large bowl, toss together the quinoa and vegetables. Stir in the dried fruit, pumpkin seeds, nutmeg, and cinnamon. Season with salt and pepper. Transfer half the stuffing to another bowl.
5. Slice off the squash tops ( if using small dumpling squash, or halve medium acorn squash) to expose the inside. Scoop out the seeds and membranes. Brush the skin of the squash lightly with oil.
6. Place the squash, cut side down, in a baking pan large enough to hold them in a snug single layer.
7. Pour 1/2-inch of boiling water into the pan and bake for 20 minutes (you want the squash to have softened slightly, but not completely). Transfer the squash to a plate and let rest until cool enough to handle.
8. Stuff the squash with the quinoa mixture, return them, stuffing-up, to the pan, and bake until the flesh can be easily pierced with the tip of a paring knife, 20 to 30 minutes more. Serve!