Braising Hell: Trying out Mayhem & Stout's Short Rib Sandwich
There always seems to be a new vendor or two at Brooklyn's DeKalb Avenue Market, and yesterday, I discovered Mayhem & Stout, and their slow-cooked beef, pork and chicken sandwiches. It was their second weekend at the market.
Co-owners Jay Brown and Steve Applegate had me at "slow-cooked," but I was also drawn to their container — the vendors at the DeKalb Market sell their wares from converted shipping containers — and their inventive list of sauces and condiments.
On the sauce side of the white board, leaning under the order window: blueberry Sriacha. Basil oil, mango and whole grain dijon mustard. "Dragon sauce."
Among the "add-ons:" pickled onions, pickled apples, saffron radishes and fresh cranberry sauce.  
You pick your meat, and add sauces and add-ons to your heart's, and stomach's content.
The offerings are quite a departure for Brown, who dishes up crab cakes, salmon burgers, hush puppies and chicken gumbo at Ana Beall's Tea Room in Westfield, New Jersey during the week.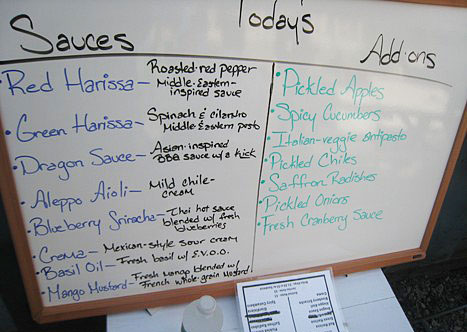 "I love slow-braised everything," he said. "I like making a tough cut of meat really, really good."
I tried the short rib sandwich with green harissa sauce (described as "spinach and cilantro Middle Eastern pesto") and spicy cukes. The mix-up wasn't ideal -- the green harissa was too tame for the beef and the cucumbers could have been spicier -- but I'm coming back next Sunday to try again. The short ribs were meltingly tender, and I loved the roll. You know how you can have too much bread in a sandwich?  Mayhem & Stout's meat-to-bread ratio was just right.
The guys are happy to suggest combos.
Applegate's favorite is the short ribs with "dragon sauce" and pickled onions.
(Dragon Sauce is described as "Asian-inspired BBQ sauce with a kick." Brown said there were 37 ingredients in it, including chilis, garlic paste, sesame oil and fish sauce. It takes him a day to make.)
Brown suggests pork shoulder, red harissa sauce and basil oil.  
"It's what I had for breakfast this morning."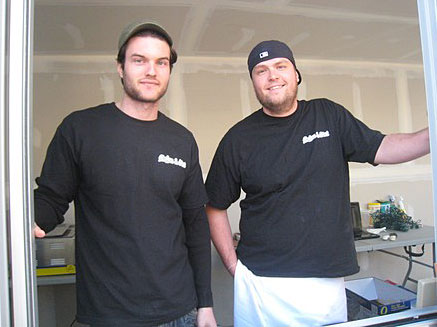 This is a new venture for the 28-year-old high school buddies. They said they're using their limited run at the DeKalb Market — which is weekends, through Christmas Eve — as a chance to work out the kinks in their operation. They're hoping to find a permanent home for Mayhem & Stout.
Find Mayhem & Stout at the Dekalb Avenue Market at the corner of DeKalb Ave. Extension and Willoughby Street in Downtown Brooklyn on Saturdays and Sundays, from 10 A.M. through 7 P.M., through Christmas Eve.
Above: High school chums and co-owners Steve Appleby and Jay Brown.