I Want to Win the WNYC Staff Pie Contest 2011
The annual WNYC staff Pie Throwdown is today and I've got my pie cutter -- and elbows -- sharpened.  
Yes, I'll say it: "I WANT TO WIN."
So does transportation reporter Jim O'Grady, who was asking me the other day about vanilla paste. Never heard of it. Neither did he, so I think I'm safe.
Then there's business editor Charlie Herman, who loves to smack talk about his pâte à choux. The guy's taken a class or two, and acts like it. He's been baking tarte tatin with apples from his Catskills château. Let's hope the judges find a little worm in his entry.
IF Charlie has the guts to enter. Last year, his first year at WNYC, he withdrew at the last minute. He claimed he didn't have the time, but now says he didn't want to witness the public shaming of us old-timers by the rookie. 
(Hey, WQXR's Naomi Lewin did in 2009. I ducked into the restroom for a minute to collect myself, congratulated her, and got to know her anyway.)  
My best showing was in 2008. I tied for third.
This time, I'm going with Karen DeMasco's Pumpkin Ginger Pie, featured in New York Magazine last year. I didn't make the brandy whipped cream, but perhaps I should have.
I DID seek tips from Matt Lewis and Renato Poliafito, the guys at Baked, in Red Hook. I beta tested (beta baked?) the pie and gave them samples when they were in the studio yesterday for our upcoming Last Chance Foods Thanksgiving segment on pie.
You know how doctors always find themselves fielding health questions from strangers at cocktail parties? It must be like that for Matt and Renato: "You guys are bakers? Would you mind telling me what I did wrong with my crust?"
"Well, first off, this pie looks homemade, the crust has a homemade look to it," said Matt. He quickly added, "I don't mean that in a bad way!  It doesn't look like a store-bought pie."
Renato -- who said he puts cinnamon in everything -- said I needed more cinnamon. We all agreed it could use more ginger. 
"I'd also reduce the maple syrup," he said. "That would intensify the sweetness and the maple flavor, without adding more syrup."
Done. Vanilla paste be damned. Here comes Pumpkin Ginger Pie 2.0.
First, bake the crust. Baked's Matt Lewis called it "homemade."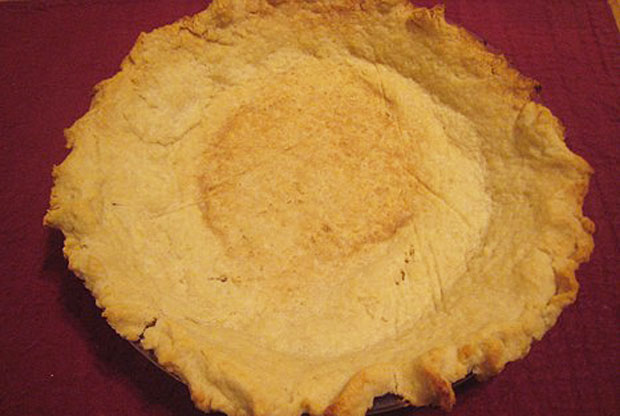 Then, add the filling: pumpkin, eggs, heavy cream, maple syrup, grated ginger, lots of cinnamon.