Bloomberg: Bridge Marchers Didn't Represent Protesters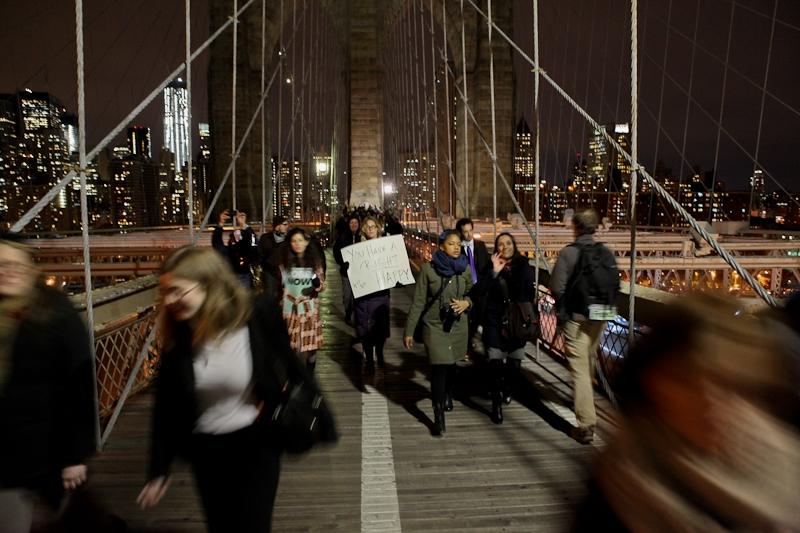 Mayor Michael Bloomberg said the several anti-Wall Street thousand protesters who marched over the Brooklyn Bridge Thursday didn't really represent Occupy Wall Street.
Speaking on his weekly WOR Radio show Friday, Bloomberg said "a vast percentage" of the marchers were union members who "had organized signs and leadership."
The mayor said the protest "was just an opportunity for a bunch of unions to complain or to protest, or whatever they want to do."
Zuccotti Park was virtually empty Friday, a day after about 250 were arrested when protesters marched through the streets of Manhattan as part of an all-day citywide demonstration that began in the financial district and fanned out across the city.
Just a handful of protesters were outnumbered by police officers and private security guards.
"This location did its part," said protester Christopher Guerra, who said it was his 49th day protesting. "You can't stop the movement now. The die is cast. You can't stop."
(Photo: Zuccotti Park a day after protesters staged demonstrations throughout the city. Brian Zumhagen/WNYC)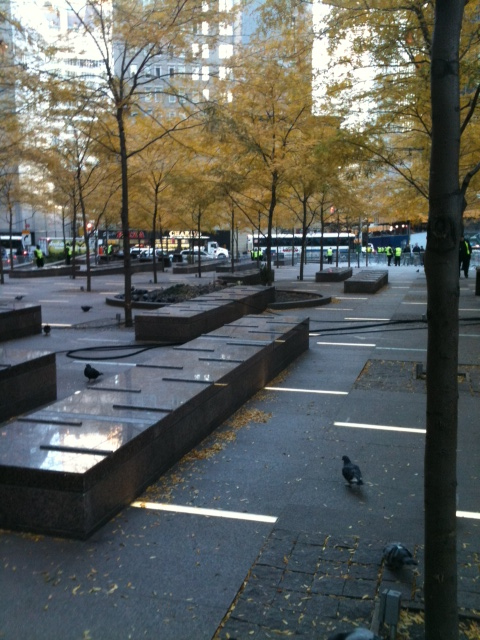 Many protesters arrested during the demonstration Thursday who were held overnight had arraignments Friday morning.
Jean Fox, who spent the night in jail, appeared before a judge this morning. She didn't go into the specifics of her case on the advice of her lawyer.
"This was a non-violent protest," she said, "and some of the charges are all over the place and don't jive with what people were doing, my own charges included.
To mark the second month of the protest, hundreds of protesters began the day at the Stock Exchange in an effort to interrupt the opening bell. It rang on time, but many who worked in the financial district had trouble getting to work with barricades blocking intersections.
Clashes between a police and a crowd at Zuccotti Park occurred when a group of protesters removed the metal barricades around the perimeter of the park.
By late afternoon, a crowd of several thousand headed to Foley Square in Lower Manhattan, some coming via subway, and spilled into the streets, before crossing the Brooklyn Bridge and then heading back to Zuccotti Park.

Sam Schwemberger, a protester that took part in the march to the Brooklyn Bridge, said it was hard to move, in part, due to size of the crowd "but it also seems hyper-regulated by police cordons and so on and so forth. Like a gesture of occupying the streets but there's very, very tight control."
Ten protesters and seven police officers were injured throughout the day. Thursday morning, a protester doused four officers in the face with a stinging liquid believed to be vinegar based. A second officer received 20 stitches in his left hand after a protester threw an object at a group of officers.

The evening protest in Foley Square included labor organizations who obtained city permits and set up a sound system instead of Occupy Wall Street's usual human microphone system.

(Photo: Panoramic of protesters in Foley Square Thursday night./Stephen Nessen/WNYC)
Agnes Johnson from the Bronx came down to protest the suffering in her community.
"I see destitution. They've closed off housing from where people can live and they're closing schools," she said. "The evening has been amazing. There's all walks of life coming out."
Despite Occupy Wall Street's eviction from Zuccotti Park early in the week, the mood of the protesters was jubilant. Mike Corbitt, a Teamster, was inspired by the day's activities. "I didn't think that my generation had this in us - even, students, people who never worked a union job...coming out and supporting labor and the middle class as a whole, I think that's fantastic."
Police arrested at least two dozen people for trying to block traffic on the bridge roadway at the start of the march, but the most demonstrators crossed without incident on the pedestrian walkway, where Occupy Wall Street slogans were projected on the side of the Verizon building and drivers honked their support for the protest.

Speaking Thursday afternoon, Mayor Michael Bloomberg said so far the demonstrations had "minimal disruption to people. Most protesters have, in fairness, acted responsibly."

"We will ensure that everyone has a right to exercise their First Amendment rights." Bloomberg said. "But make no mistake about it, if anyone's actions cross the line and threaten the health and safety of others ... we will respond accordingly."

"There are people who are fed up, and feel like it's time to take nonviolent action to stop business as usual on Wall Street," Han Shan, an organizer told WNYC earlier in the day. "And I think people want to come with their kids and their grandmothers and join us in the streets."

Demonstrations took place in cities across the country, from Albany to Los Angles, and were – for the most part – peaceful, with most arrests occurring for blocking traffic or streets.
With reporting from Brigid Bergin, Ilya Marritz, Bob Hennelly, Stephen Nessen and Kathleen Horan.