Approximately 250 Arrested as Protesters Surge Into the Streets
Approximately 250 were arrested when protesters marched through the streets of Manhattan on Thursday as part of the all-day citywide demonstration that began in the financial district and fanned out across the city.
Hundreds of protesters, who began the morning at the Stock Exchange and marched to some subway stops. By late afternoon a crowd of several thousand headed to Foley Square in Lower Manhattan, spilling into the streets, before crossing the Brooklyn Bridge.
Police arrested at least two dozen people for trying to block traffic on the bridge roadway at the start of the march, but the most demonstrators crossed without incident on the pedestrian walkway, where Occupy Wall Street slogans were projected on the side of the Verizon building.
One protester, Sam Schwemberger, said it was difficult for the crowd to move from place to place during the march across the Brooklyn Bridge. "It's a lot of people but it also seems hyper-regulated by police cordons and so on and so forth. Like a gesture of occupying the streets but there's very, very tight control, he said.
Ten protesters and seven police officers were injured during the marches. Earlier this morning, a protester doused four officers in the face with a stinging liquid believed to be vinegar based. A second officer received 20 stitches in his left hand after a protester threw an object at a group of officers.
Speaking Thursday afternoon, Mayor Michael Bloomberg said so far the demonstrations had "minimal disruption to our city."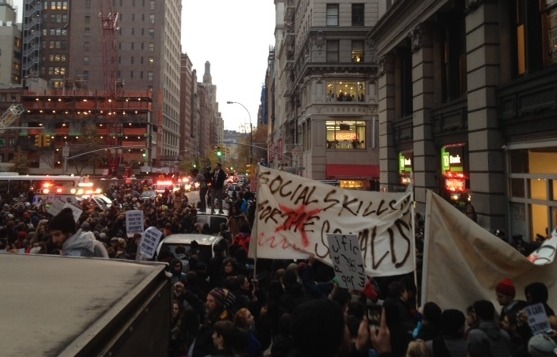 "We will ensure that everyone has a right to exercise their First Amendment rights." Bloomberg said. "But make no mistake about it, if anyone's actions cross the line and threaten the health and safety of others ... we will respond accordingly."
(Photo right: Demonstrators pour out of Union Square late Thursday afternoon./Jim O'Grady for WNYC)
Protesters began to march toward Union Square from Lower Manhattan Thursday afternoon after demonstrating near Wall Street in the first scheduled stop to mark the two months since the anti-Wall Street protests got underway.
Traders in blue jackets watched from behind metal barricades as dozens of protesters in plastic cuffs, including one man bleeding from the head, were led away to waiting police vans. Four police officers were injured and taken to the hospital after a demonstrator threw liquid at their faces, police said.
"There are people who are fed up, and feel like it's time to take nonviolent action to stop business as usual on Wall Street," Han Shan, an organizer told WNYC. "And I think people want to come with their kids and their grandmothers and join us in the streets."
In a surprise sweep earlier this week, police cleared the Lower Manhattan encampment that had served as demonstrators' makeshift headquarters.