Protesters Try to Retrieve Items Confiscated from Zuccotti Park
Anti-Wall Street protesters tried to reclaim their confiscated items from the Department of Sanitation on Wednesday, a day after 26 truckloads of sleeping bags, tents, books and other belongings were taken by police during an overnight sweep of Zuccotti Park.
The first person to arrive at the Department of Sanitation garage on 56th Street and the West Side Highway on Wednesday was Betsy Fagin, who helped run the makeshift library at Zuccotti Park that she claimed included more than 5,000 books.
"I'm here to collect the books and also the personal belongings of all the librarians," she said. "We'd like our tents, and our bags, our computers, and notebooks. As much as we can get back, we want back."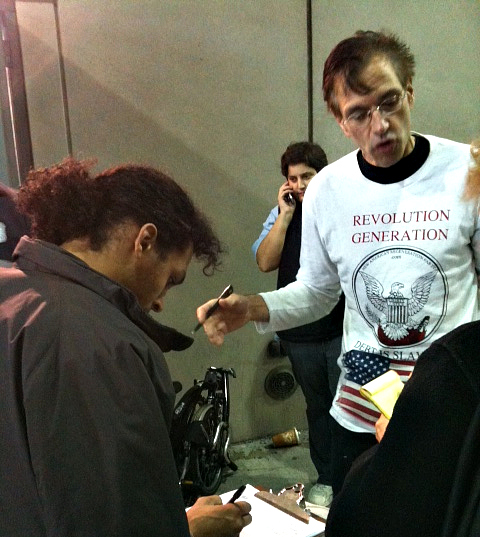 Fagin later told WNYC that many books remain unaccounted for, and most of the books that were in the garage were damaged from being hauled away in garbage trucks. She said she plans to go back over the next two days to look for more.
About 58 people came to retrieve their belongings on Wednesday and 29 left with items, according to the Department of Sanitation.
The NYPD entered Zuccotti Park early Tuesday morning and told protesters they would have to vacate the park — and that they could not re-enter with them sleeping bags, tarps or tents when they returned. There were 151 sanitation workers involved in the sweep, the department said.
The raid was the third in as many days for a major American city after police broke up camps Sunday in Portland, Ore, and Monday in Oakland, Calif.
Elijah Moses and Tommy Fox, who belong to a drumming group called Pulse, stood in line and filled out an itemized list of the instruments they had kept at Zuccotti Park. When they came out of the sanitation garage, they were agitated.
(Photo: Drumming group "Pulse" founder Elijah Moses (right) and group manager Tommy Fox try to itemize confiscated drums. Brian Zumhagen/WNYC.)
"We only got like two drums out of 15," Tommy Fox said.
Elijah Moses added, "There's at least about $500, $600 worth of equipment that's still inside."
The drummers said they planned to come back Thursday and on Friday, if necessary. Sanitation officials said some people may have to visit the garage more than once because crews are still sifting though all the items.
The facility is open from 8 a.m. until 4 p.m. through Friday to protesters who have ID and can produce some kind of proof of ownership.
If an item cannot be found or is damaged, demonstrators will have to file a claim with the city comptroller's office. Officials said they plan to wait until the end of Friday to decide what to do with any items that remain unclaimed.