Protesters Stay Awake All Night at Zuccotti Park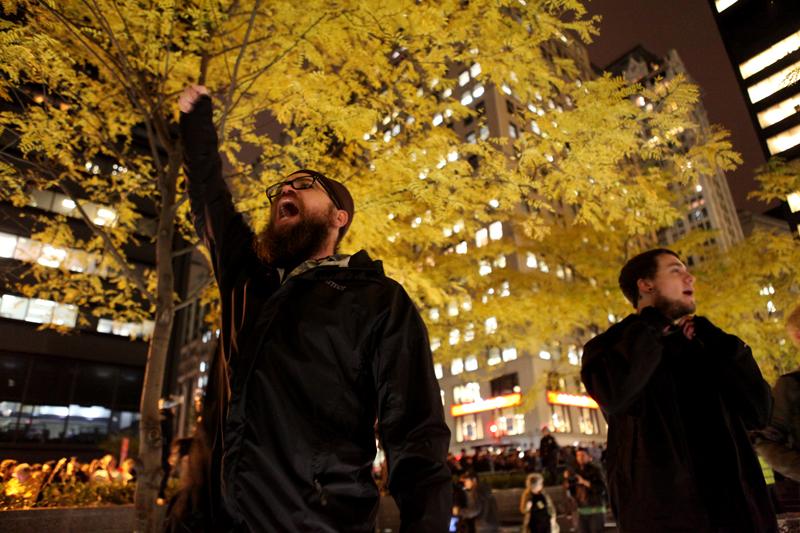 About a dozen activists stayed awake all night at Zuccotti Park where a handful of skirmishes erupted between police and protesters who were evicted in a nighttime sweep Tuesday tried to figure out what to do next.
Protester Leina Bocar, an unemployed artist, managed to smuggle a sleeping bag into Zuccotti Park Tuesday night but it was later confiscated.
"It's a pain," she said. "It's cold. We don't have tents right now. People are sleeping in McDonald's. I had an umbrella, I had a sleeping bag with a heating blanket. It's a pain, but I'm here for a reason, you know?"
Mayor Michael Bloomberg said the park will remain open "to all who want to enjoy it, as long as they abide by the park's rules."
New barricades have been set up around Zuccotti Park, with green-vested, private security guards checking the belongings of anyone entering and waking up people who fall asleep. 
Park owners, Brookfield Properties, said the guards are there to enforce the existing rules of the park, such as no lying down on sitting areas or walkways and no storage of personal property. On Wednesday, guards turned banned a folding chair, shopping cart, blankets and sleeping bags from the park. Some of the items were confiscated, if the owners would not relinquish them.
Brookfield Properties would not disclose the name of the security firm or ho long they expect the guards to be stationed at Zuccotti Park.
Uncertain Future for Occupy Wall Street
The first General Assembly meeting since the eviction Tuesday was well attended, with loud applause coming when the meeting leader said they had a lot to be proud of. The meeting went over how people could recover their things, reviewed Brookfield Properties rules and tried to figure out how to move forward.

"People are really recognizing that we need to build a movement here," Hans Shan said. Shan is an organizer who has been trying to find places for protesters to sleep. "What we're dedicated to is not just about occupying space. That's a tactic."

But without a place to congregate, protesters will have a harder time communicating with each other en masse. The leaders of the movement spent most of Tuesday gathering in small groups throughout the city — in church basements, in public plazas and on street corners — and relaying plans in scattered text messages and email.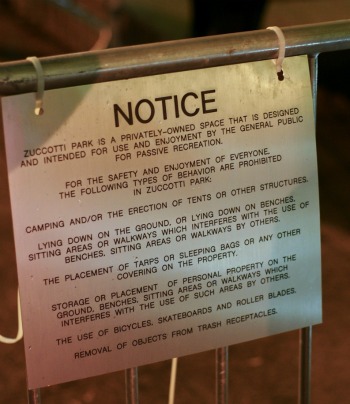 Some protesters said the last 24 hours had been heartbreaking, but they remained committed. Occupy Wall Street released a statement after the meeting stating, "We will overcome the obstacles placed before us. We will not be deterred. We will persevere. Our message is resonating across America, and our cause is shared by millions around the world. We are the 99%, and we want to live in a world that is for all of us — not just for those who have amassed great wealth and power. You cannot evict an idea whose time has come."
Aside from the lack of tents, there were other noticeable changes, such as the lack of fixed garbage cans. Instead, Brookfield Properties had staff wearing yellow vests sweeping up and carting around garbage cans. There were also more lights around the park.
(Photo right: New signs were put up throughout Zuccotti Park, greeting protesters who returned Tuesday night./Courtesy of Andrew Adler)
Clean-up Without Warning
In the early hours of Tuesday morning, NYPD entered Zuccotti Park and told protesters that they would have to vacate the park so it could be cleaned — and that they could not bring with them sleeping bags, tarps or tents when they returned.
Protesters who wish to collect any of their belongings collected during the clean-up, may do so Wednesday through Friday at a Department of Sanitation garage on West 56th Street between 11th and 12th avenues. They will need photo I.D., fill out a claim form and provide proof of ownership.
The New York raid was the third in three days for a major American city. Police broke up camps Sunday in Portland, Ore., and Monday in Oakland, Calif.

The timing did not appear to be coincidence. On Tuesday, authorities acknowledged that police departments across the nation consulted with each other about nonviolent ways to clear encampments. Officers in as many as 40 cities participated in the conference calls.

The city waited until Supreme Court Justice Michael Stallman on Tuesday denied a motion by the demonstrators seeking to be allowed back into the park with their tents and sleeping bags to let demonstrators back into the park. 

Protesters were slowly allowed back into Zuccotti Park through a small space in the barricades. NYPD used bullhorns to announce that no tents or large backpacks would be allowed in, and there was a large police presence trying to maintain order, as a crush of people waited for their turn to re-enter the park.

Bloomberg — who said conditions within the park had become "intolerable" — said he intended to allow protesters back into the park after it had been cleaned.
"Protesters have had two months to occupy the park with tents and sleeping bags," Mayor Michael Bloomberg said in a statement. "Now they will have to occupy the space with the power of their arguments."
Arrest of a City Council Member

Still, by Wednesday some city council members had questions for the NYPD, particularly surrounding the eviction and associated arrests near Zuccotti Park that night.
Council member Ydanis Rodriguez demanded to know why he and others were arrested near Zuccotti Park. Rodriguez said he was two blocks away from the park when he came across a large number of NYPD officers who eventually arrested him.
"Whoever gave the order it was a wrong thing. I was not looking to be arrested. I did not provoke a situation to be arrested. I was assaulted by NYPD Officers…Thousands of people, especially in the Black and Latino Community, are mistreated. I am pretty sure that I have more chance to go through that situation being black and Latino than any other member of the council," said Rodriguez.
Deputy Mayor for Operations Cas Holloway said Rodriguez was processed like everyone else and not singled out because he represents poor Latinos.
According to Rodriguez, he was held in a police van for two hours and then had to wait more than 12 hours before he could contact his lawyer.
Rodriguez was released without bail after being charged with resisting arrest. A court complaint said the council man tired to push past a metal police barricade and tried to keep from being handcuffed.

With reporting by Kathleen Horan, Ailsa Chang, Claudia Morell, Arun Venugopal and the Associated Press