Film and TV Stars Get a 24-Hour Crash Course on Broadway
Around 10 P.M. on Sunday, in the penthouse lobby of the American Airlines Theater on 42nd Street, the Pulitzer Prize-winning playwright of "I Am My Own Wife" introduced himself to a large group of celebrity colleagues.
"Hi," he said. "I'm Doug Wright. I'm a playwright. I just brought my laptop and some Xanax."
The cause of his anxiety was understandable. In less than 24 hours, Wright and five other playwrights, 24 actors and six directors — including Megan Fox, Tracy Morgan, Jesse Eisenberg, Lynn Nottage, David Lindsay-Abaire and Terrence McNally — would open a brand new show on Broadway, and not a word had been written, not an act rehearsed. The show was already sold-out, and by 8 P.M. the following night, the audience members would be in their seats, five floors below, ready to be dazzled.
This feat of extreme theater is known as "The 24 Hour Plays on Broadway."
Now in its tenth year, the event, which is part of "The 24 Hour Plays" project, consists of six short plays. The plays are written overnight and are cast a mere 24 hours before they are performed in front of a live audience on Broadway. This year, "24 Hour Plays on Broadway" was sponsored by Montblanc and benefited the Urban Arts Partnership, a non-profit arts and education program that serves 12,000 underprivileged public New York City school students.
Despite the quick turnaround, the production quality of the short plays is held to high standards, and is complete with lighting cues, props and costumes. Actors must memorize their lines. All of these things make "24 Hour Plays on Broadway" intensely challenging, even for veteran practitioners of the stage. A big question as this year's show got off the ground was how this year's film and TV stars celebrities would do out of their pre-recorded element, especially those making their Broadway debuts, like Fox, Morgan and Eisenberg. Would they be fish out of water?
"One thing I do notice is that the TV actors and film actors are much more nervous than the theater actors," said Rosie Perez, the artistic board chair of Urban Arts Partnership.
Sitting behind Megan Fox on Sunday, one of the stars of "Transformers" and "Jennifer's Body," one could feel the pressure in the room rising. Entertainment news gossip Web sites like OnTheFlix were already weighing in with lines like: "If things go well, Megan might even land a new Broadway gig out of it."
Eisenberg, the star of "The Social Network" and playwright of the new Off-Broadway play "Asuncion," downplayed the pressure around the event.
"The focus is not on us," he said. "I think the focus is just on having fun. It benefits a wonderful organization."
After hours of writing, casting, rehearsing and hand-wringing by actors, directors and playwrights, Monday night had arrived. As fate would have it, Doug Wright's play, "A Green Room of One's Own," took the stage first. The play's subject matter was apropos: "The 24 Hour Plays."
In "A Green Room of One's Own," Billy Crudup ("Coast of Utopia") and Jason Biggs ("American Pie") played themselves. At one point onstage, Crudup lamented to Biggs, who was dressed in a blonde wig and green sequin dress, "No art can happen in 24 hours. This whole night is built on risk. You know what can happen in the blink of an eye? A train wreck! That's why all these people have come here."
Indeed, many of the plays staged Monday night had a delirious, absurd quality to them. While the format for the rest of the year's "24 Hour Plays" lend themselves to "Saturday Night Live"-style sketch comedy, the majority of the work on display at "The 24 Hour Plays on Broadway" were reminiscent of a playwright's nightmare, taking place at, say, 4 A.M.
Take for example the "The Maid" by Rachel Axler, who won an Emmy Award for her work on "The Daily Show with Jon Stewart." Axler's cast included Sara Silverman ("There's Something About Mary"); Tracy Morgan and Jack McBrayer ("30 Rock"); Megan Fox, and Paul Bettany ("Iron Man").
In this short parlor farce, Bettany commands McBrayer — dressed in a maid's outfit — to get rid of the rabbits that have been driving him mad for, one can only guess, a long time. Before long, Bettany is eating greenbacks out of a garbage bag full of cash, while Silverman and Fox dance around as bunnies. Though Tracy Morgan was one of the better-known comics in the play -- think of his hilarious portrayals of Astronaut Jones and Brian Fellow on "SNL" and his role of Tracy Morgan on "30 Rock" -- he has just one line in Axler's play.
"I'm a rabbit!" Morgan hollered, before promptly exiting the stage.
Fox, in her Broadway debut, didn't have many more lines than Morgan. She was mostly inaudible and shoved to the perimeter of the stage throughout the show.
Amidst all this madness, however, a stage star in the making may have emerged: McBrayer, the 38-year-old actor from Macon, Georgia who is best known as Kenneth Parcell on "30 Rock."
During the play, McBrayer had a solid technical sense of the stage, engaged with the audience and responded well to his fellow actors. Perhaps it was his theater training at the University of Evansville. In any event, it seems only a matter of time before we'll see McBrayer extend his stay on the Great White Way.
Jesse Eisenberg had the good fortune of being cast in Terrence McNally's "Four Play," another play-within-a-play. Apart from winning four Tony Awards for "Master Class," "Ragtime," "Love! Valour! Compassion!" and "Kiss of the Spider Woman," McNally has experience: he has participated as a "24 Hour Play" playwright two times prior. Although Eisenberg didn't have to memorize his lines since he was cast as an actor rehearsing a play, the audience responded to his strong stage presence.
The evening came to a blissful end with David Lindsay-Abaire's "Dress The Orphans," a send-up of Jean Paul Sartre's "No Exit" where hell is a place filled with telemarketers.
Long-time "SNL" comedian Rachel Dratch expertly played a captive at the mercy of Diane Neal, John Krasinski and Rosie Perez. The play's finale, which included an encore appearance by Tracy Morgan, as himself, was a reminder of what the 24-hour exercise can do best: turn out star power to raise money for a good cause.
Check out images of participants and audience members to the show below.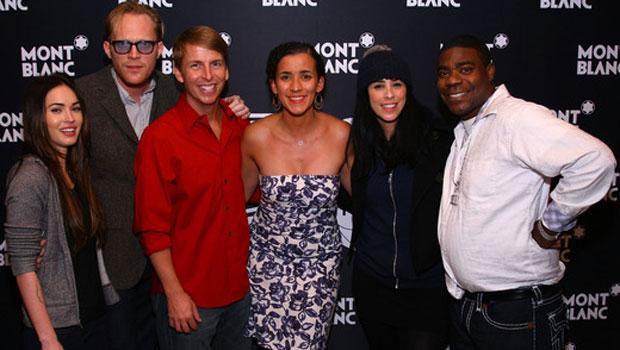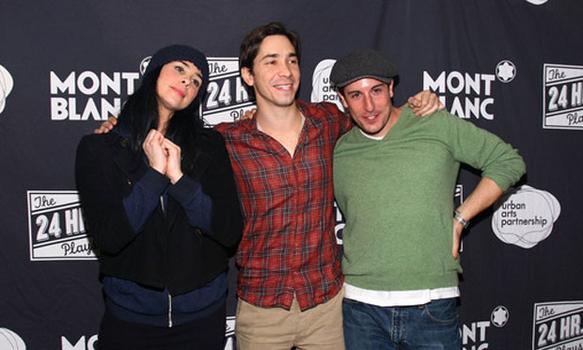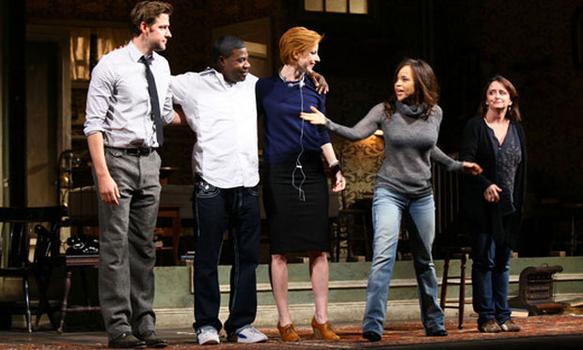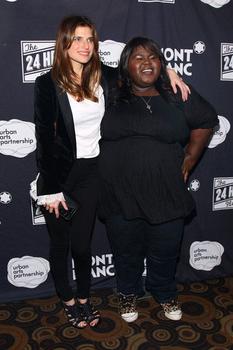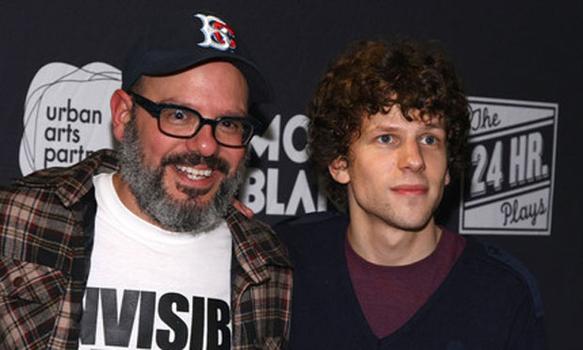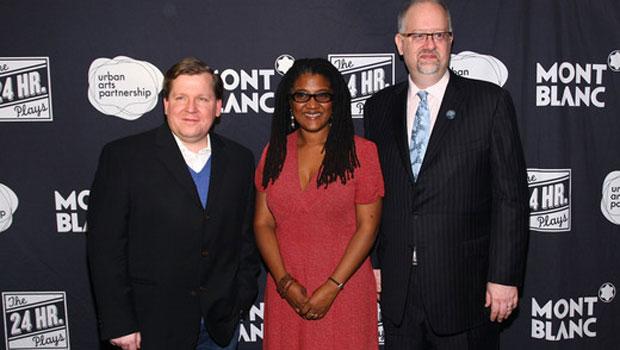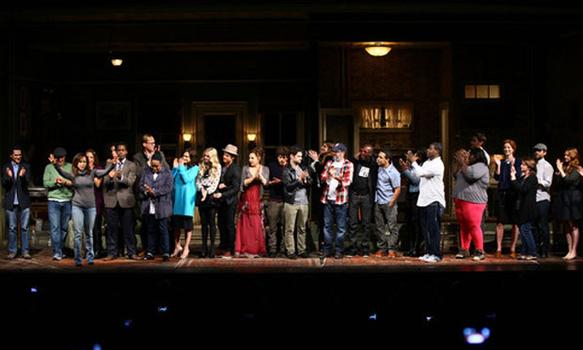 of