Central Park Gets Ready for its Close-Up
Visitors to Central Park will soon have new technology at their fingertips to help them get more out of their park visit. The Central Park Conservancy has joined forces with Google to add street level views to the park's existing app.
Park Conservancy President Doug Blonsky hopes that the new technology will add an extra dimension for visitors to Central Park. It can help them plan a trip in advance, or help them learn more about the park during their visit. It is also a useful tool for runners to plan their route through the park.

The current app features an interactive map, but it doesn't allow a user to define pathways, only general locations and landscapes, according to Blonsky.

"We have 58 miles of pathways in Central Park, and to be able to show them in detail is terrific," Blonsky said Monday. "But more importantly, it's going to be a little bit of a virtual experience of the park. You'll be able to pop up pictures as you're going through the park so you can see what you'll be seeing on your trip. So you can craft a tour to certain trees in the park, or certain destinations or monuments."

However, he did not give a timeframe for when this new feature would go online.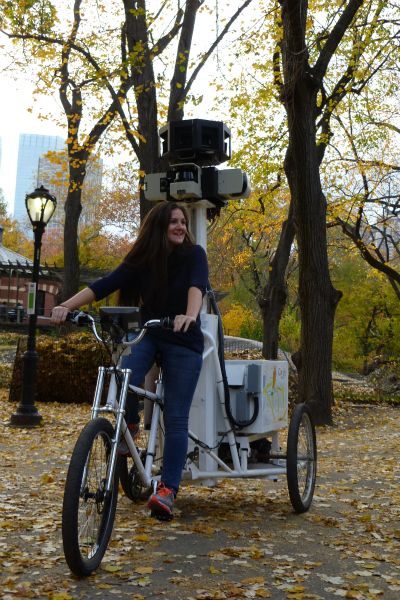 The Google Street-View has been taking their panoramic street level technology off-road to provide a virtual glimpse into the worlds most beautiful parks. Since the project launched a year ago, the Google team has traveled to 22 countries with their specially designed tricycle capturing street-level images across the world, from Tokyo's Koganei Park, to Denmark's Knuthenborg Safari Park and London's Kensington Gardens.

"The trike is specialized to get to a lot of those places that our street view cars could not actually drive through," Google Communications Manager Jordan Newman said. "Whether it's a small town in Italy with tiny little roads that are too small for a car, or a university campus with small pathways rather than roads."
(Photo right: Google's specially designed tricycle taking 360-degree view of Central Park's many roads and paths./ Natasja Sheriff for WNYC)