34th Street Gets Select Bus Service
Faster buses are coming to 34th Street that allow riders to pay before boarding and provides access at both rear and front doors as a way to reduce delays.
The so-called Select Bus Service program has already been introduced in several corridors in the city.
"It's been a great success on First and Second Avenue," Transportation Commissioner Janette Sadik-Khan said, "same thing on Fordham Road. So every time we've unveiled this, we've seen travel times get cut and ridership go up, so it's a great new model for bus service in New York City."
But the 34th Street bus line was originally supposed to be what Sadik-Khan called "the city's first true Bus Rapid Transit."
BRT, as its known has made buses in cities like Bogota, Columbia, and Istanbul run almost as fast as subways by physically segregating buses from cars and other vehicles using concrete barriers. 
That prevents cabs, delivery trucks and tourists from driving into the designated bus lanes, as they frequently do on First and Second Avenues, despite the warning of $115 fines.
But after the objections from some residents and businesses, and city scaled back its plans to create a segregated lane.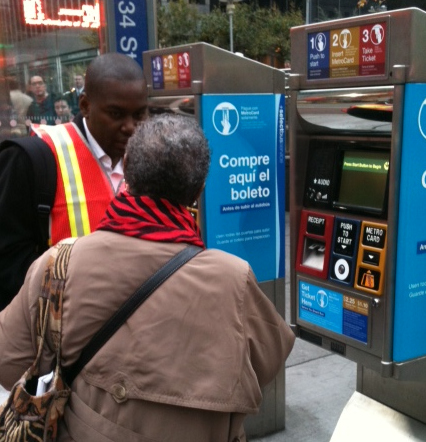 Transportation Commissioner Sadik-Khan said more enforcement is on the way for 34th Street, with cameras coming to the corridor next year to make sure cars stay out of the bus lanes.
"We're very excited about the package of improvements, and we think it's going to be a much safer, smoother, faster ride for people on 34th Street," she said.
Even so, the city says buses will be faster than before, and commuters were optimistic.
Long Island commuter Amanda Kelaher takes the 34th Street crosstown bus from Penn Station to First Avenue every day.
"It is really crowded, so it probably will help," she said. "You can get on in the back, they said, as opposed to going to the front, which is much easier, I guess. We'll see how it goes."
But some riders say they're not so happy about the changes.
Beatrice Lebreton has taken the Select Bus Service line that's been running on First and Second Avenues since 2010, so she's familiar with the proof-of-payment system, which requires riders to produce a receipt for their fare.
"And every time I go get my ticket, I miss the bus," she said. "Just that extra step in the morning is not very convenient."
Once riders have their receipts, they need to hold on to them, because so-called "eagle teams" of transit police roam the SBS lines checking for proof-of-payment. Passengers who can't produce a receipt face a fine of $100.