AZ Recall May Put Immigration Bills to Rest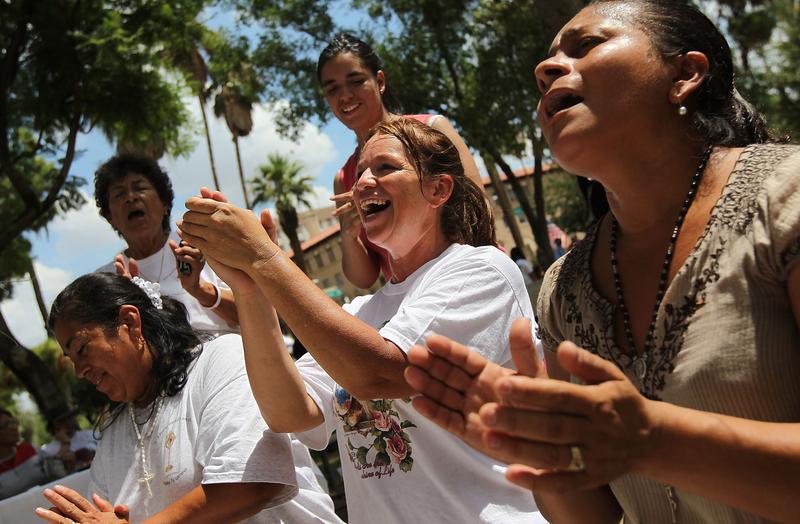 Members of a group behind a historical recall of the architect of SB 1070 say the message is "loud and clear" for anyone that wants to follow his footsteps in Arizona state politics.
"I hope that the message has been sent to them. We're watching, if you try to mimic it, the same thing can happen to you," said Chad Snow, chairman of Citizens for a Better Arizona (CBA), the group that led the successful recall effort against Republican Senator Russell Pearce.Pearce, now the former president of the Arizona Senate, lost in the most conservative district in the state where the majority of the voters are Republican and Mormon like him.
His removal from the state legislature could alter the balance of power in a body that has passed dozens of bills to fight illegal immigration throughout the years.
Republican Rep. John Kavanagh expects that politicians that were "uncomfortable" with illegal immigration related bills last year, including one to deny birthright citizenship to the children of undocumented immigrants, will be more careful. 
"I think they'll certainly be more cautious in what they support," he said. "No one is going to come in as a result of Senator Pearce losing and try to undo any of his legislation. But additional legislation may be halted or slowed." 
Others have vowed to continue with Pearce's legacy. Republican Senator Steve Pierce was elected on Thursday to the Senate President post and promised to follow in Pearce's footsteps.
Pearce rose slowly through the ranks of the Arizona Legislature, first as a representative, then as the head of the appropriations committee and finally as Senate President. Fighting illegal immigration was always his main focus. Rep. Kavanagh argued that, thanks to Pearce, Arizona already has among the strictest anti-immigrant legislation in the country, and his leadership inspired similar legislation in places like Alabama, Georgia and South Carolina.
Pearce first attracted notoriety in 2004, when he pushed for Proposition 200, a successful voter's initiative to deny access to public benefits for undocumented immigrants. That victory was followed by a slew of related bills and politicians running on the promise of fighting illegal immigration. Pearce was also the main sponsor of Arizona's employer sanctions law, which imposed civil penalties on businesses for knowingly hiring undocumented workers in 2007.
Most of this immigration-related legislation was enforced by one of Pearce's main political allies, Maricopa county Sheriff Joe Arpaio, who could be next in the list of politicians that CBA will go after.
Arpaio is currently under federal investigation for abuse of power and a civil probe connected to racial profiling, though he said that's not deterring him. 
"I'm going to do more, that's my message. If you're trying to say I'm backing down for what happened to Russell, it'll never happen," said the sheriff.
Ironically, CBA's recall campaign targeting Pearce didn't focus on his support for SB 1070, the law that made it a state crime to be in Arizona without legal immigration documents, which was later partially enjoined by federal courts. Instead the bipartisan group focused on Pearce's role in cutting funding for education and health care during a time that the state was facing a budget deficit.
Pearce supporters argued that the political process for the recall was abused and that this was a referendum on SB 1070, rather than the senator's performance.
Kavanagh conceded that there were other factors at play that gave Pearce opponent Republican Jerry Lewis a "healthy win". Among them, he cited an anti-incumbent sentiment among the voters in District 18 that were dissatisfied with the current condition of the economy.
"It was far more than illegal immigration," said Kavanagh.
Incoming Sen. Lewis' approach to immigration remains to be seen. He has aligned himself with the principles set in the Utah Compact, a pronouncement on immigration that calls for enforcement and humanity in the implementation of immigration laws. The compact  was supported by the Mormon church, for whom Lewis is former bishop.
"I think people were tired of the vitriolic politics," said Lewis after his election victory. "I think they what they wanted is someone that is willing to work with all parties, and understand all parties too, and issues including immigration, the economy and education." 
But Kavanagh points out that it will be challenging for Lewis to get his work done being the new kid on the block.
"He's going to be a hero among the Democrats, but I think a lot of Republicans are going to be very resentful, because he facilitated the removal of a very popular Senate leader," he said.
Valeria Fernandez comes to us through Feet in Two Worlds, a project at Milano The New School's Center for New York City Affairs. Fi2W is supported by the New York Community Trust and the John S. and James L. Knight Foundation with additional support from the Mertz Gilmore Foundation.