Bummer for Bum Bars: Bronx-Made Energy Bars Seek More Shelf Space
I first noticed Bum Bars when I was doing a 21-day detox. They were sitting right below the cash registers at Greene Grape Provisions in Fort Greene, Brooklyn.
"Now gluten free!" the label declared. "Refined sugar free, animal free, handmade organic goodness!" All attributes that I was seeking in a snack.
The bars are made of gluten-free, organic rolled oats and oat flour, and sweetened with organic brown rice syrup. The version I sampled was studded with organic raisins and unhulled hemp seeds, which gave the chewy bar a nice crunch. It was good and satisfying. (Maybe TOO satisfying. They're 340 calories a pop, for a 2-ounce bar. )
33-year-old Doug Cullen started making Bum Bars seven years ago for fun at his then-home on Long Island.
"I found some old hippie cookbooks and they were saying to just throw some dried nuts and seeds in the food processor with tahini and honey and just roll it up in a ball and eat it, and that was your snack," he said. "The bar I'm making is an extended version of that. I had no concept that I wanted to turn it into a business."
Cullen's introduction into entrepreneurship occurred rather casually.
"I was making them for friends, and I thought, 'What would happen if I wrapped this in Saran™ wrap, printed a sticker, and took it to my local coffee shop?'" That was the North Winds Coffee Shop in Port Washington, which he says has since closed. "It worked, people bought it."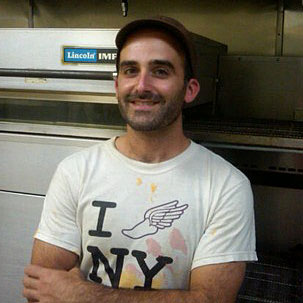 And Bum Bars was born.
"'Bum Bars' is a whimsical, silly name," Cullen (pictured right) explained. "It doesn't mean anything at all, it represents a laid-back approach to health and good living."
He moved to Brooklyn, where there were many, many more coffee shops, yoga studios and high-end grocery stores for his bars. (He now lives in New Paltz.) Cullen says sales are about $75,000 a year. He's got 80 clients, mostly yoga studios and health food stores. He says the Park Slope Food Co-Op is his largest customer. He also sells the bars by the box online.
But he's found it difficult to get Bum Bars out there, in the public's mind and mouth. Cullen's up against big-name, cheaper energy bars like Clif Bars and Lara Bars.
"It's been hard to keep the business alive," he confided. "There is a profit. It's not very big, but there's a profit. But sometimes I don't think I'm doing any better than I was five years ago. "
You'd think that Cullen would have hit pay dirt with Whole Foods. He says Bum Bars have been sold in the natural food megastore's Chelsea, Union Square and Bowery branches. But he says it's been difficult to keep his energy bars on the shelves, and not because customers have been snapping them up.
"Your product might be in one place one week and then it gets moved to another part of the store," he said. "No one can find it, no one buys it, and then they say, 'Oh, it's not selling, we're not carrying it anymore.' And you can't even get the person on the phone. It's difficult communicating with their hierarchy of buyers."
Michael Sinatra, the spokesman for Whole Foods' Northeast Region (which includes New York, New Jersey and Connecticut), says he was "sad" to hear this.
"We want local people" selling their products in Whole Foods, said Sinatra. Each store is required to source ten percent of its products from local producers ("local," in a New York City store's case, Sinatra explained, means from New York, New Jersey, Connecticut, and eastern Pennsylvania).
He conceded that Whole Foods' decentralized system could be frustrating for vendors: "Every store works as its own entity, and there are various departments in every store, each with its own team leader and a buyer, or buyers."
This gives each Whole Foods store the freedom to tailor products to its particular neighborhood. But it also can make it a challenge for a vendor to find the right person to talk to.
It even took Sinatra a while to locate someone in his stores who knew about Bum Bars.
"As an energy bar, it's in a rare category where it could be sold in three different areas," he explained, Bakery, Whole Body (where supplements and body care products are sold) or Grocery (as a candy bar or granola bar).
He confirmed that Bum Bars had been sold in the Bowery, Chelsea and Union Square stores, but says they haven't been there since last year.
Cullen is trying out different strategies to move his energy bars. Earlier this year, Bum Bars became vegan and gluten-free. He's also tried a new label, and new packaging to give the bars a longer shelf life. He says he even stood in the cold rain at a four-day yoga retreat in Vermont last June, handing out Bum Bar samples.
"When I can get people to actually taste it and put it in front of them, they agree that it's the best thing out there," he said.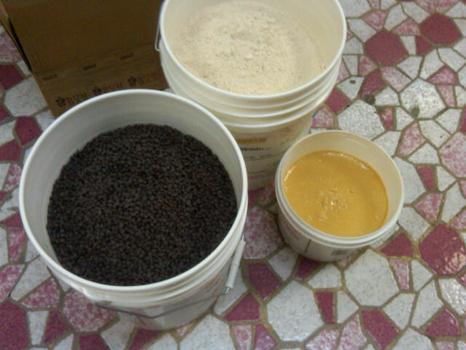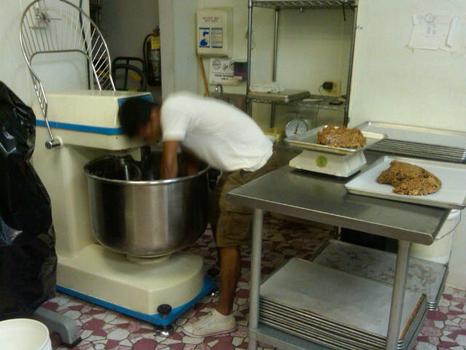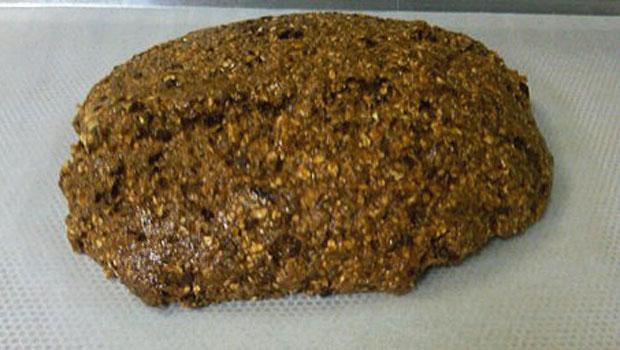 of