All Hail the Wale: Corduroy Enthusiasts Dress to Impress for 11/11/11
This Friday is all about the 11s. The date — 11/11/11 — bears special significance for gamblers, newlyweds, math nerds, and of course, our troops. But the palindrome has also found a major following among fans of corduroy.
The fabric's devotees have been celebrating since Nov. 1 due to that date's resemblance — 1/1/11 — to corduroy. Foods that look like the wales in the fabric -- celery and Ruffles potato chips — have been eaten with gusto by members of the secret social Corduroy Appreciation Club while red velvet cake (due to its reference to velvet) has been shunned. The so-called 11|11|11 celebration culminates Friday night with a Best Wearer of Corduroy competition, performances in praise of the waled fabric and the hushed presentation of a "Messiah Child" who will turn 11 years old on 11/11/11.
To get into the festivities at the Desmond Tutu Conference Center, which the Corduroy Appreciation Club reports to be sold out, attendees must sport at least three pieces of the fabric.
"I'm going to be wearing a silver corduroy suit with a houndstooth vest, a blue-and-green bow tie, a corduroy pocket square, corduroy cuff links, corduroy boutonniere," said Queens artist Jean Barberis, 33, who joined the Corduroy Appreciation Club in 2007. "And what I'm most excited about is my shoes, which I made, which are going to be two-toned yellow leather and blue corduroy."
Corduroy suspenders, Barberis added, would bring the number of articles of corduroy he'll be wearing to — you guessed it — 11. He also plans to give away 50 homemade corduroy tote bags on Friday night.
Stacey Whitmire, a 37-year-old hair stylist, actress and performer who lives in Brooklyn, will be wearing medium-waled rust colored corduroy bell-bottoms from the '70s, a pair of royal purple culottes that she made into an over-the-shoulder shrug and a corduroy headband.
"It's sort of a dapper fabric," she said. "But I think you're a little quirky if you wear a lot of corduroy — especially with a wide wale."
Whitmire said leading up to 11|11|11, she'd been tweeting platitudes about cords like "Nothing comes between me and my corduroy," "How wide is your wale" and "You're always on my mind, Corduroy."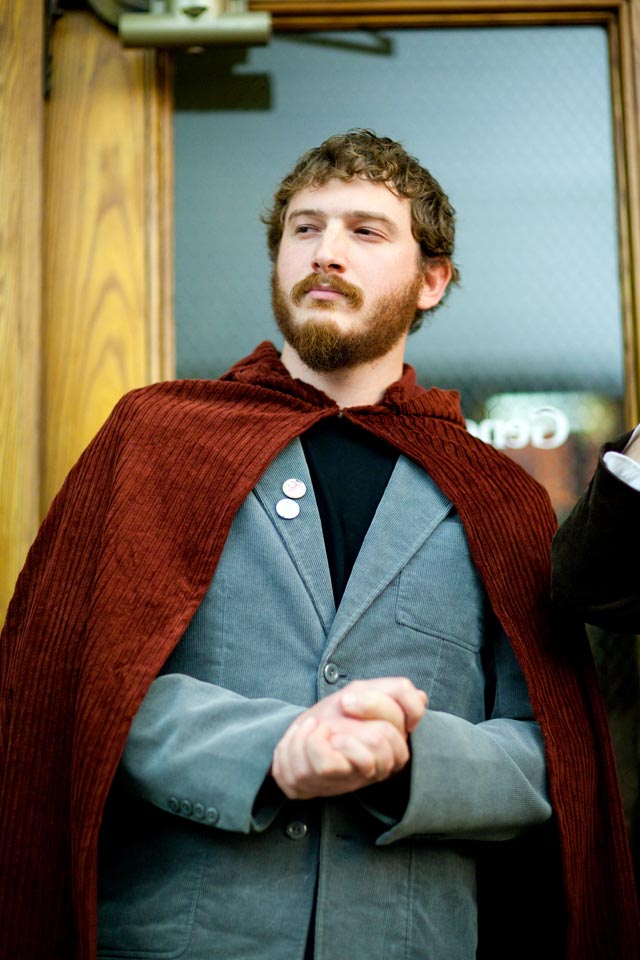 Other events organized by the Corduroy Appreciation Club this month, which was founded in 2005 by Miles Rohan, included a corduroy crafting circle and a charity corduroy clothing drive. Kurt Schlachter, the club's brewer in residence, also brewed two special beers for the month's events, which resemble corduroy when they stand side by side.
"They are both made of 25 percent rye malt and so they are a quarter rye, each of them," he said.
At right, Schlachter in a wide-waled red corduroy cloak. Photo by Chris Chin.

Schlachter, who has been a member of the club for four years, said although there was general agreement among corduroy lovers that cords were comfortable and utilitarian, it wasn't clear where or when corduroy was first worn.
"There's a myth that we at the club don't subscribe to that it has French origins, translating to 'the king's cloth,'" he said. "We think that's rubbish. Some folks think somewhere in Scotland. I like to think that it probably dates back to the Fertile Crescent, along with beer."
He'll be wearing a handmade corduroy suit, corduroy shoes, a corduroy tie, corduroy pocket square and a corduroy boutonniere to Friday's event.
"Unfortunately my corduroy unmentionables probably are going to stay at home for later," Schlachter said, adding that people who couldn't attend could still hail the wale by hanging out near items that resembled corduroy like crosswalks, accordions and harps.
Artist, curator and art administrator Michelle Levy, 35, will be attending Friday's event in a black corduroy suit and corduroy knickers. She said she thought that while a wide-range of people dug corduroy, the fabric's biggest devotees were children of the 1970s.
"My theory is that it's a generational thing," Levy said. "There are people of all ages that love corduroy but people who especially grew up in the '70s have a particular nostalgia for it and there's something comforting about it."
11|11|11 celebrations will also take place in Washington, D.C., Chicago, San Francisco, Portland, Oregon and Fromberg, Montana.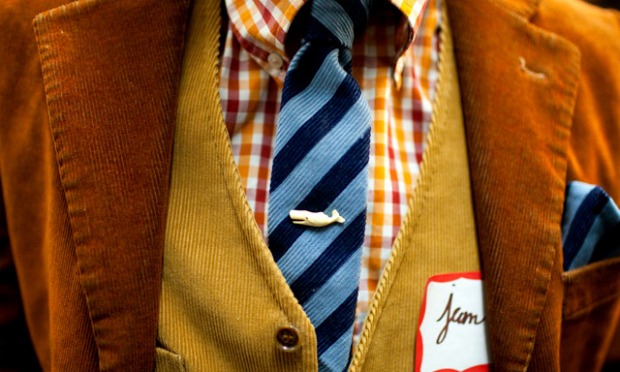 The wales of Queens artist Jean Barberis, who won the Corduroy Appreciation Club's Best Wearer of Corduroy competition on 11/11/09 and 11/11/10. Photo by Katie Sokoler for Gothamist.