With the Help of a Video Game, Virtual Help for Families of Veterans
Christian Campos is playing a different kind of video game.
Campos, 25, has been following the animated story of a U.S. Marine who has returned home to live with his parents after serving on the front lines.
The game, "Family of Heroes," is an online interactive role-playing program aimed at helping loved ones communicate with veterans dealing with post-deployment problems, and ultimately, get them treatment.

He nodded his head and smiled knowingly at the screen. He said the similarities between the fictional Marine and his brother, Junior, 22, were uncanny.

Junior spent 10 months in Afghanistan and earlier this year returned to Camp Lejeune, N.C., where he is now. He's come home to his family in Paterson, N.J., a few times since being back.
"Seeing my brother very anxious, seeing my brother with all those feelings of going back to war, because be feels more safe, he feels more normal, he feels he belongs there — is totally sad, is totally devastating to me as well as my parents," Christian said.
There are an estimated 34,000 veterans of the Afghanistan and Iraq wars in the metropolitan area, and with the final withdrawal of troops from Iraq by the end of the year, that number is expected to increase. As many as two-thirds of combat veterans locally have mental health problems, including anxiety, depression, substance abuse and post-traumatic stress disorder, according to the Veterans Administration.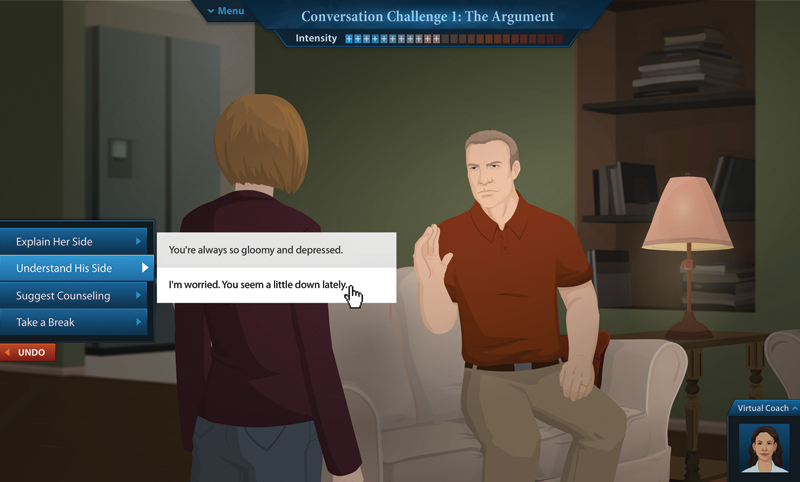 (Photo: Courtesy of Kognito Interactive)
The military services, the V.A. and independent support groups offer a range of services for families, so they can get help for their loved ones, but many people don't know where to start.

Ann Feder, a supervisor for mental health services for the regional V.A., hopes the new online program that Christian Campos is playing, called Family of Heroes, will find its way to other people like the Campos family.

"We already do face-to-face outreaches," she said, "but this is the first time we're doing a program for any family member, loved one, somebody who cares about the veteran online."
"Family of Heroes" was produced by a New York City firm called Kognito, which has a $200,000 contract with the local V.A. It's too new to have much of a track record, but more rigorous study is in the works. 
V.A. officials said they don't expect an interactive online program to take the place of traditional resources for families, such as help lines and support groups.
 
Psychologist Barbara Van Dahlen, who runs a volunteer program for veterans called Give an Hour, said the easy-to-access simulation is one more tool among several.

"Obviously, it's not going to be the right method for every family," Van Dahlen said. "But the goal is to create a variety of options, of opportunities to get information to families."

"Family of Heroes" takes about an hour, and features three families with different challenges. Viewers watch a conversation between spouses or parents and returning veterans, and then replay it, taking the role of the loved one, and trying out different replies, until gently persuading the veteran to seek counseling help.

Christian Campos, taking the role of the virtual Marine's mother, doesn't quite get him all the way into therapy, but playing around just a little with the simulation, he gets him to accept the idea of possibly seeing someone. It's a start.

Christian said he feels newly confident about broaching sensitive subjects with his brother, Junior, who's returning soon for Thanksgiving: "Knowing how to handle a situation...that could save his life," Christian said.
Christian Campos said his brother, Junior, was in several vehicles that were hit by roadside bombs, and he was shot in the head, but saved by his helmet.  

Speaking from North Carolina, Junior said coming back from Afghanistan took some adjustment  initially. He had some problems with anger, but not any more.

"I have no issues. I have no problems now," he said. "I can control my temper now. I'm calm all the time."

Junior's looking forward to coming home for Thanksgiving. Christian, is also upbeat about the upcoming visit – but he also plans to spend some time with the "Family of Heroes" program, and go over it with his parents, just in case.