Pet Portraitist Paints Oodles of Poodles & Mugs of Pugs
In the tradition of peripatetic portraitists, Mimi Vang Olsen travels far and wide to meet her subjects in person.
The diminutive artist travels light, with an aging digital camera, and a small notebook.
Vang Olsen, 73, has infinite patience for her subjects, who often have great difficulty sitting still. And in the digital age of Photoshop and digital postproduction, she paints in subdued hues – but she defies you to call her work kitsch.
Vang Olsen is a pet portraitist.
"A lack of skill and a lack of style -- and to do it in a cliché manner, to do it too cute -- would make it tacky," Vang Olsen said recently, leaning back in a worn wooden chair at her storefront studio in the West Village.
Dozens of prints from previous paintings hang on the walls. Four wrinkly brown pugs in front of birthday cakes look down from one wall. A calico cat on a rocking chair and a family of poodles stare down from another. Her paintings have the flatness of folk art, but the detail and piercing eyes of a Victorian portrait.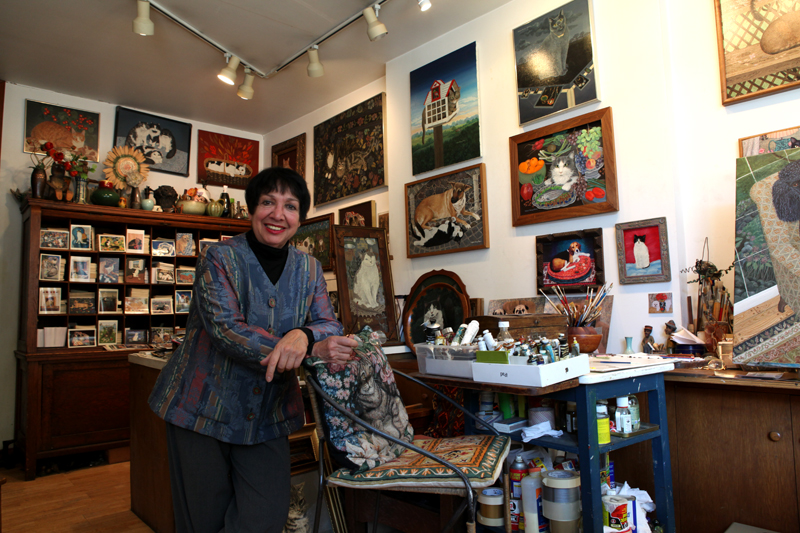 Mimi Vang Olsen in her West Village studio. (Stephen Nessen/WNYC)
"I approach it as if it were a formal portrait of a person or a piece of fruit," she said. "It could be a still life. And by analyzing the pet's personality, dog or cat, you can figure out how to do a beautiful portrait."
Vang Olsen estimates she has painted more than 250 pet portraits in her life, across Europe and America. She insists, in most cases that she meet her subjects and observe them in their natural habitat.
On a recent fall morning, Vang Oslen did just that when she visited stately Stamford, Conn., home of Greg Ohman and Tony Reed, who had commissioned their third portrait from the artist – this one of Tess, their ink black miniature poodle and Rocky, their recently deceased 3-year old poodle.
Heirloom portraits dot the walls inside the 17th Century farmhouse set against a bucolic backdrop – including a few works thought to be from Hudson River Valley landscape painter Thomas Cole.
Paintings of the family's late poodles -- Vang Olsen's work -- have a prominent place on the living room wall.
"Her attention to detail is amazing," said Ohman, 62, a retired businessmen. "She really captures the soul and spirit of the dogs."
Ohman's wife, Tony, stood in the house where great great grandparents are on the walls and a bust of her father rests in the living room.
"Our whole house is filled with photographs of family and paintings of family; be they people or dogs because we want to preserve those people and their memory for as long as possible," she said.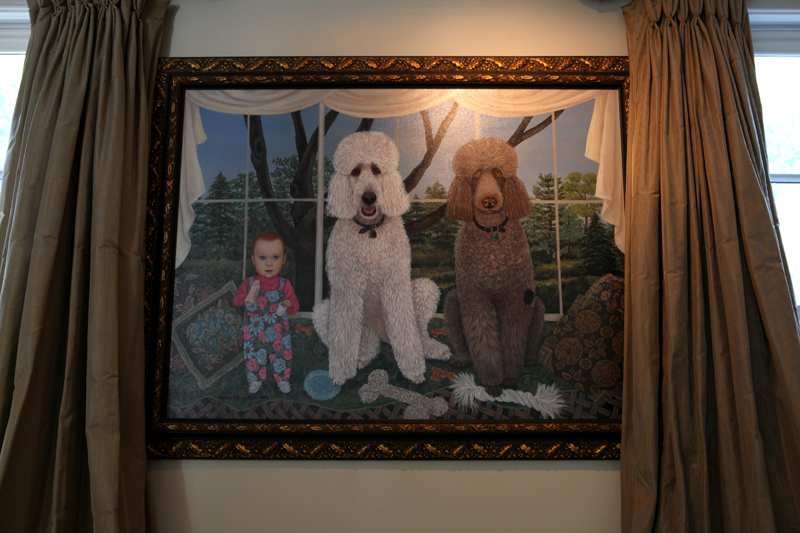 The first painting Mimi Vang Olsen did for Greg Ohman and Tony Reed. (Stephen Nessen/WNYC)
The origins of commissioned pet portraiture can be traced to the 16th Century with the rise of the middle class and persistence of aristocracy, according to Carol Krinsky, a professor of art history at NYU.
Pets however, didn't make a prominent appearance until the 18th Century, and often as symbols of male virility, as hunting dogs.
"The difficulty of painting people is something that's difficult enough, but the difficulty of painting pets who don't necessarily want to sit still and smile for the portraitists it seems to be a harder operation," Krinksy said.
And Vang Olsen can attest.
Reed feeds her poodle Tess slices of turkey as a reward for a few precious seconds of posing, just long enough for Vang Olsen to grab a snap shot.
"I might use the ears from one, the nose from another, perhaps the lighting is better on the feet in another photograph. The props, their favorite toys, I photograph those separately," Vang Olsen said.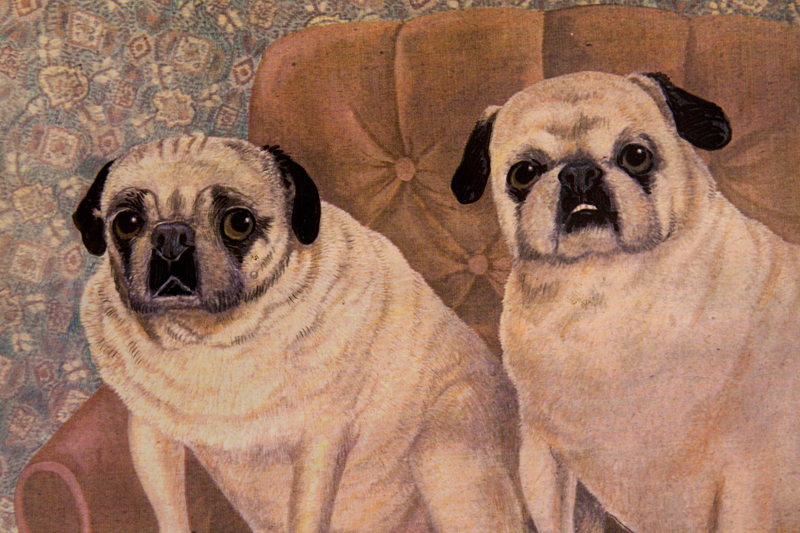 "People who don't paint don't realize how hard it is," she said.
Vang Olsen has been painting since she was a child and grew up surrounded by artists. Her father, an Armenian immigrant, was a portrait photographer and ran a studio out of their Bronx home. Her mother made knitting manuals. She always painted what was around her, and her earliest painting was of her black and white cat on a red backdrop. Her mother recently found the painting and it hangs in Vang Olsen's studio.
She attended the School of Visual Arts and worked as an art director for 12 years. She married a Dane and moved to Denmark, had two children and then returned to painting. 
Her husband stays in Denmark for the winter, and visits the city regularly. One of Mimi's daughter's lives with her, as well as her 9-year-old grandson.
Her latest commission, of Tess and the family's late poodle, Rocky, includes a rope toy, the stream behind their home, a century old tree in the backyard, blossoming hydrangeas and several native birds. As well as the family's 16-year-old daughter and their other poodle in the background. It took about one month to complete the painting.
When Ohman and Reed went to pick up their painting they were in awe. Reed leaned in close to look at Rocky.
"You've brought him back to life for us," she marveled.
Most of Vang Olsen's clients wander in off the street, struck by the paintings in the window of her Greenwich Village studio. Although now, she said she's on her second generation, painting pets for about six families she met as long as two decades ago.
Van Olsen doesn't see a huge distinction between painting people or animals. "Pets are people, ask the pet owners, you'll know, they'll confirm it, pets are people. But pets are fun, and there's a market for it in a city like New York, lucky for me, it's what I love to paint, these sweet, fuzzy, furry little animals."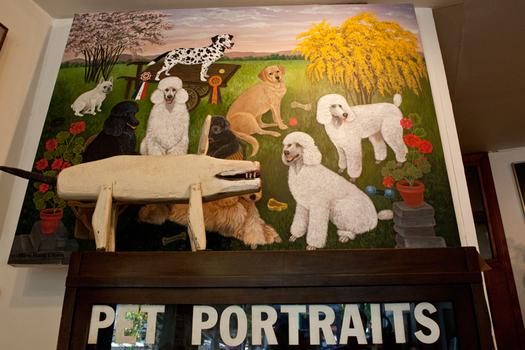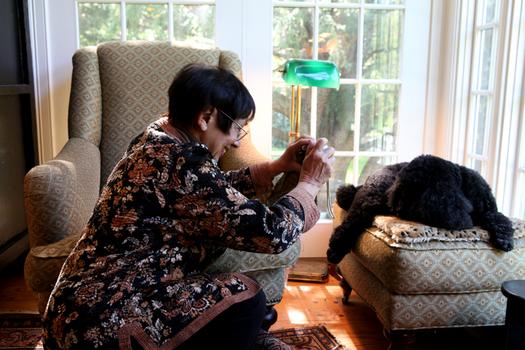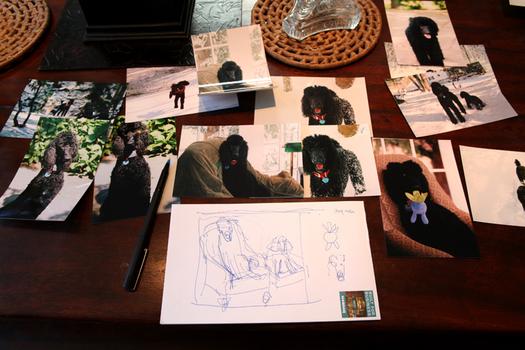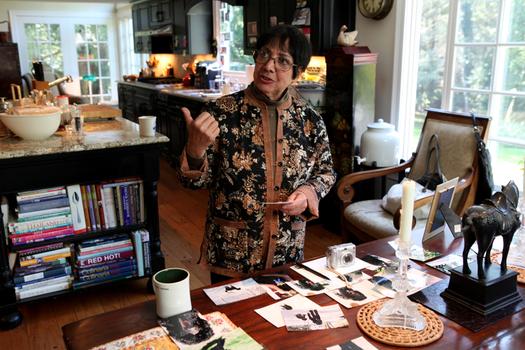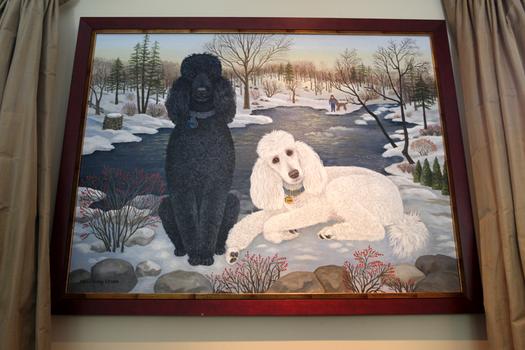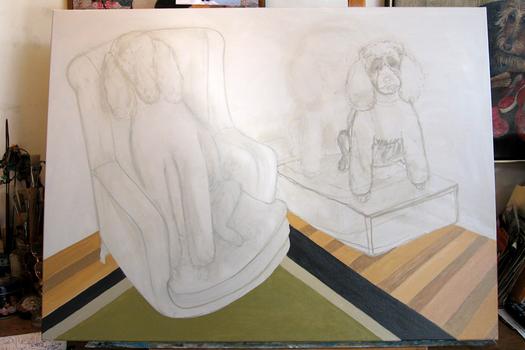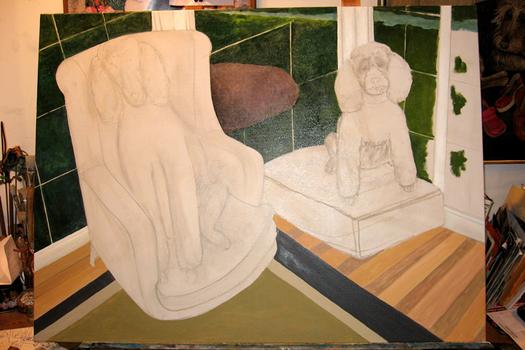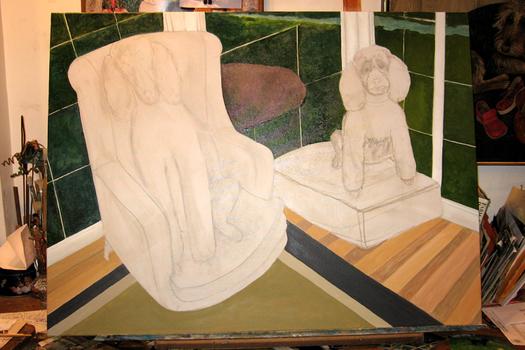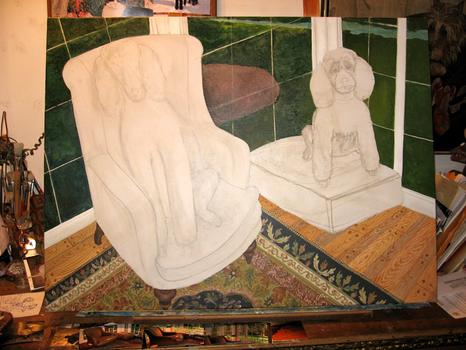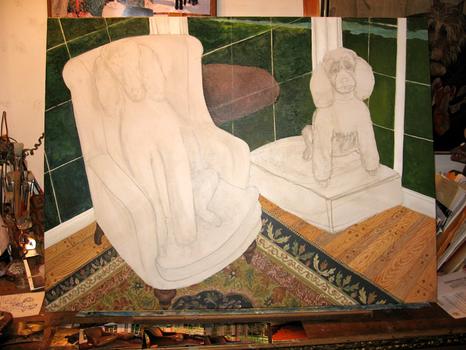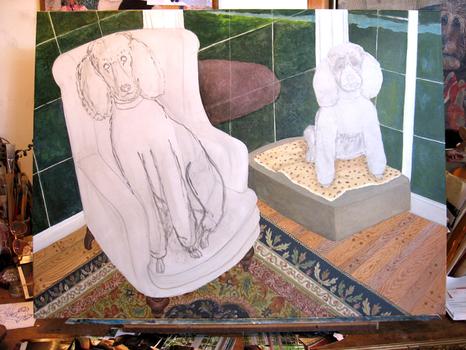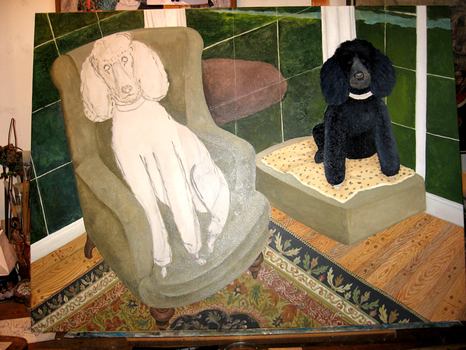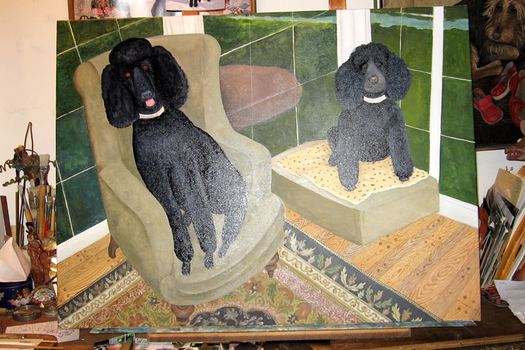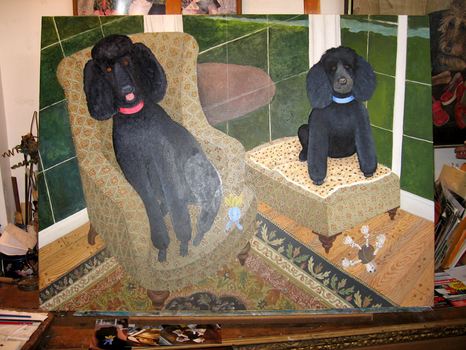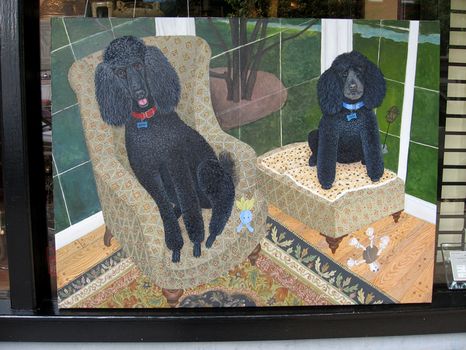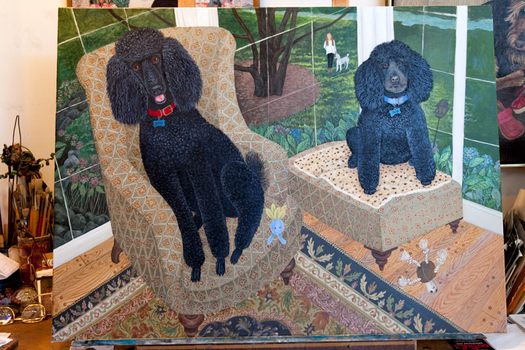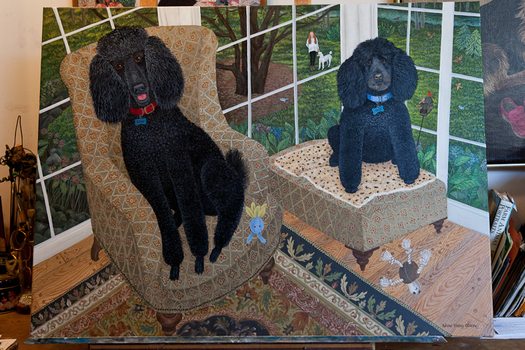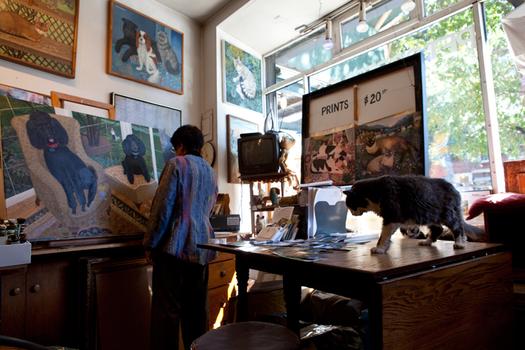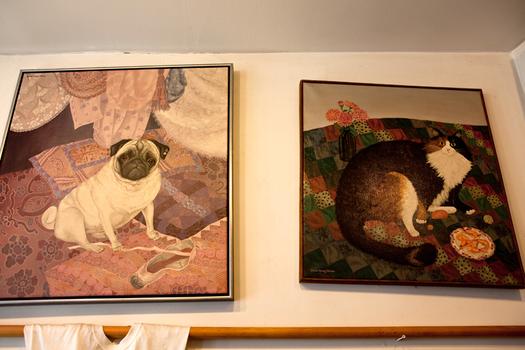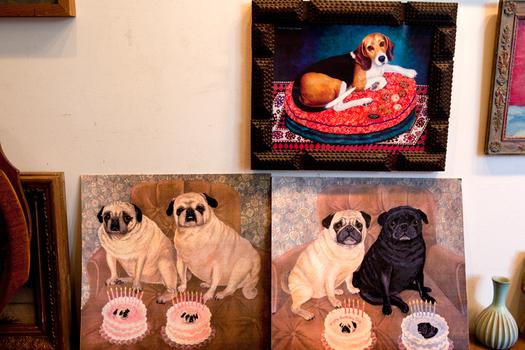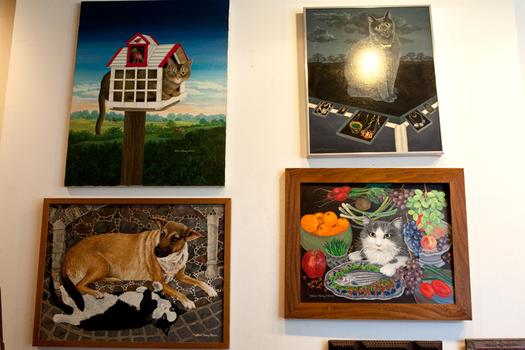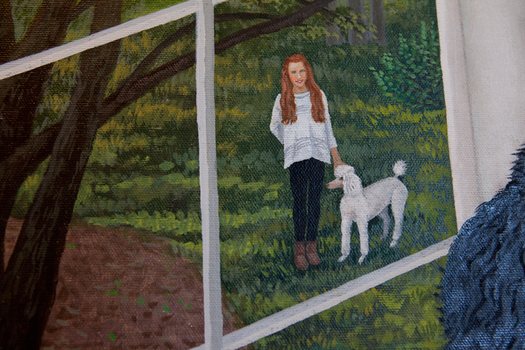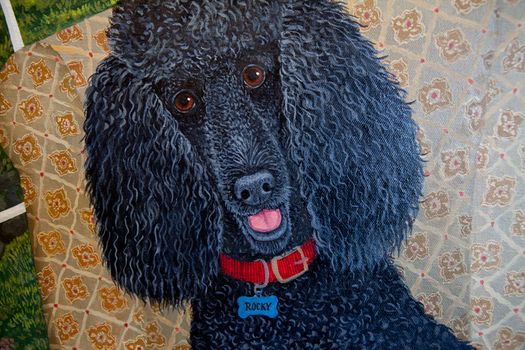 of