Another Woman Accuses Cain of Making Advances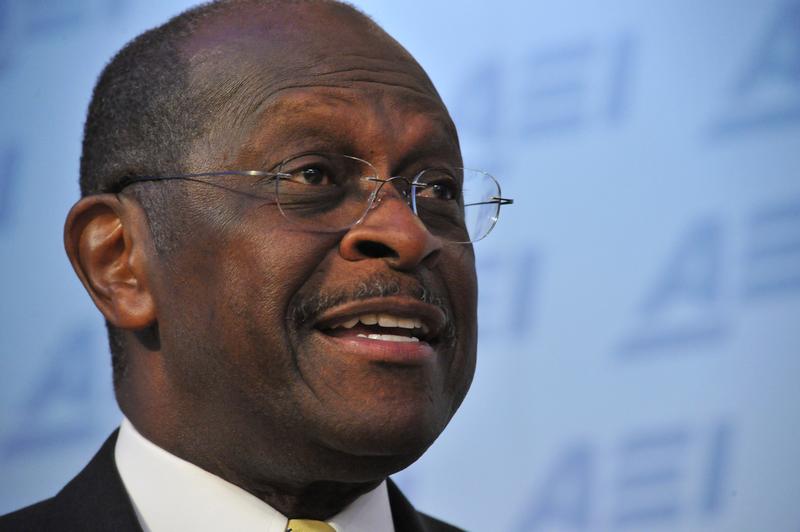 Speaking in a halting voice, a Chicago-area woman accused Republican presidential contender Herman Cain of making an unwanted sexual advance against her more than a decade ago, saying she wanted to provide "a face and a voice" to support other accusers who have so far remained anonymous.
Sharon Bialek told reporters Monday in New York that she met with Cain to ask about getting her old job back at the National Restaurant Association when the incident happened in Washington. At the time, Cain was chief of a restaurant trade group.
She said Cain reached under her skirt for her genitals and pushed her head toward his crotch in July 1997.
Bialek said that, when she asked Cain what he was doing, Cain said, "You want a job, right?"
She said she told Cain to stop, adding that he did. Bialek added she did not file a workplace complaint against Cain at the time because she was not employed.
Bialek appeared with her attorney, Gloria Allred, at a news conference in New York.
As if to blunt any attacks on her client's motives, Allred described Bialek as a registered Republican, and a woman with a long and successful work history.
"Come clean," Sharon Bialek challenged Cain, demanding he confess to any inappropriate behavior with her or other women.
Cain's campaign instantly issued a denial. "All allegations of harassment against Mr. Cain are false," it said. The campaign said Cain "has never harassed anyone" and is calling the latest allegations by Sharon Bialek "bogus attacks."
"Just as the country finally begins to refocus on our crippling $15 trillion national debt and the unacceptably high unemployment rate, now activist celebrity lawyer Gloria Allred is bringing forth more false accusations against the character of Republican front-runner Herman Cain," it said.
Cain had downplayed previous allegations of sexual harassment as anonymous attacks. He now has a woman who has come forward to directly accuse him of improper behavior.
Cain spent much of last week denying allegations by three women who remained anonymous. By the weekend, he said he would no longer respond to questions about allegations of sexual harassment.
"Don't even go there," he chastised some reporters who sought to question him Saturday night after a joint campaign appearance with former House Speaker Newt Gingrich.
Bialek is the fourth woman to allege inappropriate sexual behavior by Cain and the first to go public.