Architects Attempt to Make Illegal Apartments Safe, Well Designed
Is there a safe way to meet the housing needs of people who currently live in windowless, cramped or illegal apartments riddled with fire hazards? That's what five groups of architects will try to answer, and even put forward plans to do just that, at a symposium called "Making Room" to be held at the Japan Society Monday morning.
The symposium, sponsored by the Citizens Housing and Planning Council, emerged out of an effort to address the demand for illegally sub-divided apartments, illegal basements and other housing units that rent in an underground housing market. CHPC director Jerilyn Perine said it's only right that the city vacate these dangerous living spaces, but there should also be a strategy for figuring out where the people who get displaced will live.
"The guy who brought you your Chinese food delivery where does he live, students that you see on the train, where are they living," asked Perine, who once headed the city's Department of Housing Preservation and Development. "We have to start thinking about people's lives for real not just how we would like to imagine success, like everyone is married with two kids in a house or a big apartment some place."
The architects picked actual sites for their newly envisioned living spaces. Deborah Gans selected an old manufacturing building in Astoria, Queens. Her design is a multi-use space where the ground floor would be used for manufacturing and the upper floors would be tiny 140 square foot apartments surrounding a courtyard to provide air and light (seen in rendering below courtesy of GANSstudio). Each unit would have mini kitchens and bathrooms. There would be shared living rooms, dining rooms and laundry rooms.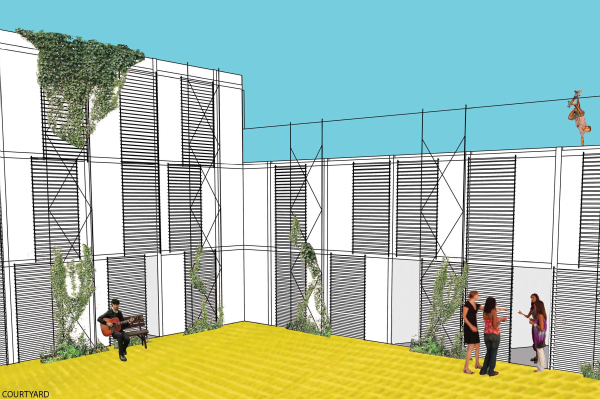 Gans envisioned this "mini unit" as a place for a diverse group of people. "The rock musician who is in town one week a month who really just needs a place to crash," Gans said. "At the same time, the cousin of the new immigrant family who is trying to figure where he's going to live."
Architects Rafi Segal and Stan Allen looked at redesigning a single family house in White Stone, Queens, so that three generations of a family could live in it comfortably. Segal said it was important to choose existing structures in order to show that rethinking housing doesn't mean having to build new structures. "Understanding that you can think of different kinds of architecture within the existing urban condition is very different from that last wave of housing in the 60's which assumed  that you need to erase certain parts of the city in order to rethink housing," Segal said.
Besides redesigning living spaces, the symposium is also meant to challenge existing housing codes and zoning regulations that often make small living spaces illegal, such as a requirement that an apartment be at least 400 square feet.
Another example is a ban on new Single Room Occupancies or SROs. According to Perine, SROs were outlawed decades ago, for good reason, but with modern amenities and new technology, it's time to re-envision them. "The flat screen tv, microwave, internet, mechanical ventilation, great lighting. I mean there's things that didn't get applied to the old SRO stock that could be applied now," Perine said.
Several high ranking city officials will take part in the symposium, including Department of Buildings Commissioner Robert LiMandri, whose agency is responsible for cracking down on illegal apartments.