With 48 Years Under Her Belt, A Principal Gets a Nod for Years of Service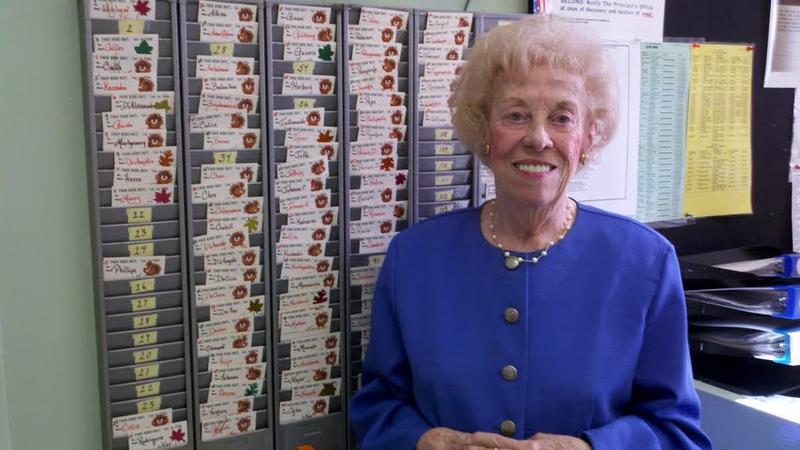 Having spent 49 years at the helm of a Brooklyn middle school, Principal Madeleine Brennan is well-versed in the peculiarities of young teenagers. In order to lead them, she said, you just have to embrace their volatility.
"They're neither fish nor fowl," said Brennan, principal of J.H.S 201 The Dyker Heights. "You have to love that age group ... If you don't, you can't appeal to them. You can't get a rapport with them."
The Council of School Supervisors and Administrators, the union that represents principals, will honor Brennan Tuesday night as the longest-serving junior high school principal in New York City public schools. She is also the longest-serving principal in the organization.
Brennan, now in her mid-80's, said that her school, which enrolls about 1,500 students in grades six through eight, is "very-well run." Brennan doesn't tolerate tardiness. And she asks her staff to dress up: button down shirts and ties for men and dresses and skirts for women ("they don't wear dungarees," she said). She herself is known for wearing fur coats and high heels.
Her students also succeed academically during their years in the middle school. Dyker Heights is an A-rated school, according to the Department of Education. And Brennan said that one of her greatest accomplishments is hearing how well her students perform when they move on.
"They tell me that they learn more in junior high than they do in high school," Brennan said. "And they were more happy here, because teachers took an interest in them — knew them. Our teachers are very warm, very loving, very caring, and that makes a difference."
To read more about Principal Brennan, and hear an audio clip, visit SchoolBook.