Mayor Michael Bloomberg said the recent violence that erupted in Oakland stemming from anti-Wall Street protests won't be repeated in New York.
In his weekly WOR radio appearance Friday, Bloomberg said the city won't tolerate some of the behavior at Zuccotti Park, but officials also must "understand the laws and the implications."
He said some Occupy Wall Street protesters are trying to destroy the neighborhood around their camp site but most are not. Bloomberg blamed protesters' poor behavior on the restoration of barriers near Zuccotti Park just hours after they had been removed this week.
"People went rushing into the street," he said. "We put the barriers back. Bottom line is if you don't want to have barriers, you have to behave."
In an effort to help diffuse some tension with neighboring businesses and  residents, Occupy Wall Street protesters are getting an important amenity: port-a-potties. Three of them to be exact, which were being provided by an anonymous supporter, and would be professionally services.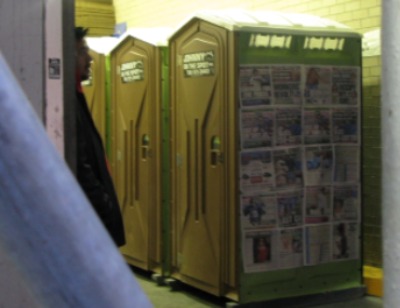 It was welcome news to local officials and residents, who had been voicing concerns about sanitation at the park since the protest began. Community Board 1 chair Julie Menin said, "We had urged, you know, weeks ago that there be some off-site bathroom facilities provided, so I think that's a very, very important step, and hopefully that will address some of the sanitation issues."
Organizers said the bathrooms will be "in a well-lit, safe location," and monitored by a trained security guard 24-hours a day.
(Photo: The new port-a-potties that protesters at Zuccotti Park can use./Channon Hodge for WNYC)
Meanwhile, the FDNY is conducting daily inspections to make sure generators confiscated by the department last week don't reappear.
"We send fire marshals through everyday, yes," Bloomberg said. "We may be dumb, but we're not stupid."
The fire department says it removed the generators and several fuel cans because they were a fire hazard. Lawyers for the movement say fire officials failed to issue the usual violation first, allowing them time to fix the problem.
A spokesman for the mayor says the protesters were given receipts for the generators and can retrieve them as long as they aren't used in the park.
On Thursday, Bloomberg said there are reports that protesters were allowing crimes to go unreported and called the practice "despicable." He said the city was unable to confirm the reports.
With Tracie Hunte and the Associated Press
More in: