Jackson Heights: Serving Up the Flavors of South Asia
When Nirav Shah arrived in the U.S. in 1996 to attend college, he pictured himself headed for a career on Wall Street or in the high tech industry. But a few years later, Shah, who grew up in Mumbai, India, started working for his aunt at her Indian sweets shop and restaurant in Jackson Heights, Queens.  
Shah now owns the flagship store of the business his aunt started, Rajbhog Foods, a small Indian food empire with 14 locations around the country and a catering business that provides vegetarian meals to airlines flying between Newark and South Asia.
When Shah's aunt, Lata Mody, opened Rajbhog in 1977 she was part of a wave of new immigrants who helped create "Little India," a tightly packed neighborhood near the Roosevelt Avenue subway station that served as both a commercial hub and a residential neighborhood for New York's growing Indian population.  
Today, the area might just as easily be called "Little Pakistan,"  "Little Bangladesh," or "Little Tibet." In recent years immigrants from across South Asia have moved in, and like Shah and his family, many have gone into the restaurant and food business. Within just a few square blocks, it is possible to taste authentic flavors from virtually every corner of South Asia, and to buy ingredients and kitchenware to make South Asian food at home.
Feet in Two Worlds recently visited the area of 73rd and 74th Streets in Jackson Heights with Andrew Silverstein, the co-founder of Streetwise New York, a company that specializes in tours of immigrant New York.
Here are highlights from our Jackson Heights culinary tour:
Rajbhog Sweet and Snacks at 72-27 37th Ave. Entirely vegetarian, vegan and kosher Indian desserts and savory dishes, with flavors meant to evoke a home cooked meal. Open seven days a week, 10 A.M. to midnight. Phone: 718-458-8512.
Phayul Restaurant at 37-65 7

th

 St., Second Floor Tibetans are among the newest arrivals in Jackson Heights, and Phayul Restaurant is one of the most popular places in the neighborhood to sample Tibetan cuisine. Enjoy momos (dumplings) under the gaze of the Dalai Lama's portrait, and sip traditional butter tea (an acquired taste for many). Many of the regulars here are from Tibet and Nepal. One customer said that as a native of a mountainous part of the world he likes the restaurant's location on the second floor with a view of the street below. Open seven days a week, 10 A.M. to 10 P.M. Phone: 718-424-1869.
Kabab King Diner at 73-01 37th Road Cab drivers on their way to pick up a fare at LaGuardia Airport are known to stop at Kabab King Diner for a savory lunch or dinner grilled on a stick. The second floor dining room with its carved wooden chairs, tables and high ceilings transports you to another continent and another century (the middle of the last one). The food here is hot and flavorful, and the portions are ample. From the sidewalk you can peek through a window and see naan bread being baked in a stone oven. Phone: 718-457-5857.
Dosa Delight at 35-66 73

rd

 St. The dosa is a South Indian specialty. It's a giant thin crepe made from rice and lentil flour, stuffed with a savory filling. A number of restaurants in Jackson Heights feature dosas on their menus, but at Dosa Delight it's the specialty. The entire menu is vegetarian, and there are many vegan choices as well. Open seven days a week, 11:30 A.M. to 10 P.M. Phone: 718-397-1000.
Patel Brothers at 37-27 74th St. The motto of the Patel Brothers Supermarket is "Celebrating Our Food … Our Culture." At this bustling market you'll find families pushing strollers and Indian women in saris doing their food shopping. Cars double-parked outside often have New Jersey or Connecticut license plates, an emblem, perhaps, of the migration of successful Indian-Americans from the city to the suburbs. The store offers an exhaustive supply of fresh vegetables, spices, flours made from beans and chickpeas, cooking utensils, and much more. Phone: 718-898-3445.
Download this episode of the Food in Two Worlds (Fi2W) Podcast here. Subscribe with iTunes here or Podbean here.
Feet in Two Worlds is supported by the New York Community Trust and the John S. and James L. Knight Foundation with additional support from the Mertz Gilmore Foundation and the Sirus Fund. Food in Two Worlds podcasts are supported in part by WNYC, New York Public Radio.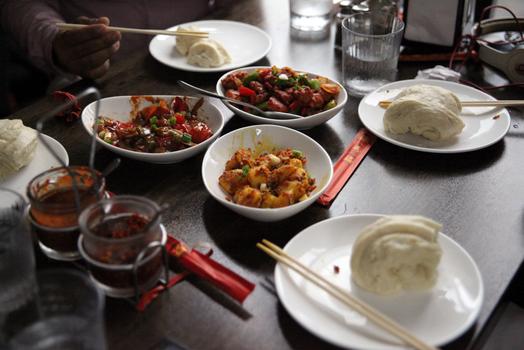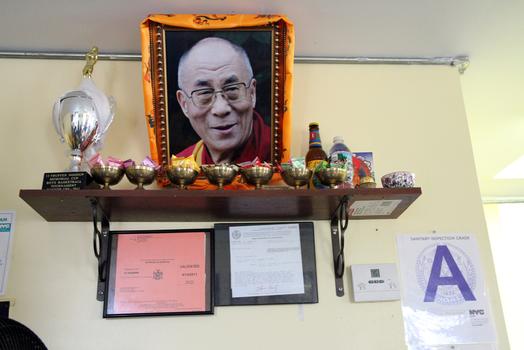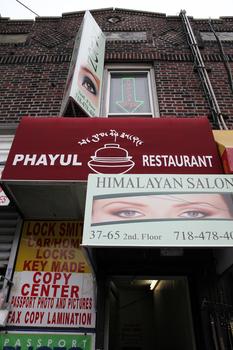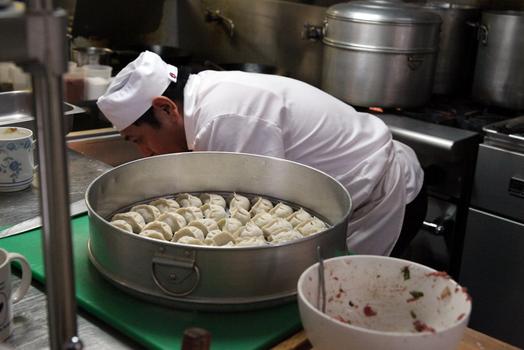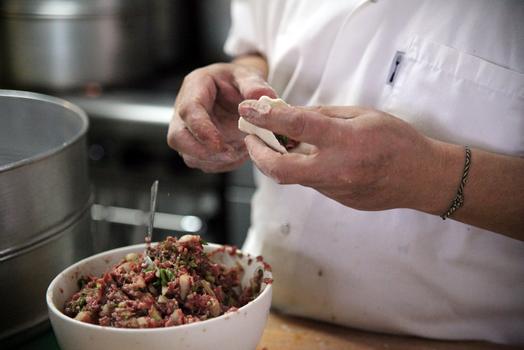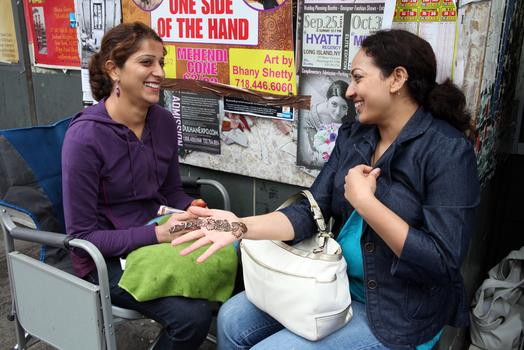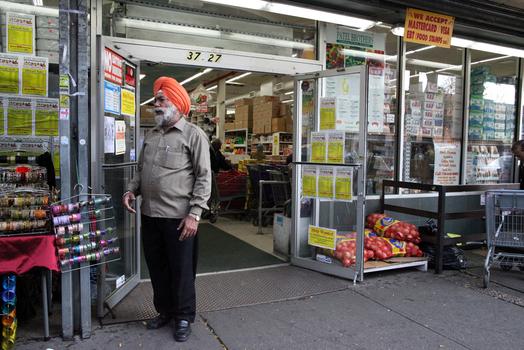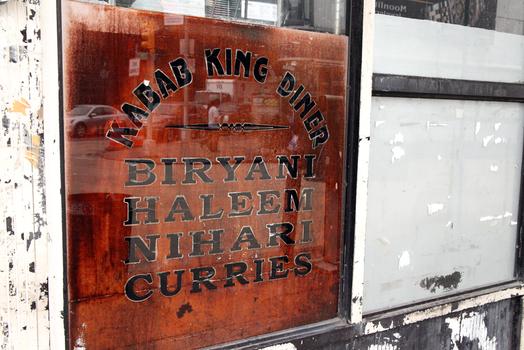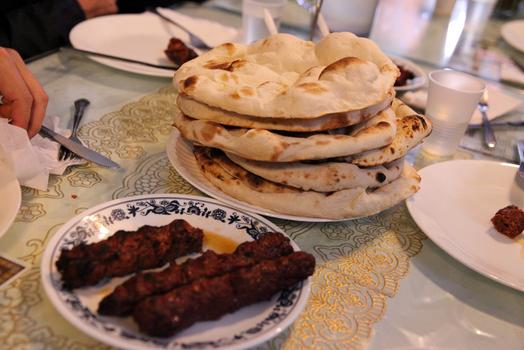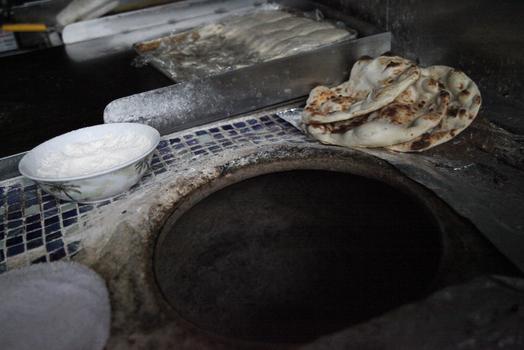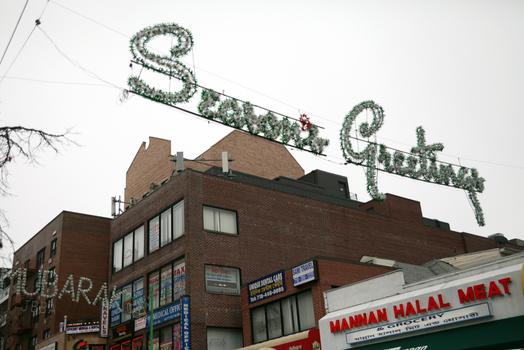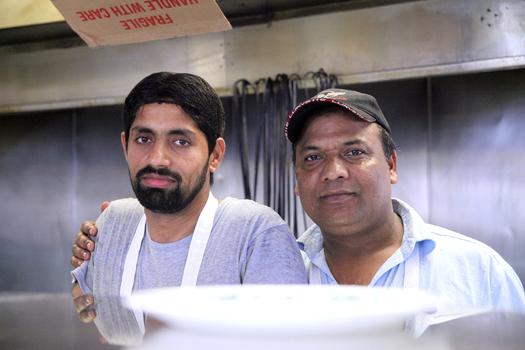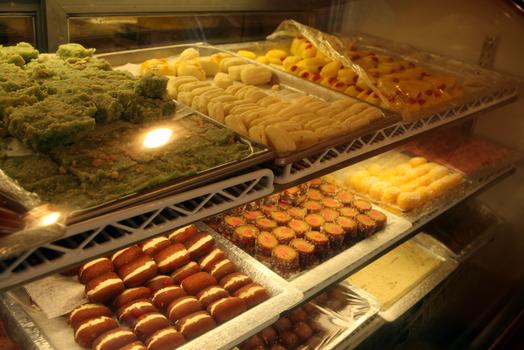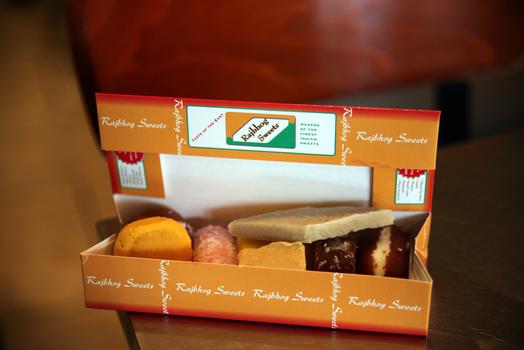 of