Disabled Residents Plead Their Case To Get More Accessible Cabs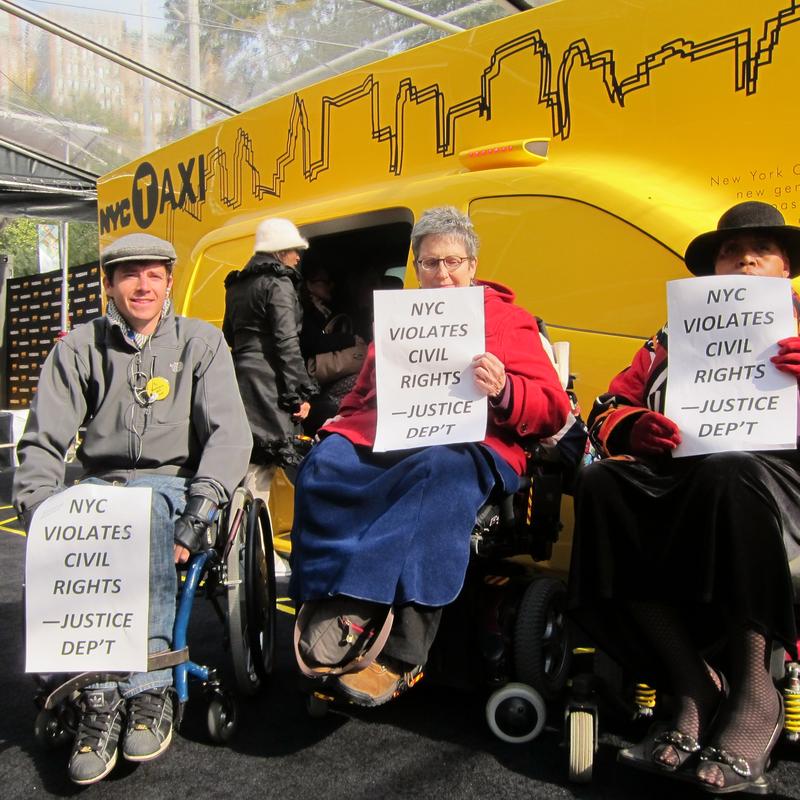 A meeting among taxi industry stakeholders is taking place at the Governor's office on Friday, as he considers whether to sign the Bloomberg administration's 5 Borough Taxi Plan. Disabled New Yorkers say they're optimistic that in the process Governor Andrew Cuomo will help make the city's taxi fleet more accessible.
The Taxi and Limousine Commission's Allan Fromberg said in a written statement that he realizes the TLC needs to do more to serve passengers who use wheelchairs but "they're already taking action, including creating an accessible dispatch system for disabled passengers." He said the Nissan NV 200, otherwise known as the "Taxi of Tomorrow," will have an accessible version as the model hits the streets in about 2 years.
But Edith Prentiss, with the Taxis For All Campaign, said that's not good enough. She and about 25 other disabled city residents protested outside the demonstration model of the Nissan NV, currently on display in the Flatiron district. She and others held signs saying "NYC Violates Civil Rights." She said she's confident cab drivers would be willing to step out of their taxi to assist disabled riders.
"They have to deploy the lift but its no more than putting luggage in the trunk...ok, you got 14 bags? The driver is going to put them in the trunk," she said.
Prentiss and a coalition of disabled groups also have a pending lawsuit against the city on the grounds that having only 230 accessible cabs in a fleet of more than 13,000 violates the Americans with Disabilities Act. The next hearing in that case is scheduled for the end of this month.
The 5 Borough Taxi Plan would allow up to 30,000 specially permitted livery cars to pick up street hails in upper Manhattan and the outer boroughs. It also green-lights the sale of 1,500 new yellow medallions. Joe Rappaport, with the Taxis for All Campaign, said the plan needs to include how to better serve people in wheelchairs
"It doesn't matter what color the car is if it's passing you by and trying to get a cab," he said.
As it stands, the plan currently sets aside the sale of more than 500 accessible taxi medallions.
Governor Cuomo did note Thursday that things have changed since the state legislature passed the bill in June. "You have people on both sides of the aisle, and literally involved in the passage, who now have significant problems," he said.
Noting concerns over wheelchair accessibility and devaluing taxi medallions, the governor said the bill did have merits, such as more taxi service for the outer boroughs and northern Manhattan, and more revenue for the city.